I love creating free content full of tips for my readers, you. I don't accept paid sponsorships, my opinion is my own, but if you find my recommendations helpful and you end up buying something you like through one of my links, I could earn a commission at no extra cost to you.
More information
If you're running a website, you know that getting traffic is only half the battle. The other half is converting that traffic into an income stream.
And to do that, you need an optimized site.
That's where Ezoic comes in. They offer niche site optimization services that will help you turn more of your visitors into revenue.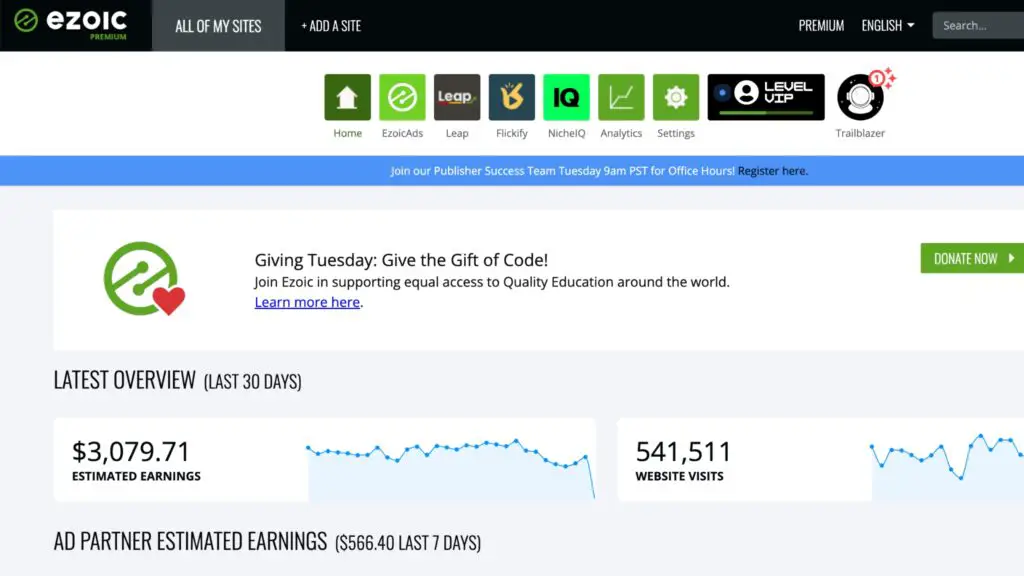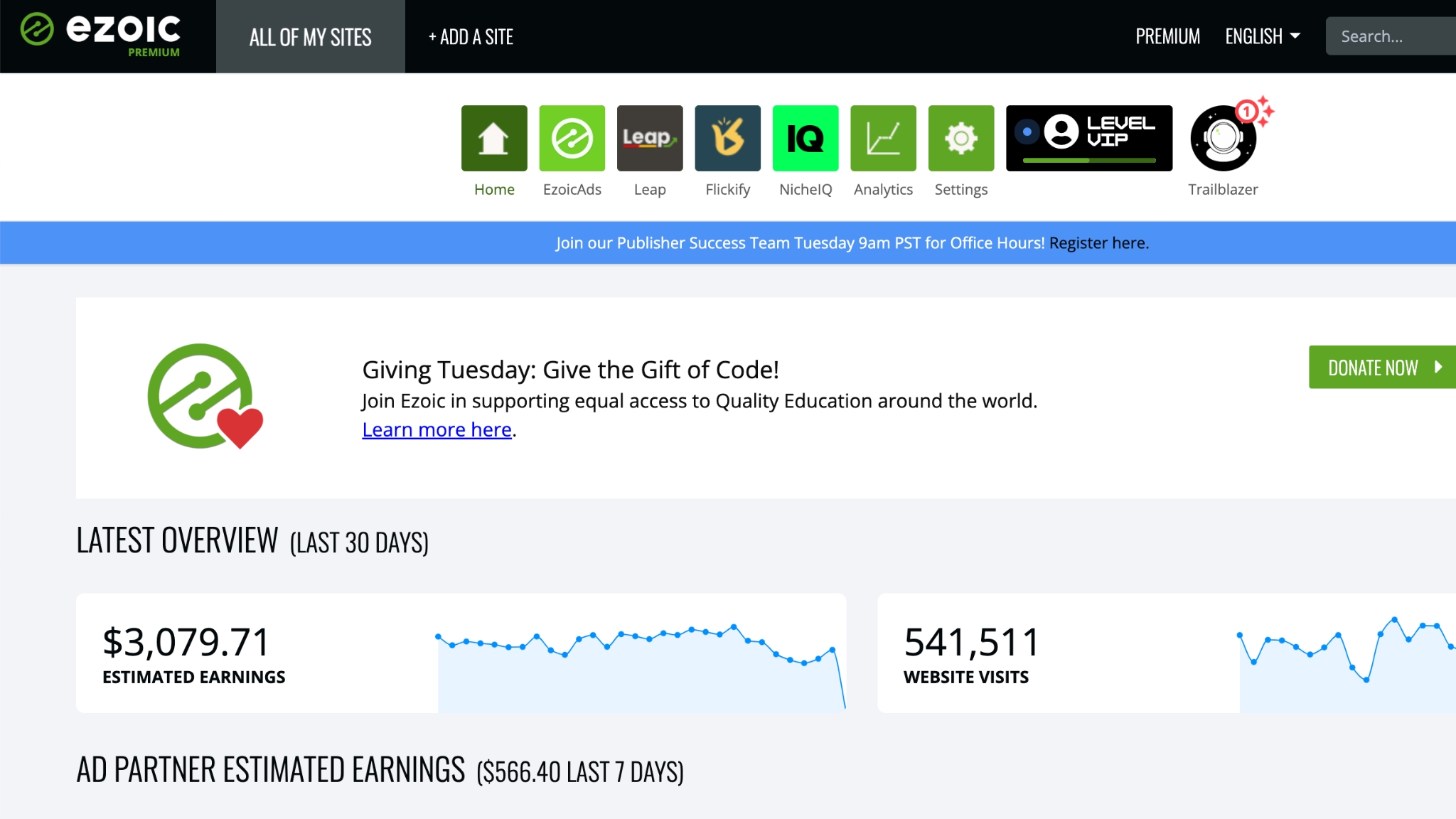 Introduction to Ezoic
Ezoic is a platform that helps website owners optimize their sites for better performance.
With Ezoic, you can get access to a range of optimization services, including A/B testing and machine learning algorithms to help you maximize your revenue.
They also offer tools such as analytics reports to help you understand how visitors are interacting with your site.
This allows you to make informed decisions about how to best optimize your website.
When was Ezoic founded?
Ezoic was founded in 2010 by Dwayne Lafleur and John Cole. Since then, they have grown significantly and now offer their optimization services to over 500,000 websites around the world.
Is Ezoic a SaaS company?
Yes, Ezoic is a Software as a Service (SaaS) company. This means that they offer their optimization services on a subscription basis. As such, you can enjoy the benefits of using Ezoic without having to invest in expensive hardware or software.
What sets Ezoic apart from other niche site optimization providers?
Ezoic offers a range of features that sets them apart from their competitors.
For example, they have developed proprietary machine learning algorithms and A/B testing tools to help you maximize your conversion rates.
They also offer detailed analytics reports so you can track the performance of your website in real-time and make informed decisions about how to optimize it.
In addition, Ezoic offers personalized support so you can get the help you need when optimizing your site. They also offer daily backups, so you never have to worry about losing important data.
In short, Ezoic is a comprehensive niche site optimization platform that will help you get the most out of your website and generate more revenue.
Best niche site optimization toolkit
Ezoic
Niche Site Optimization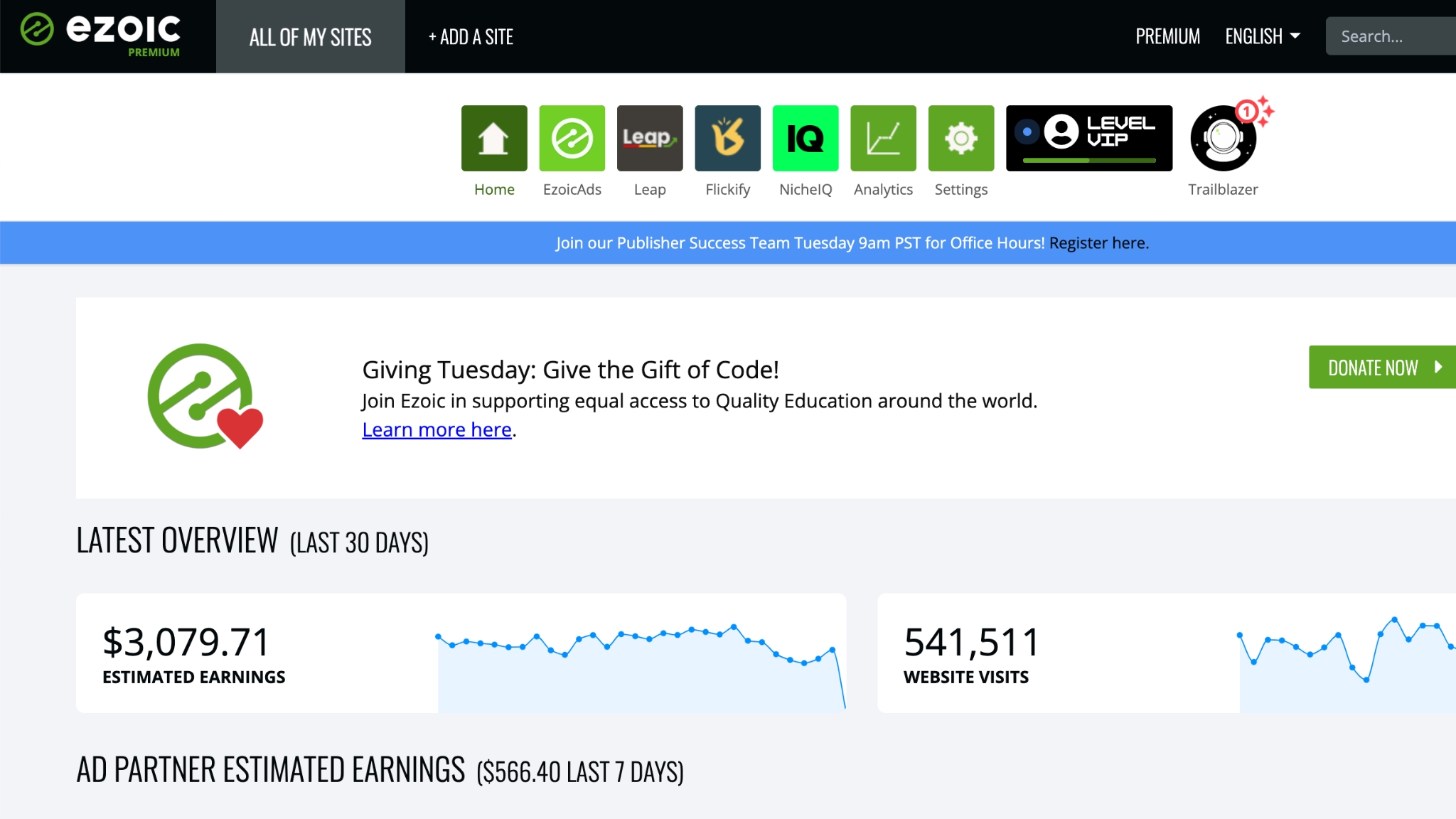 Best for
Full suite of optimization tools

Best ad network for non-US traffic
Falls short
Not the highest RPM for US traffic

Full optimization requires paid subscription
Ezoic software products
What is EzoicAds?
EzoicAds is an algorithm-based ad optimization platform that helps website owners maximize their income from advertising.
It features advanced technologies such as A/B testing, machine learning algorithms and artificial intelligence, so you can easily improve the performance of your ads.
What is Ezoic Cloud?
Ezoic Cloud is a content delivery network that helps website owners reduce the load times of their sites.
It stores static content such as images and videos on servers in multiple locations around the world, so visitors can access them quickly and efficiently.
What is Leap?
Ezoic Leap is their site speed optimization tool.
It let's you use all of the optimization features like deferring javascript, the Ezoic CDN, minifying CSS and Javascript files and much more.It has all the tools needed to get a good Core Web Vitals score.
You get access to:
Ezoic Cloud
Caching
CSS optimization
Smaller and lazy-loaded images
Pre-connected assets
Minifying JS and CSS
Script execution optimization
Leap measure
With just a few clicks you have everything up and running to pass Core Web Vitals. There are a lot of options to tweak if you really want to dig in though.
What is Flickify?
Flickify is the platform where you can turn your blog posts into videos. It can read your content, provide you with a summary for the video, choose B-roll, and even convert your text to speech.
What is Humix? 
Humix is the video distribution network Ezoic uses to get more views for your video content.
It's a video sharing platform where all the sites that use Humix can use videos from other Humix creators on their site.
This gives a new way to monetize content. You can show video ads on all your pages, even those without video.
Plus you can distribute your own videos across multiple sites and add a new revenue stream from that as well.
What is NicheIQ? 
NicheIQ is the site optimization platform. Here you can test things for your sites like title tags and meta description, or even the entire site layout.
It consists of several products:
Site Health: Ezoic Broken Links Tool
On page SEO: SEO Tag Tester
NicheIQ Topics
It's why I like Ezoic so much because it lets you take advantage of tools that would typically cost hundreds of dollars to buy separately. Each month!
To build a successful niche site, you need a couple of things. And Ezoic has many publishers they can tap into to learn what they need.
As a publisher, you'll want to know what to write about. That's where the Topics section comes in. A light version of larger keyword and competitor research tools like SEMrush and Ahrefs.
When you've written your content based on the insights from SERP and competitor research, you want to make sure people click your article.
The SEO Tag Tester was built to help you test your headlines and meta description to ensure you have something clickable. I've used this tool with great success!
When you've built your site, you'll want to ensure it runs smoothly. A thing a lot of publishers struggle with is links. Where you link to and if those pages are still live. So they created the Broken Links Tools.
What is Big Data Analytics?
Ezoic Big Data Analytics is Ezoic's platform for analyzing your niche site. It gives you data on your audience with metrics like languages, countries, and traffic sources.
It also provides a lot of information on your monetization with display ads. Which posts make you the most money for example.
An invaluable asset to your niche site building.
What are Ezoic Levels?
Ezoic Levels are a new layer to the EzoicAds platform. It's how Ezoic wants to make transparent what level of service they provide their publishers of different sizes.
Each level has its benefits, which grow when you get to the next level.
The more you grow with Ezoic, the higher your level. This unlocks more potential for extra revenue and assistance from the Ezoic experts so you can take that momentum and grow even further.
Benefits of Using Ezoic for Niche Site Optimization
Using Ezoic for niche site optimization offers several benefits, including:
Increased Revenue – With the help of Ezoic's optimization services, you can increase the revenue generated from each visitor to your site.
Improved User Experience – Ezoic's tools allow you to provide an improved user experience by optimizing the layout and content of your website. This helps ensure that visitors stay longer on your website and are more likely to take an action.
Reduced Load Times – One of the advantages of using Ezoic is that it can help reduce page loading times, which can improve user engagement.
Bottom Line
Ezoic offers a range of optimization services that can help you get more out of your website.
With the help of their tools and features, you can optimize your site for better performance and increased revenue.
So if you're looking to get the most out of your website, then Ezoic is an excellent choice for niche site optimization.
Joost Nusselder is The Content Decoder, a content marketer, dad and loves trying out new tools en tactics. He's been working on a portfolio of niche sites since 2010. Now since 2016 he creates in-depth blog articles together with his team to help loyal readers earn from their own succesful sites.