I love creating free content full of tips for my readers, you. I don't accept paid sponsorships, my opinion is my own, but if you find my recommendations helpful and you end up buying something you like through one of my links, I could earn a commission at no extra cost to you.
More information
How much traffic do you need to earn $100 a day with Adsense in the UK?
Obviously, everyone's idea of ​​a full income will be different. My own number was $3000 a month when I first started, which was equivalent to $100 a day.
Let's also use $100 a day for our calculations in this post because that seems to be one of the biggest milestones people want to achieve with their own niche sites.
When I see people talking about Adsense, I see a lot of discussion about profitable niches, cost per click, a full-time income, etc., but I never see much discussion about traffic.
I see daily forum threads of people wanting to learn how to reach $100 a day with Adsense (or through any other network I'll get to in a moment, although it's hard to find another alternative with non-US traffic).
At the end of the day, it's all about traffic. Many factors affect a site's overall income, but high traffic is the common denominator.
When you have 10,000 visitors per month on your blog, it is time for an Adsense alternative.
My secret to being a full-time blogger? I use Ezoic on all my sites instead of Adsense.
The more traffic, the more people can see the ads, of course, but it is also a barrier to get into a network.
So how much traffic do you really need to make $100 per day with Adsense?
Number of visitors to earn €100 per day
For me, I was able to hit a full-time income when I was consistently getting over 150,000 visitors per month. However, I didn't get that with just one website.
Traffic was spread over about 15 sites, 3 of which generated 90% of the revenue.
Do I mean that 150,000 visitors/month will always equal $100 per day?
Of course not. It could be lower, or even much higher than that. There are so many factors at play that will make it different for everyone. But it's a good estimate.
How do you calculate your Adsense income?
The biggest metric you need to calculate AdSense revenue for a website is page RPM.
What is page RPM?
Basically, it's the calculation of how much money you've made per 1000 page views. It's calculated based on a combination of your traffic, CTR (click-through rate) and CPC (cost per click).
Page RPM = (estimated earnings / number of pageviews) * 1000
The average RPM I've experienced with Adsense is about $2 to $30 in various niches.
In general, the page RPM is higher for my English-language sites (which attract a lot of visitors from America) than for my Dutch-language ones, and the RPM is much higher for business blogs (€7) than for my cat blog (€2). -).
The highest RPM I've seen was with my energy blog during the transition months November and December (€30,-).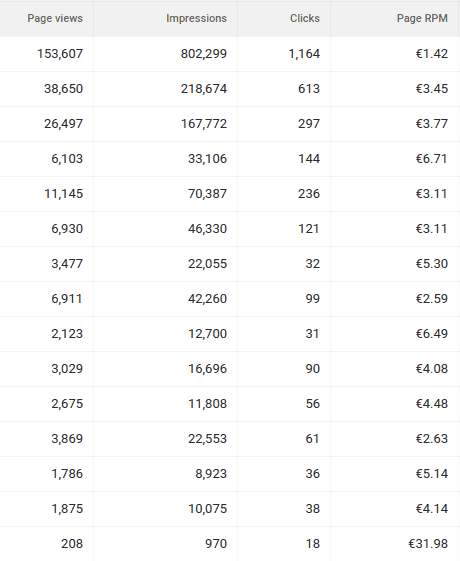 Knowing your RPM allows you to accurately estimate the revenue potential for higher traffic numbers, as well as the amount of traffic you need to generate a full-time income.
For example, if you earn an average of $10 RPM from one of your websites, that's $10 for every 1,000 visitors to your site.
So you can easily calculate that if you increased your traffic to 100,000 visitors, you would earn $1000 per month. If you grew it 1,000,000 you would make $10,000.
Again, not perfectly accurate, but a good estimate.
What is the average page RPM?
The average RPM for AdSense varies widely based on your niche, website quality, traffic source, and the number of advertisers on the AdWords platform.
On the low end, this is usually around $2 to $5. In the medium end, this can range from €5 to €10. At the high end, that can go up to $50+, often for financial sites.
Required traffic to earn $100 per day
Let's break down the numbers even further with some sample stats.
We try to use numbers as close to the mean as possible. For this example, we'll use a CPC of $1 and a CTR of 5%. So how much traffic do we need to make $100 a day with those numbers?
First we need to figure out how many clicks are equal to $100.
100/1 = 100 clicks.
If we need 100 clicks at 5% CTR, the total traffic should be:
100 / 0.05 = 2,000.
We need 2000 visitors daily. Per month that is:
2,000 x 30 = 60,000.
60,000 visitors every month to earn $100 per day with Adsense.
Of course, this is just an estimate using very ideal metrics. It's not easy to maintain an average CPC of $1+ and CPC is a huge factor in how much traffic you need to reach this figure.
Some of my blogs consistently get more than 10% CTR, while others get less than 2%. Some of my sites get a CPC of $2-$5, while others never get a higher $0.30.
Remember, RPM is how much you would earn for 1000 visitors to your website. If you have 1000 visitors with a CPC of $1 and a CTR of 5%, that's 50 clicks (5% of 1000) with $1 earned per click.
An RPM of $50 per page is really great. If I got $50 RPM on a site, I'd really start building it up with more expansive posts and good content to increase those traffic numbers.
You can then calculate estimated income based on your future traffic goals.
If you were to increase the traffic on the site to 500,000 visitors per month, that's $25,000 per month.
Adsense alternatives to earn more
Of course, that's a lot of traffic you need to gain for a full-time income.
Fortunately, there are alternatives to adsense that pay more, but you have to meet some requirements. For example, your website must have good content and there are different requirements for the visitor volume that you must already have in order to participate.
The top two are Ezoic, and Adthrive:
Ezoic has a minimum visitor volume of 10,000 visitors for the pro version, but you can start for free, even with as low as 100 visitors per month, and is the best network for non-US blogs and websites
Adthrive has a minimum traffic volume of 100,000 visitors and is the best network for larger sites, but only if you're writing for US visitors
Ezoic vs Adthrive Review & Comparison
Many publishers have significantly improved their earnings through the automated ad testing methods offered by these two ad networks.
The assessment of Ezoic versus Adthrive is therefore more like comparing apples to apples. And both networks will significantly increase your earnings.
Ezoic and Adthrive are undoubtedly  the two leading platforms in the ad network industry, with strong claims to back it up.
From our personal experience we can conclude that: In terms of pay, Ezoic pays much better than just going for AdSense.
Conversely, Adthrive offers a better payout than Ezoic. So if you can meet AdThrive's strict requirements, we recommend that you go for them.
Although Adthrive is really strong for the American market, and for NL blogs I would stick to Ezoic, where you can register from 10K visitors per month.
We will now take a closer look at some of the things that make each platform stand out, as well as their strategies for improving the blogger's site revenue.
Quick Ezoic vs AdThrive Comparison Chart:
| Subject | Ezoic | Adthrive |
| --- | --- | --- |
| # websites | 1.548 | 1.401 |
| Market share | 0,79% | 0,71% |
| Category position | 12e | 13e |
| Minimal traffic | 10.000 pageviews for pro but you can join from 0 | 100.000 pageviews |
| Minimum Payment Threshold | $20 |  $25 |
| Payment net | 30 | 45 |
| Review time | 2 dagen | 24 uur |
| Revenue Improvement |  250% * | 3 times * |
| Payment options | PayPal, directe storting, papieren cheque en bankoverschrijving via Payoneer | PayPal, directe storting, papieren cheque of bankoverschrijving |
Ezoic is a Google award-winning ad network for publishers that uses many automated tools to significantly improve publishers' revenues.
For example, Ezoic developed the advertising revenue index statistic to describe the state of the online advertising market for everyday use.
This is a transparent method that helps publishers determine whether their ad revenue is going up or down due to global market conditions and how it affects their own sites.
Getting Started with Ezoic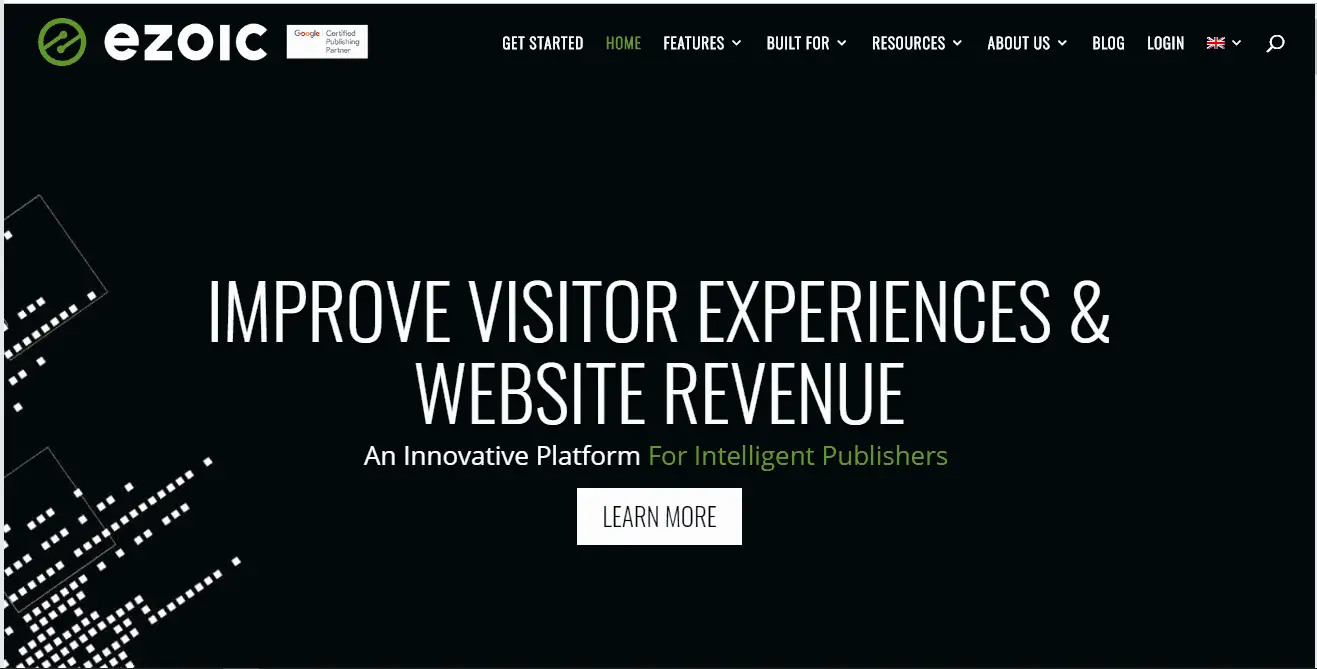 To get started with Ezoic, all you need to do is: sign up for free.
You can then decide to get started with ad tester or layout tester.
Ezoic follows a manual method of rating sites, so it can take a while to finally get started. They want to make sure your site has everything it takes to join their network.
Ezoic requires your website to have at least 10,000 monthly visits before being eligible for further review. You can find detailed requirements to get started on the Ezoic ad network here.
After you're approved, you'll see some significant improvements in your ad revenue.
Most publishers who have joined Ezoic earn up to 80% more revenue from Ezoic than a regular ad network.
For one of my sites I made the switch to Ezoic from Adsense, and the results are quite good!
Ezoic lets you easily test their ads against what you had by allowing you to set how much of the traffic you want their ads to see.
For my research I had it set to 90% Ezoic and 10% my "normal" Adsense ads.
On the site I had $187 in a month in ad revenue via Ezoic with 17,572 page views, and via Adsense $14 with 2,763 page views.
For Adsense that is an RPM of €5.06
For Ezoic, that's an RPM of $10.64 and that's about $9.56
That's an 80% increase!
For best results, make sure you load your website with lots of ad placeholders. This allows Ezoic to test them for more configurations – the more testing, the better the result.
In addition, Ezoic uses EPMV instead of regular CPM or CPC. EPMV is a standard Earnings per thousand visitors to your blog.
The EPMV works automatically by taking into account your site's bounce rate and pageviews per visit. Ezoic trusts that this is the only accurate measure of publisher revenue.
Keep in mind that when you compare this to adsense RPM you are comparing apples to oranges.
Some great features on Ezoic
AD-tester
With Ezoic Ad tester, you can run automated multivariate testing with a simple drag-and-drop method, which helps maximize your revenue by balancing the number of ads shown and the visitor experience.
Ezoic's AI understands the combination of an ideal ad for site visitors and uses this knowledge to deliver different combinations to different site visitors for a better user experience.
Layout Tester
The layout tester allows you to test multiple site layouts and choose which one is best for the user experience. You can then adjust this to the visitors. This is an ideal strategy for dramatically growing site revenue.
Big Data Analytics
With Big Data Analytics, Ezoic allows you to track visitor engagement and authenticate user behavior. This helps you grow your traffic more efficiently.
You can also access data on SEO, ad revenue, and more.
Sitespeed-tools
Many bloggers now understand why they need to keep their sites efficient, and speed is essential. Ezoic has made provisions for site speed tools; no need to install any other speed plugin on your site.
Advantages:
Excellent customer service
Split testing
Proven Revenue Generation
Affiliate Service
Simple web layout
Analytics
Only 10,000 monthly pageviews
Easy installation processes
Approves all publishing niches (except adult-based or weapon-based niches)
Cons:
No more support for live chat
Apply for free and test Ezoic out here
AdThrive
Like Ezoic, AdThrive is a Google Certified monetization partner that helps publishers with quality content increase their ad revenue.
Since its inception in 2013, AdThrive has built a reputation for efficient and proven performance.
In the summer of 2016, the platform won Google's Certified Publishing Partner Challenge in the Customer Satisfaction Award category.
Get started with AdThrive
AdThrive follows a rigorous quality review process for all applications. They usually perform manual site reviews to make sure they meet their strict requirements.
For fast approval, AdThrive requires that your site traffic comes primarily from the United States. So I don't qualify for it for all my blogs.
After getting approval from them, AdThrive will analyze your site and traffic to make sure you're right for them. If your site ticks the boxes, they will recommend a layout designed to attract quality advertisers to maximize your revenue.
Before they install new ads on your site, they will completely remove the old ad code. They also monitor ad performance, notify you of new ad types, and work continuously to ensure your ads are optimized and earn well.
AdThrive claimed that:
100% of sites that joined their platform made more money with fewer ads
The average site with AdThrive made 3x more per pageview
50% of sites saw more than 100% increase
98% of sites saw an increase of more than 15%
AdThrive Services:
Ads Management
Mobile Ads Optimization
Educational resources
Monetizing Video
Exclusive premium campaigns
Advantages:
Google certified
Community involvement
Huge revenue boost
Excellent customer service
Cons:
Requires 100,000 monthly pageviews
Focuses more on food niches and recipe niches where you will see the most boost
Only for blogs aimed at the US market
Taboola Native Advertising
Easily one of the most popular alternative advertising platforms, Taboola is one of the most widely used platforms that offers a 100% fill rate in any geographic location and has a ton of cool features including promoted product listings, in-feed units, customizable widgets, and more. much more.
The top three places to use Taboola effectively are in Google's "sponsored" search area, on social media and networking websites (Instagram, Facebook, Twitter, and the like) and then on your personal website.
Everything is handled from a central dashboard, but there is a minimum pageview of 500,000 if you want to get started.
Media.net
Media.net is one of the leaders in contextual advertising and a major competitor to Google AdSense.
It's a Yahoo! and Bing contextual ad network used by bloggers and website owners around the world.
Media.net's biggest advantage over Google AdSense is its high revenue per thousand impressions (RPM).
Media.net's targeting is done through keyword search terms. This technology contributes to the highly contextual ads and leads to more clicks.
Another great advantage of Media.net is that it gives you access to Yahoo! and Bing network.
In addition, the platform gives you access to a network of customers, so you can increase your ad revenue and take advantage of a rich search market.
Another advantage of Media.net is the variety of design options. You can customize ad formats to match your website's color theme.
PopAds
Popunders is a general term for pop-up ads that you see on the web in all their different and different forms, and PopAds, as you can probably imagine, is the fast-growing provider that helps you create, manage and profit from such ads.
The service has been around since 2010, giving them a decade of experience in the advertising industry for you to take advantage of.
You only need 1000 visitors per month to sign up, and you will receive your earnings as little as $4.00 when you reach the payment threshold.
However, you can withdraw your money into an AlterPay or PayPayl account at any time, and each advertising fee is based on a per-impression basis, meaning every time a user sees an ad, you get paid! Easy!
Adcash
Adcash (not to be confused with Addcash) is another well-known platform for serving ads. The platform helps 200 million active users increase their conversions and app installs.
Adcash allows you to add different ad types, from pop-under ads to standard display ads.
Global coverage is another advantage of Adcash. The platform serves ads for 196 countries, meaning if your website is located outside of the US, you can still monetize your content and traffic related to your geographic location, such as the Netherlands.
Another benefit you get is Adcash's Anti Adblock technology.
This means that website visitors with Ad Blocker enabled will still see ads on your website or blog. This happens because Adcash manages to bypass ad blockers to increase your revenue.
Infolinks
InfoLinks is one of the leading experts in in-text advertising. InfoLinks allows you to create effective video and banner ads.
Used by more than 100,000 websites and blogs around the world and operating in more than 128 countries, including some of the leading brands such as Netflix, Virgin Airlines, Netflix and many more, Infolinks makes it super easy to easily monetize any website while not ruining the integration and style of your website.
There are plenty of ad types to choose from that are also updated regularly so you know they're only serving the most relevant and up-to-date content.
All you have to do is put the HTML code on your website and you are ready to start earning!
Conclusion
Growing site traffic requires a lot of hard work. When you finally reach the monthly pageview goal, it's just ideal that you get fair compensation for your efforts.
We hope this Ezoic vs AdThrive review will help you choose one of the best ad networks to significantly increase your revenues than you do with Adsense alone.
I think, with non-US traffic, Ezoic is the ONLY player that makes sense to switch away from Adsense for. With their machine learning, they can optimize the revenue from any country, even yours!
Joost Nusselder is The Content Decoder, a content marketer, dad and loves trying out new tools en tactics. He's been working on a portfolio of niche sites since 2010. Now since 2016 he creates in-depth blog articles together with his team to help loyal readers earn from their own succesful sites.