I love creating free content full of tips for my readers, you. I don't accept paid sponsorships, my opinion is my own, but if you find my recommendations helpful and you end up buying something you like through one of my links, I could earn a commission at no extra cost to you.
More information
Adsense is great because you can get it up and running in minutes on a brand-new site.
Although you have to be approved and need some minimum content requirements, with a few quality posts, that shouldn't be a problem.
But Ezoic is the first large ad network that opened its doors to smaller publishers, and you can even get in with less than 10,000 pageviews per month now.
Let's look at Ezoic as an Adsense alternative, and I'll let you know right now: it's the best ad network for smaller publishers + the best for non-Us traffic of all sizes!
Best ad network for non-US traffic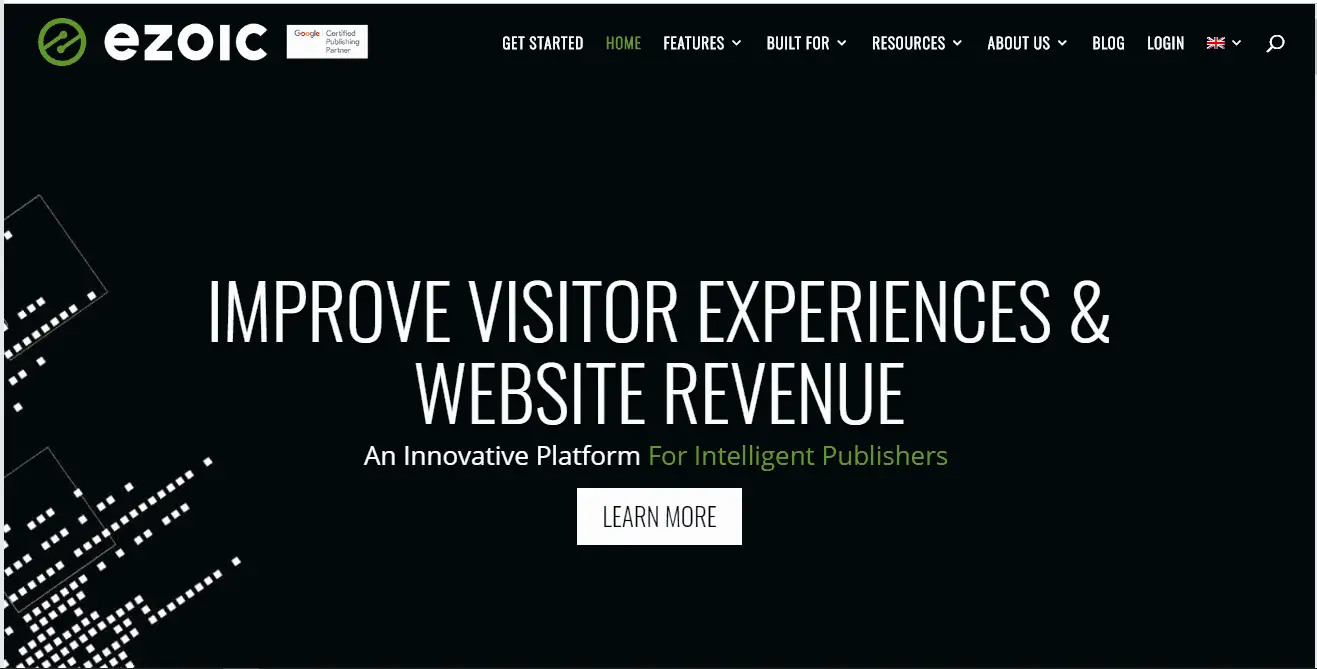 Best for
No minimum traffic requirements

Huge boost in RPM

Boost in non-US traffic RPM as well

Ads with great user experience
Falls short
Experience focus can leave money on the table
When publishers talk about Adsense, there's lots of discussion about profitable niches and a full-time income, but the discussion should be about traffic.
I see daily forum threads of people wanting to learn how to reach $100 a day with Adsense (or through any other network I'll get to in a moment, although it's hard to find another alternative with non-US traffic).
At the end of the day, it's all about traffic. Many factors affect a site's overall income, but high traffic is the common denominator.
When you have 10,000 visitors per month on your blog, it is time for an Adsense alternative, but with Ezoic, you might get in even sooner.
My secret to being a full-time blogger? I use Ezoic on all my sites instead of Adsense.
Revenue with Ezoic vs Adsense
The biggest metric you need to calculate AdSense revenue for a website is page RPM.
What is page RPM?
RPM calculates how much money you've made per 1000 page views. It's calculated based on your traffic, CTR (click-through rate) and CPC (cost per click).
Page RPM = (estimated earnings / number of pageviews) * 1000
The average RPM I've experienced with Adsense is about $2 to $30 in various niches.
In general, the page RPM is higher for my English-language sites (which attract a lot of visitors from America) than for my Dutch-language ones, and the RPM is much higher for business blogs (€7) than for my cat blog (€2). -).
The highest RPM I've seen was with my energy blog during the transition months of November and December (€30).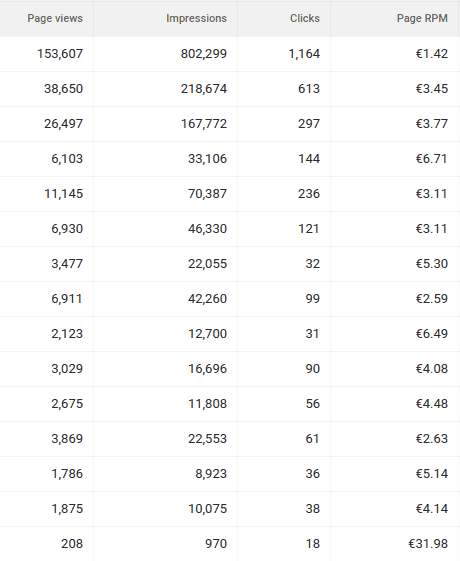 Knowing your RPM allows you to compare the revenue of one ad network to another accurately.
Most publishers who have joined Ezoic earn up to 80% more revenue from Ezoic than Adsense.
I've switched all of my sites to Ezoic, but before I did that I tested one of them to see the differences, and the results are quite good!
Ezoic lets you easily test their ads against what you had by allowing you to set how much of the traffic you want their ads to see.
They call the the split testing feature within EzoicAds. It's the only ad network that allows you to do that because they're confident they can boost your revenue.
Tests show a 90% increase with Ezoic
For my experiment, I set it to 90% Ezoic and 10% my "normal" Adsense ads.
The results of the EzoicAds experiment:
I earned $187 in a month in ad revenue via Ezoic with 17,572 page views and €14 via Adsense with 2,763 page views.
For Adsense that is an RPM of €5.06
For Ezoic, it was an RPM of $10.64, in euro that is €9.58
That's a 90% increase!
Ezoic vs Adsense to earn €100 per day
Let's break down the numbers even further with some sample stats.
With Adsense, the RPM was €5.06. Every 1,000 pageviews earn €5.06.
So you need €100 / €5.06 * 1000 = 19,762 pageviews tot earn €100 per day.
Or 19,762 * 30 = 592,885 pageviews per month.
That's almost 600K pageviews per month!
With Ezoic, the traffic you'll need for €100 per day is significantly less.
You need €100 / €9.58 * 1000 = 10,438 pageviews to earn €100 per day.
Or 10,438 * 30 = 313,152 pageviews per month.
So that's close to 300K pageviews per month. We just cut the amount of traffic needed for a full-time income in half!
I think this is what you can expect from an average site about one of your interests. Especially if you have a large amount of non-US traffic.
Advertisers pay more for traffic from the United States than other countries.
Ezoic uses the metric ePMV instead of RPM because they tend to focus more on user experience on the site than other networks do.
Ezoic wants to maximize the revenue per visitor, not per pageview. It may seem like a small difference, but it's not.
If you try and maximize the revenue per pageview, you'll cram as much ads on a page for a visitor to see.
With ePMV though, you want to decrease the number of ads on a page, so you can increase the likelihood of visitors checking out more pages on the site, loading more ads on the next pageview as well.
So Ezoic's algorithms are tuned to increasing user experience as well as revenue.
ePMV is "Earnings per thousand visitors."
Site ePMV = (estimated earnings / number of visitors) * 1000
I'm telling you this because this next table is from the Ezoic Big Data Analytics and show the ePMV for the sites: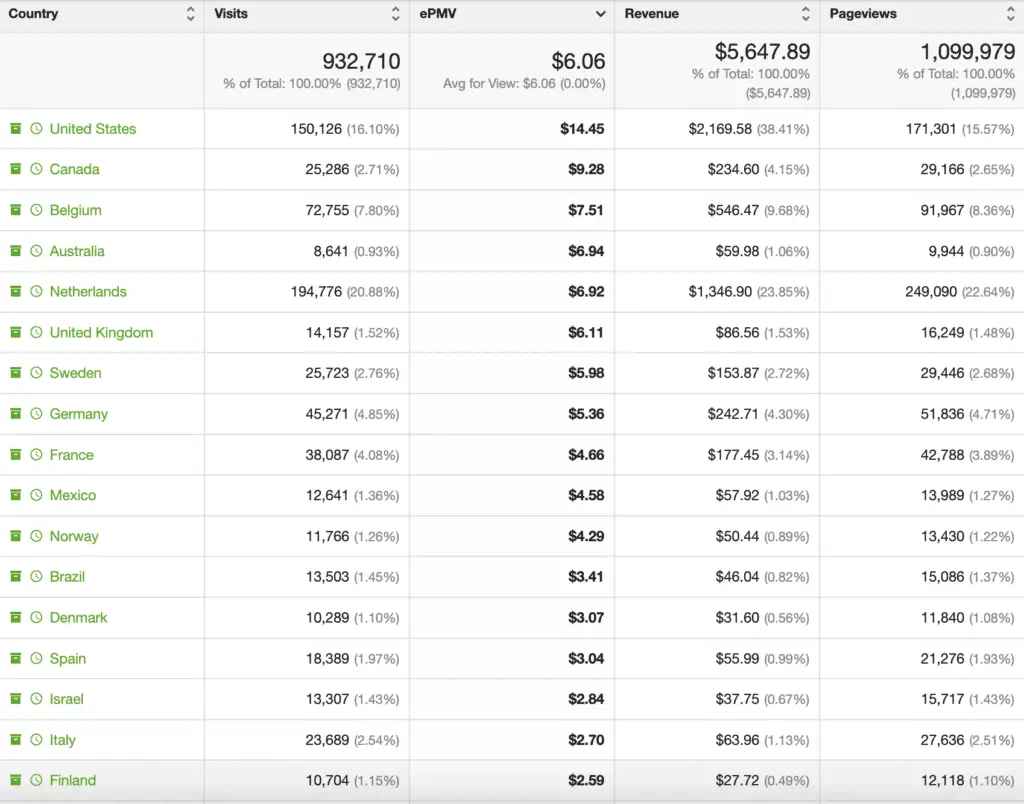 The ad revenue for the United States is much higher than for other countries. Canada is also high up the list and The Netherlands and Belgium are pretty high as well.
A lot of other European and Scandinavian countries fair well too, but still the ePMV is more than half of what The US's is.
If we look at the amount of pageviews we need for €100 per day with just US traffic, it would be much lower.
€100 / US RPM of $11.50 * 1000 = 8,695 pageviews to earn €100 per day.
Or 8,695 * 30 = 260,869 pageviews per month.
Other Adsense alternatives
Fortunately, there are alternatives to adsense that pay more, but you have to meet some requirements.
For example, your website must have good content and there are different requirements for the visitor volume that you must already have in order to participate.
The top three are Ezoic, Mediavine, and Adthrive:
Ezoic has a minimum visitor volume of 10,000 visitors for the pro version, but you can start for free, even with as low as 100 visitors per month, and is the best network for non-US blogs and websites
Mediavine has a threshold of 50,000 pageviews per month. I didn't see a revenue increase compared to Ezoic for US traffic, and the non-US traffic RPM was comparable only to Adsense.
Adthrive has a minimum traffic volume of 100,000 pageviews and is the best network for larger sites, but only if you're writing for US visitors
In all fairness, I did try Mediavine but I haven't tried Adthrive. And I don't think I will.
Ezoic is more than just an ad network
Ezoic is a Google award-winning ad network for publishers that uses many automated tools to significantly improve publishers' revenues.
For example, Ezoic developed the advertising revenue index statistic to describe the state of the online advertising market for everyday use.
This is a transparent method that helps publishers determine whether their ad revenue is going up or down due to global market conditions and how it affects their own sites.
Getting Started with Ezoic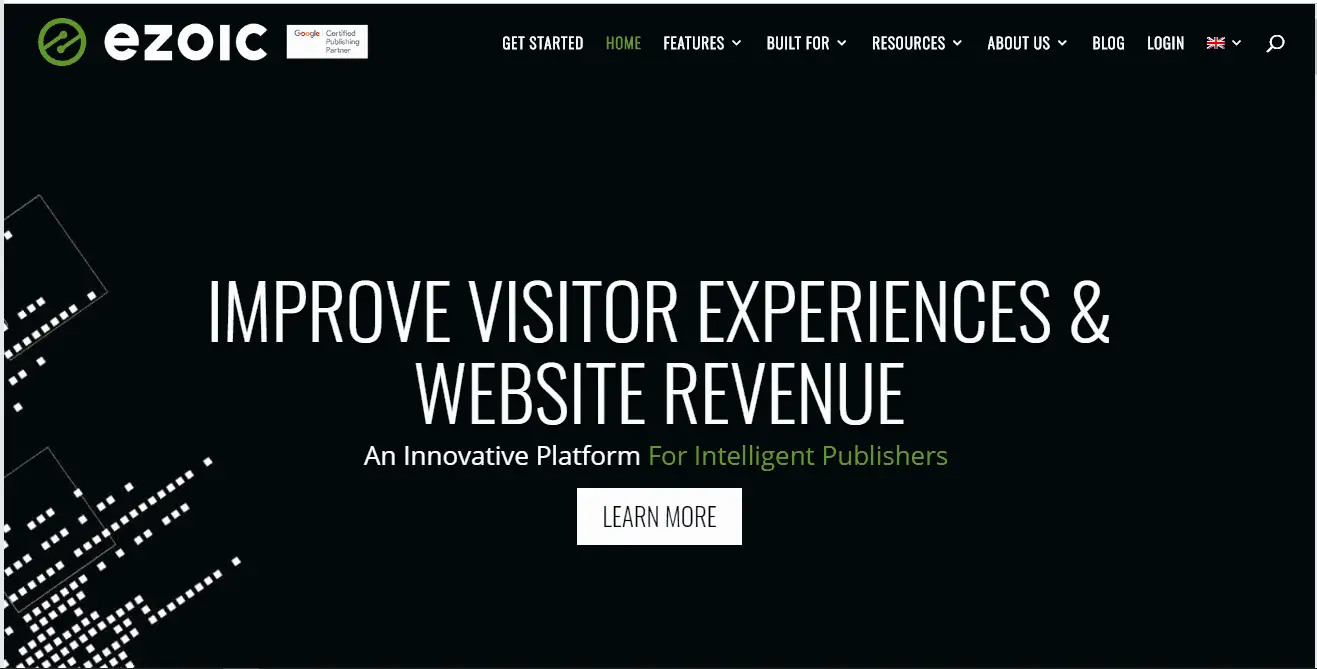 To get started with Ezoic, all you need to do is: sign up for free.
You can then decide to get started with ad tester or layout tester.
Ezoic follows a manual method of rating sites, so it can take a while to finally get started. They want to make sure your site has everything it takes to join their network.
After you're approved, you'll see some significant improvements in your ad revenue.
For best results, make sure you load your website with lots of ad placeholders. This allows Ezoic to test them for more configurations – the more testing, the better the result.
In addition, Ezoic uses EPMV instead of regular CPM or CPC. EPMV is a standard Earnings per thousand visitors to your blog.
The EPMV works automatically by taking into account your site's bounce rate and pageviews per visit. Ezoic trusts that this is the only accurate measure of publisher revenue.
Keep in mind that when you compare this to adsense RPM you are comparing apples to oranges.
User experience when showing ads
People often only look at the amount of revenue they can squeeze out of every pageview, but that's the wrong way to look at it.
I often call this the "recipe site effect", where almost every paragraph is followed by an ad, with sticky ads in the sidebar, the bottom of the screen, and a floating videoplayer that plays as soon as you land on the page.
Than you have the pop-up for signing up to the email list almost immediately after you land on the page.
This is not a good user experience.
Instead, try testing what works to increase the overall site revenue and maximizing number of pageviews and returning visits.
I promise you that will earn you more in the long run.
Ezoic has a number of cool features that help you do that. I won't go into detail about all of them here as I've reviewed them in full on the site before.
AD-tester
With Ezoic Ad tester, you can run automated multivariate testing with a simple drag-and-drop method, which helps maximize your revenue by balancing the number of ads shown and the visitor experience.
Ezoic's AI understands the combination of an ideal ad for site visitors and uses this knowledge to deliver different combinations to different site visitors for a better user experience.
Layout Tester
The layout tester allows you to test multiple site layouts and choose which one is best for the user experience. You can then adjust this to the visitors. This is an ideal strategy for dramatically growing site revenue.
Big Data Analytics
With Big Data Analytics, Ezoic allows you to track visitor engagement and authenticate user behavior. This helps you grow your traffic more efficiently.
You can also access data on SEO, ad revenue, and more.
Sitespeed-tools
Many bloggers now understand why they need to keep their sites efficient, and speed is essential. Ezoic has made provisions for site speed tools; no need to install any other speed plugin on your site.
Apply for free and test Ezoic out here
EzoicAds features
Let's look a little closer at the EzoicAds platform:
Ad Positions
Ezoic can set up everything for you with the use of a cool WordPress plugin. You could be up and running in minutes after being approved.
That's why the ease of use in unparalleled.
But to get the most out of your revenue, you can also place ad positions manually with a browser extension.
Ezoic calls these "placeholders". That's because they aren't actual ads (yet), but rather placeholders where an ad could be shown.
Remember, Ezoic also takes user experience into account. This means that putting ads in every possible place would not be a good thing to retain visitors.
Instead, the AI algorithm uses these placeholders as possible positions for an ad, and test these over time for revenue and user satisfaction.
You're able to precisely pinpoint where you want ads to show, and where not to (like in a table, or the table of contents).
That's the power of the EzoicAds system.
You also have control over the ad types you want, like vignette ads, floating video ads, sticky sidebar ads, anchor ads, and more.
Adsense/ Mediation
The Adsense and mediation feature allows you to still use Adsense or other ad networks alongside the Ezoic connection with their partners and the Google Ad Manager platform.
If you already have some established ad partners, they can be connected through the Ezoic platform which allows them to bid on ad positions as well.
This is called header bidding and it can increase your revenue even further.
In practice, I only use Adsense in conjunction with Ezoic because most other platforms demand exclusivity and don't want to integrate through header bidding (believe me, I've tried to add some to test out the differences).
But Adsense does win a bid occasionally and you'll see that revenue in your Adsense account.
Ad Transparency
Ezoic has made it very easy to add the required ads.txt to your site. this is great if you've never done it before because it can be quite a hassle.
Ads.txt is a file where you add the networks you allow to bid on the ads for your site. If a network is not on your list, it cannot bid on ad placements.
This was put in place to avoid ad hijacking. Ezoic does this all for you.
Ad Sales
This is where you can allow advertisers to work directly with you, without the need of putting a separate banner somewhere on the site.
Ezoic has set up a page for you where potential advertiser can go to see you stats. Like a mediakit.
They say they go out and look for advertisers for you when you have a large site, but I haven't experienced that, or they just haven't told me.
The page looks pretty nice though: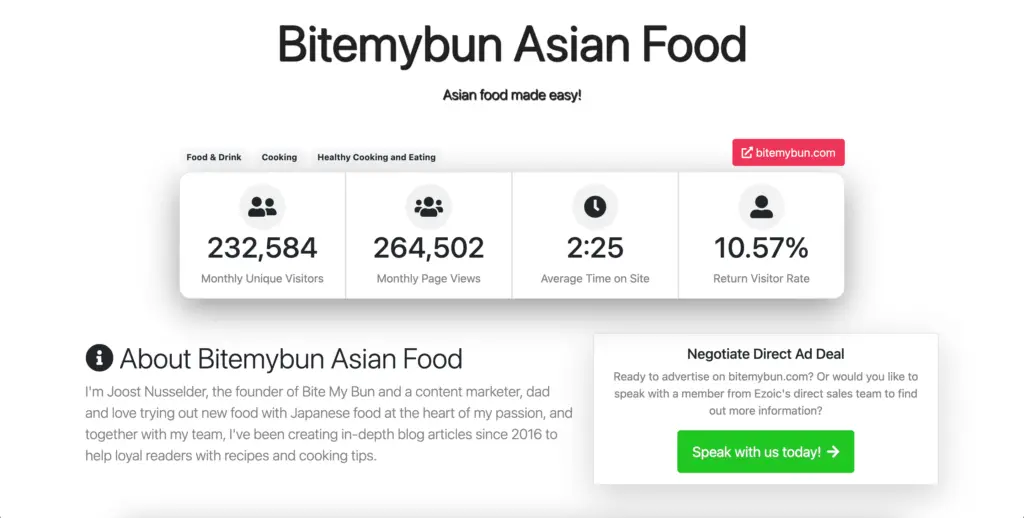 Ad Restrictions
The ad restrictions page allows you to have some more granular control of the ads you show on your pages.
You can add a maximum ads per page. I don't use that because I have some pages that are 6,000 words and others that are 600. I wouldn't want to restrict the ads on the 6,000 word article to a maximum of say 8.
You can also restrict some types of ads. Sexual ads and casino ads are turned off automatically. You could turn those back on, but you can also turn more categories off, like weight loss, religion, etc.
Another cool feature is to disable ads by page. I have some pages I don't want any ads on like the about us page or the email signup landing page.
Some prefer to exclude the homepage as well, but I don't do that.
You can also block specific advertisers from bidding on your site and you can see if some of your content was flagged for objectionable content. That would prevent ads from being shown there.
Optimization Goals
These are exactly what they sound like. You can set the type of goals you want the AI top optimize for. This can be:
Revenue Focussed: Ad placements will be optimized for the maximum revenue per visitor
User Experience Focussed: Ad placements will be optimized for the user experience on the site, while still showing ads to users to retain revenue
Balanced (default): A combination of revenue focussed and user experience focussed
Split Testing
This allows you to only direct a portion of your traffic through the Ezoic ad platform so you can test out whatever other ad network you use on the remaining traffic.
I used this to test the difference in Adsense revenue with Ezoic revenue.
Ezoic Levels
Ezoic Levels are a new layer to the EzoicAds platform. It's how Ezoic wants to make transparent what level of service they provide their publishers of different sizes.
Each level has its benefits, which grow when you get to the next level.
The more you grow with Ezoic, the higher your level. This unlocks more potential for extra revenue and assistance from the Ezoic experts so you can take that momentum and grow even further.
Conclusion
Growing site traffic requires a lot of hard work. When you finally reach the monthly pageview goal, it's just ideal that you get fair compensation for your efforts.
We hope this Ezoic vs Adsense review will help you choose one of the best ad networks to significantly increase your revenues than you do with Adsense alone.
I think, with non-US traffic, Ezoic is the ONLY player that makes sense to switch away from Adsense for. With their machine learning, they can optimize the revenue from any country, even yours!
Joost Nusselder is The Content Decoder, a content marketer, dad and loves trying out new tools en tactics. He's been working on a portfolio of niche sites since 2010. Now since 2016 he creates in-depth blog articles together with his team to help loyal readers earn from their own succesful sites.