I love creating free content full of tips for my readers, you. I don't accept paid sponsorships, my opinion is my own, but if you find my recommendations helpful and you end up buying something you like through one of my links, I could earn a commission at no extra cost to you.
More information
NicheIQ is a cloud software application made by Ezoic.
It consists of several products:
Site Health: Ezoic Broken Links Tool
On page SEO: SEO Tag Tester
NicheIQ Topics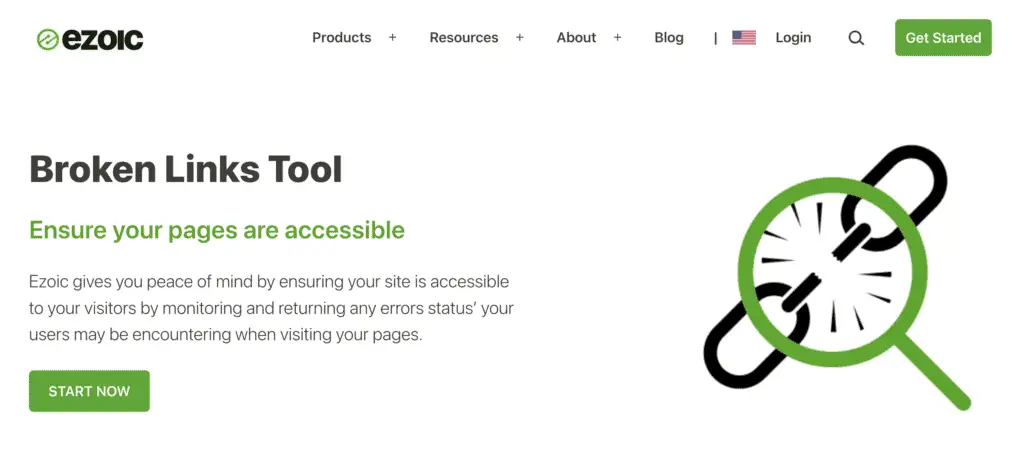 There are a lot of tools out there for building niche sites, and most of them are paid. What if you could get all you need in one complete package?
That's what Ezoic is aiming for here. They want you to be able to succeed so you can increase your ad revenue and they can take their cut.
It's why I like Ezoic so much because it lets you take advantage of tools that would typically cost hundreds of dollars to buy separately. Each month!
To build a successful niche site, you need a couple of things. And Ezoic has many publishers they can tap into to learn what they need.
By listening to customers they've created this suite of products.
As a publisher, you'll want to know what to write about. That's where the Topics section comes in. A light version of larger keyword and competitor research tools like SEMrush and Ahrefs.
When you've written your content based on the insights from SERP and competitor research, you want to make sure people click your article.
The SEO Tag Tester was built to help you test your headlines and meta description to ensure you have something clickable. I've used this tool with great success!
When you've built your site, you'll want to ensure it runs smoothly. A thing a lot of publishers struggle with is links. Where you link to and if those pages are still live. So they created the Broken Links Tools.
Best built-in niche site optimization toolkit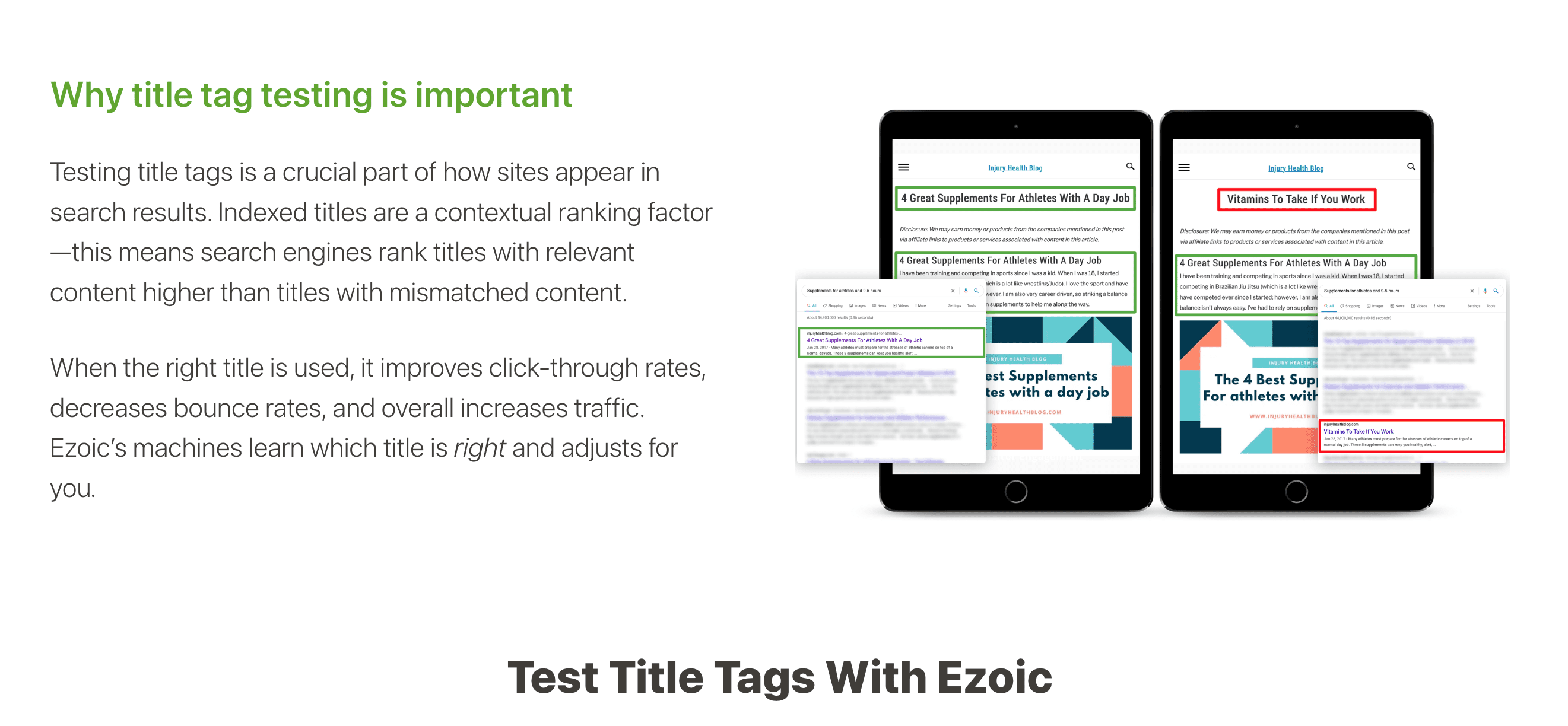 Best for
Great tools for free in your Ezoic subscription

Title tag tester is amazing
Falls short
Topics still needs some work to compete with existing tools
Products in the NicheIQ toolkit
Broken Links Tool
The broken links tool ensures your pages are accessible. It monitors and returns any errors status your
users may be encountering when visiting your pages.
The tool triggers when one of the links on your site is crawled, but gives an error. This could be that the page. no longer exists, but also when a page can't load.
So this is a great on-page optimization tool, as well as a tool to discover large errors on your site.
You can see how many broken links you have in your dashboard. You can also see the trend here to make sure you're moving in the right direction.
For each URL with an error, it shows the URL and the reason why beside it. It also shows the amount of traffic that resulted in an error.
One of the great things of the tool is that it prioritizes the errors based on amount of pageviews to that URL.
I like to use the 80/20 rule for all of my work. Most tools don't allow you to do that because you can't see how impactful the errors are.
So being able to only work on the top issues helps me a lot in running my online business.
SEO Tag Tester
Try different page titles and meta descriptions for URLs on your site and show the one that performs best.
The system conducts sophisticated testing on title variations and determines which improves SEO performance the most.
We've all read the articles on how to make more clickable titles with weird numbers like 7 or 11 or with "power words," but you need to test them.
SEO tag tester is a cloud software application within the NicheIQ suite of products. It lets you test the title tag and meta description of a webpage to optimize the click-through rate of that page in the Google SERP.
The SEO tag tester displays the original title and variants each for a short time and determines the winner for you.
You can set up these experiments in Ezoic, if you're already a member or you could sign up for display ads and get it for free.
In order for an experiment to work, you need to have significant traffic to your post already. So this works best if you have around 700 pages per month to one article.
That's because with fewer page views on one article per month it takes longer to do the test.
If it takes longer to do the test then other factors will come into play when looking at the different click-through rates.
So if it takes over three months to complete a test then seasonality will come into play. Maybe other factors like the Google ranking that you possess for the article will change.
Ezoic shows you how many pageviews you get and will show a warning if the number is too low.
But once you have that, you can do as many of these tests as you want.
Topics
With topics, the system analyzes your content and performance through Google Search Console data and gives you those topics that you lack and could bring you the most revenue.
Finding the right topics to write about is always hard. It's hard when you're starting out, and it's hard once you've covered a lot of ground already.
That's why publishers spend a lot of money on tools to help them uncover articles with great potential.
Ezoic knows this. They've asked us, their publishers, what we were struggling with and decided to help out with the free NicheIQ Topics tool.
You get 3 ways of looking at content gaps:
Topic Suggestions
Competitors Overview
Competitors List
Each topic has a few additional columns of information to help you decide what your next topic should be:
Potential: This is a metric Ezoic calculates to determine the topics with the highest potential for your site. It's based on the search volume and keyword difficulty scores.
Search Volume: An estimate of how many searches the topics gets each month.
Keyword Difficulty: A measure of how difficult it will be for your domain to rank for this topic. It's based on the search volume, domain authority and relevancy of the topic to your site.
Covered: If you've covered this topic already.
You can mark any of these topics as covered so the value "No" will turn into "Yes".
You are also able to sort or filter on any of these columns to get your ideal set of topic ideas.
The best thing about the tool is that it's free in your Ezoic account. I use Ezoic for all of my display ads on our sites because it's gets you great revenue but access to great tools like this one as well.
Other than that, it's a pretty light tool when it comes to keyword research and that comes with its advantages and disadvantages.
Conclusion
NicheIQ is a great set of tools to help you get the most out of your niche sites. Not all of the tools are great, but they do cover a versatile ground.
For most, it's great that they're free so you can invest your earnings back into content.
Joost Nusselder is The Content Decoder, a content marketer, dad and loves trying out new tools en tactics. He's been working on a portfolio of niche sites since 2010. Now since 2016 he creates in-depth blog articles together with his team to help loyal readers earn from their own succesful sites.