I love creating free content full of tips for my readers, you. I don't accept paid sponsorships, my opinion is my own, but if you find my recommendations helpful and you end up buying something you like through one of my links, I could earn a commission at no extra cost to you.
More information
Being in position 1 on Google won't do you any good if no one is clicking on your title.
It's the most important part of your article and how many people click on your title helps increase your position when Google will see that people click on your article more often than on others.
Using best practices for writing good headlines is a great start, but A/B testing different directions and ideas is the best thing I've done for my blog in a long time.
The tool I'm using here is the SEO Tag Tester within NicheIQ from Ezoic:
By testing my headlines, I increased clicks and traffic by 19%!
We've all read the articles on how to make more clickable titles with weird numbers like 7 or 11 or with "power words," and I'll give some tips on that in a minute.
But here, I wanted to test creating intrigue so people will click on the article more to find out what I mean by the title.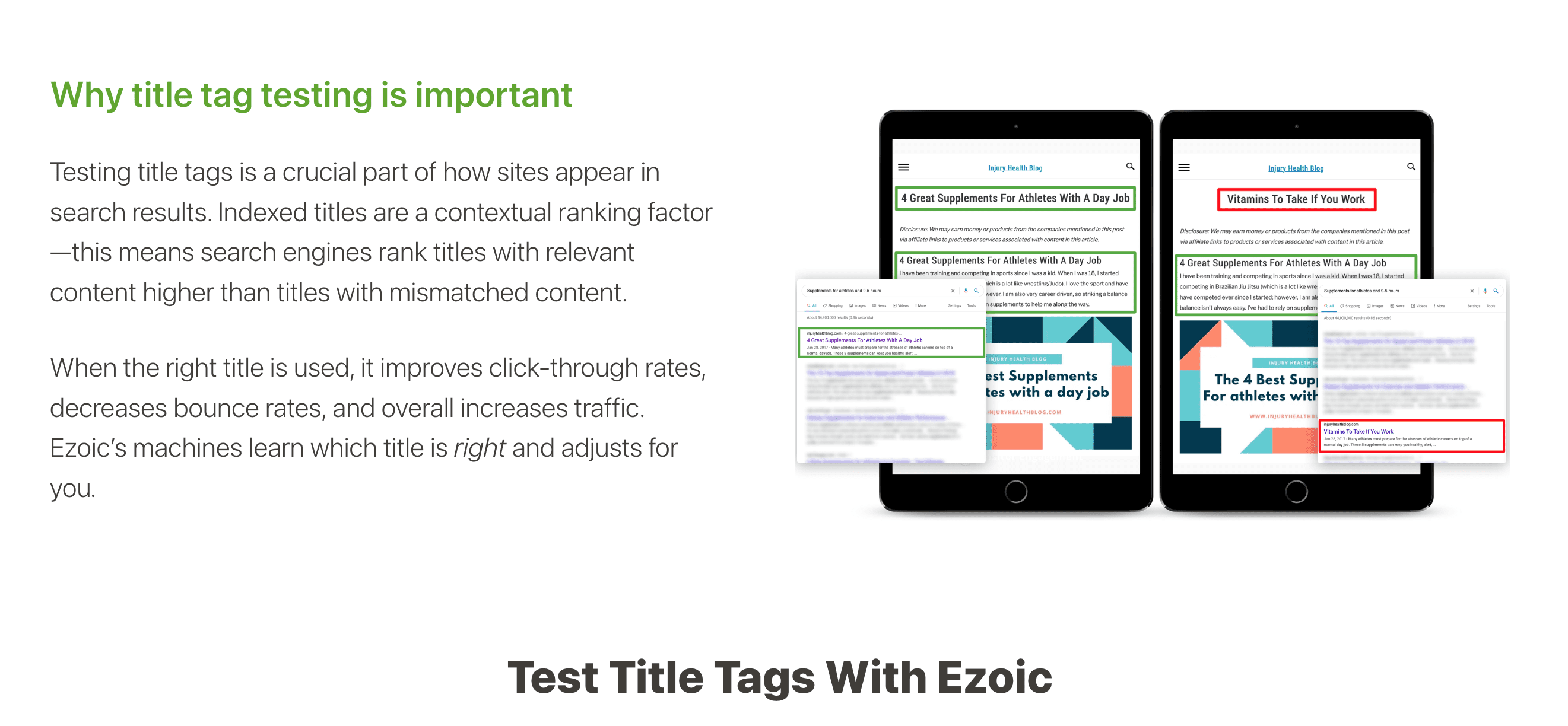 Best for
Great tool for free in your Ezoic subscription

One of the best things you can do to increase traffic
Falls short
Ease of use is somewhat lacking still
What is the SEO Tag Tester?
SEO tag tester is a cloud software application within the NicheIQ suite of products. It lets you test the title tag and meta description of a webpage to optimize the click-through rate of that page in the Google SERP.
The SEO tag tester displays the original title and variants each for a short time and determines the winner for you.
The winning "19% increase" title
For my site bitemybun.com on the substitute Dashi in your stock article, I decided to go more for this intrigue and tested two variants against the original:
Original title: Don't have dashi stock? Use these 6 secret substitutes instead!
Trial A: 6 Best Dashi Substitutes…Wait I Have #4 In My Pantry RIGHT NOW?
Trial B: 6 Best Dashi Substitutes…Wait, I Already Have #4 In My Pantry?!?
The title tag tester rotates the original title and the titles you've chosen for the trials so Google gets a chance to display each of these in turn on the SERP.
Then it'll look at the click-through rate you got on your article to see which trial won.
The one that won is trial A, so that got the most clicks. It creates a little mystery and I wanted to make sure this article was helpful for someone searching how to substitute Dashi right now because they just found out they didn't have one of the ingredients.
So wait, I have number four in my pantry RIGHT NOW? That's awesome!
The original title "Don't have dashi stock? Use these 6 secret substitutes instead!" was one that I'd tested before and that one came out as the best then.
Setting up title tag experiments
You can set up these experiments in Ezoic, if you're already a member or you could sign up for display ads and get it for free.
When you set up these tests, you can create new experiments right over here:
In order for an experiment to work, you need to have significant traffic to your post already. So this works best if you have around 700 pages per month to one article.
That's because with fewer page views on one article per month it takes longer to do the test.
If it takes longer to do the test then other factors will come into play when looking at the different click-through rates.
So if it takes over three months to complete a test then seasonality will come into play. Maybe other factors like the Google ranking that you possess for the article will change.
Ezoic shows you how many pageviews you get and will show a warning if the number is too low:
"Warning. These tests have low pageviews. You can create a test but may not receive valuable results."
But once you have that, you can do as many of these tests as you want.
You can select one of these URLs and I've never done a test for Nilakan Baboy Recipe so I can choose that one and then click on create:
You can also test the description, although I don't think Google uses your description anymore. Maybe in 10% of cases, so I don't test the meta description.
Then click on add a new trial and we can enter a new title tag to test.
I always look at how long a title is with a title tag preview tool. There are loads of free ones online, and I use this one.
When you've figured out a nice title put it over here in the title tag tester and then click save:
Now I can click on Start experiment and it will begin testing these two, one against the other.
How to view experiment results
Once the experiment is done, you get a little notification up top within your Ezoic account.
One of my experiments is done, and you can click on view results right here:
You'll get the graph showing you the results:
Another successful trial I did was for the best sauces for rice:
Original title: 22 best sauces for rice: you need to try hot sauce number 16!
Trial: 22 best sauces for Rice so you'll never have a dull meal again
The trial won pretty significantly.
How to come up with blog title ideas
It helps to think about why your audience is searching for something.
In this case, they're looking for different rice sauce options, but why?
I thought, why would you be searching for that? Because well, rice can be pretty dull and people run out of ideas to make it more interesting fast.
So let's try to incorporate that into the title.
This is just an idea. You don't know if it will work. I could have changed my title to this and significantly reduced the amount of clicks I got to my site.
Because it's pretty far out there. I would never have chosen this option if I hadn't tested it first.
The ability to test gives you the opportunity to try out new ideas and come up with some really creative titles.
Potential readers won't click to read more if there's nothing that piques their interest.
The right headline will give you a higher click rate on your organic search results, your ads, your blog posts, and anything you use a headline.
A good headline will keep your visitor reading. And the good headline of another article on your blog, for example in your sidebar, ensures that the visitor reads multiple articles.
And since click rate, time-on-site and bounce rate are some of the most important SEO factors, a good headline is also essential for your search engine optimization strategy.
What strategies are currently working for creative, clickable headlines?
Let's take a look at 11 powerful, reproducible ways to write a great headline for your website, email, or ad. Of course with plenty of examples!
Tip #1: Use simple language that prompts action
The language you choose obviously influences the click-worthiness of your headline. When you use words that are bland, uninspiring, or unfamiliar to most, your potential readers will either leave or click on a competitor's website.
Instead, you can opt for language that is simple yet powerful.
For example, try turning your headline into a call-to-action with words like
"Try This" (Try These 9 Headline Tactics)
or "Click to" (click to start with a free one…), just make sure that the title doesn't appear on your website like that, that would be a bit strange because then they won't be able to click at all
or address the reader directly with the word 'you' (which you can…)
Transform a boring headline with a powerful word like "never", negative words get a higher click-through rate than positive ones because you touch on someone's pain point (Outbrain research)
Keeping the language simple is your best chance to get more attention for your message. Don't use the word "implement" if the word "apply" would work too.
Examples of headlines with simple yet powerful language
How to solve all your sleeping problems with science
NASA has released a ton of software for free and here are some examples you should try
Tip #2: Make a clear statement
Introducing a "shock factor" into your headline almost always leads to high click-through rates. Think about ways to spice up your title and phrase it in a way that instantly engages the reader.
Making a bold, quirky or controversial statement is a perfect way to do it.
One brand that makes headlines time and again is Refinery29, an online publication for women readers.
The reason Refinery29 excels at this is because their headlines are usually very quirky and intrigue the reader.
Check out the examples below: Chrissy Teigen has had cosmetic surgery?! Why would I want to piss off Beyonce's publicist? You're starting to get it already!
Examples of headlines making bold statements
Become a millionaire at age 30
Cinema movies are dead and top actors are going to series, read why
You can also make a bold promise. Are you going to teach the reader how to learn a new skill? Are you going to persuade him or her to do something they've never done before? Unravel an ancient mystery?
What you want to do is dare to challenge your reader to read the article. Without being overly promising, you have to deliver.
Tip #3: put numbers in your headline
This tip may seem like a no-brainer, but I couldn't resist as it has proven to be super effective time and again.
A list of tips wouldn't be complete without this tip.
People are inherently attracted to numbers and lists.
They are easily processed by the brain and a headline stating this is exactly what the reader gets assures the format will be easy to digest.
Conductor conducted research where they found that headlines with numbers performed significantly better than headlines without.
Examples of great headlines with numbers
45 productivity tips for very busy people
9 things you should never say when asking for a raise
40 Essential Social Media Marketing Statistics for 2022
Tip #4: do your competitive research
Have your competitors written articles or created advertisements on the same topic you plan to cover?
What headlines did they use? What are the headlines of the pages that are already at the top in Google? How can you make yours better?
These are the kinds of questions you should ask to write more compelling headlines. If your head doesn't stand out from the millions presented to ewe every day, your chances of achieving high CTRs are nil.
Google your keyword and see what pops up in that #1 ranking.
Also, use content management tools like Buzzsumo to search for your keyword/topic and see which related articles have gotten the most shares.
Why was that?
A great headline often gets people to share it with their followers. How can you make your headline more attractive?
Research is critical!
Dan Kennedy once introduced the "flagging technique" and it's a powerful way to write headlines for both copy and blog posts. You already know one of the basic techniques, where you address the readers as "you".
Personally, I use "your" in a lot of my headlines. And what I found is that for every headline that includes "you," the engagement is usually very high.
The word 'you' connects and fascinates your readers, on a personal level.
Since the majority of your competitors also use content to reach and attract customers, you need to reach your prospects smartly and personally, whether you're a B2B or B2C marketer.
Here are some examples of niche-specific headlines that appeal to a target audience:
Only for Tradetracker Affiliates: Double your affiliate commission in just 15 minutes per day
WordPress Fashion Bloggers: 4 ways to secure your blog from hackers
Tip #5: ask a strange or funny question
Questions, especially strange ones, are the perfect way to grab someone's attention in a way that makes them want to know more.
Why?
Because the instinct is to want to find out the answer when we see something unusual, which is not possible unless you click the headline and visit the website.
When used properly, this method guarantees high CTRs.
Questions appeal to readers' emotions as few other methods can.
It's important to be strategic in your questioning strategy. Copyhackers recommends never asking questions in a misleading way, which could deter potential readers from coming back.
Examples of great headlines based on questions
Why are you still using Microsoft Word?
Could you pass a 1954 economics class?
Tip #6: Create a sense of urgency
FOMO (Fear of missing out) is real, and it works really well for headline writing.
Create a sense of urgency by providing a special offer expiration date and using urgent language, such as in the AdWords sample ad below.
By using the word "Hurry!" you are encouraging your reader to click and take advantage of this limited-time offer before it's too late.
This can work even better when giving an exact deadline, for example:
"only three more hours" or
"limited availability! the 20% discount expires tonight"
Examples of headlines that create urgency
Marketers: Are You Ready for May's GDPR?
19 simple tips to lower your bounce rate today
I've also studied Peep Laja's headline styles for a long time. He only uses specific titles that help his community optimize conversion rates. Here's an example:
It's supposed to convey a sense of urgency: In a recent post, Derek Christian, founder of Cleaning Business Today, said that "effective marketing comes down to creating the fear of missing out on a great deal."
"effective marketing boils down to creating a fear of losing out on an amazing deal" – Derek Christian
This was exactly what Michael Hyatt explained with his "Urgency Wheel":
Unless you give your headline urgency, your readers will likely put off reading your content or possibly bookmark it and never come back to it. The goal is to get readers to click on your headline and start reading right away.
Scarcity and urgency are two powerful text elements that usually go together to produce excellent results. I first came across the model at WiderFunnel and I still use it today.
E-commerce sites use a lot of urgency and scarcity. Here's how Amazon uses both elements to sell more physical products, especially in the electronics and gadgets category:
Urgency-based headlines will always grab attention because it lets the reader anticipate what's next.
Tip #7: leave an Air of Mystery
There's an art to how much information you have to reveal in a headline, but you should never name your main point.
When you do that, the reader has no reason to click through and read the rest of your content.
However, there is a fine line between too much and too little information, so make sure you give enough information to spark interest, but not so much that the reader feels fully informed just reading the headline.
(Protip: This technique also works if you want to write a great introductory text.)
Examples of great headlines that make you oh-so-curious
17 Facts You Won't Believe Are True
three interview mistakes you think you've avoided, but actually haven't
Earthworms are more important than pandas (if you want to save the planet)
7 Reasons Your Best Employees Leave Even When They Like Their Job
This is why you should never get up to pee in the middle of the night
Tip #8: Write multiple headlines and choose the best one in the end
This is a strategy I used when I started writing headlines for articles and titles for presentations.
Let yourself do a complete brain dump of all the headline ideas you have. Think about ways you could possibly combine them.
Then share the three best headlines with your team, your employees or even your partner and ask them to vote. You will likely come to a clear consensus quickly.
Tip #9: Use emotion to describe your reader's problem
Use emotional adjectives to describe your reader's problem.
Here are some examples:
without effort
laborious
fun
free
incredible
essential
absolute
foreign
In his flagship book, Empathic Marketing: How to Satisfy the 6 Core Emotional Needs of Your Customers, Mark Ingwer said that just by understanding why customers buy, you can grow your business and develop loyal customers.
Appealing to your customer's emotions will significantly increase your sales and social shares.
Customers are people, with all the qualities that make them human. It's not the numbers you see on your sales dashboard.
Your prospect's brain is made to fend off any message that isn't clear and realistic. But if you start reaching out to people emotionally, they'll be more likely to trust you.
Tip #10: Be ultra-specific
The tenth rules of writing great headlines is to be ultra specific. According to The New York Times, a lack of focus, vision and planning is one of the reasons 33% of small businesses fail.
Your prospects have questions and they want answers. If you can give them an ultra-specific headline and the answers to their questions, you can convert them into loyal readers and customers.
The more precise you can be, the more authority you will gain in your industry and the easier you will find it to build strong relationships with customers.
Sometimes you want to mask the real purpose of the content from your target audience and rely on trigger words and powerful and strong adjectives in your headline.
There's nothing wrong with that. However, headlines that are ultra-specific give the reader an idea of ​​what to expect when they click to read the content.
Whether you're an established content marketer or a novice, you need to set specific and realistic goals. Don't confuse your readers with your headline. Avoid vagueness. Get straight to the point.
If you share five steps to achieve something, go ahead and make it known in the headline. This is one reason why you should choose your niche carefully.
Know your audience and write headlines that will meet their needs.
So, how do you write such ultra-specific titles?
Let's say your target keyword is "business plan". Here are specific headline variations that would work:
3 easy steps to write a business plan for beginners
Top 10 Small Business Templates That Succeed
Learn how to write a business plan for your company
Step-by-step process for writing a business plan in 30 minutes
See how specific the headlines above are? The bolded areas contain phrases that make the entire headline ultra-specific.
Tip #11: Try this formula for writing your headline
Now that you have gained some ideas, you can get started yourself. But where do you start?
A good starting point is this simple formula for writing headers:
A number or trigger word + adjective + keyword + promise
My most used trigger words are why, how, what or when because you often want to convince or help someone to do something.
Usually you use either a trigger word or a number in your header, rarely does it sound good to use both in this formula.
Example: Take the topic "washing elephants". You can write an article with the title:
"How can you wash an elephant without effort" or
"Why I Always Enjoyed Washing My Elephants"
Or you could apply this formula and make it:
"18 Incredible Ways You Can Wash an Elephant Indoors"
Another (more serious) example: Use a bold promise like "sell your house in one day".
Apply the formula and you get: "How to Effortlessly Sell Your Home in Less Than 24 Hours".
Why you should spend as much time on your headlines as you do on your content
Too often the headline is the most neglected part of writing an article. People just easily get rid of it without taking too much time.
In their minds, it's the icing on the cake. But that is not it! The cup is the sundae. It's success or failure.
Of course, thousands of websites can target the same keyword, but your goal is to write a headline that no one else has.
Some bloggers prefer to write their content before making the headline. I do not do that. However, there is no hard and fast rule. What works for me may not be the right approach for you.
I sometimes struggle with titles for 30-60 minutes before settling for one that works. And I often go back to them and change them anyway. Here's what it takes to write a good headline.
Sometimes tests give you a really good idea of ​​what appeals to people.
Testing your blog post title is tricky. You can A/B test it with Google Optimize (or these paid tools), for example, to see if a different version of the id="urn:enhancement-984292da-a2f7-48ab-a3d1-7163a36cfd0a" class="textannotation disambiguated wl-thing">headline </span<> gives you more time-on-site, for example.
However, the headline will still be visible in the search results.
It is easier to test in your advertisements and in your emails. The lessons you take from these A/B tests will tell you a lot about how to write the best headlines to reach your readers from now on.
As good as any advice is, we're talking general principles here, and testing for your specific audience is the best advice I can give you.
People like to share articles that are long (usually over 2000 words). But as a savvy marketer, you don't want to just assume that this will work for you, too.
The best way to make your own decision is to write a similar in-depth article and see how it performs.
For this reason, you need to measure your headline success. You want to make sure your time isn't wasted – or your money, if you hire a professional to write the content.
Some of the stats to focus on are:
Customer Requests: Has your content generated customer requests within a 2-3 month period? It doesn't have to be much. But the fact that you have a handful of customers is a sure sign that your headline style is working. All you have to do is just optimize and improve it.
You need to figure out which content generates the most leads for your business. Once you can determine that, you are on your way to improving conversions, because you operate from measurable values.
Social media shares: You need to check the number of Facebook shares and likes, tweets, LinkedIn shares and Pinterest pins. Making share buttons visible can increase sharing by 7x, especially when the post is useful.
Another thing you may want to measure is the number of inbound links you generate from your powerful headlines and content.
Editorial links are the best types of links to get because you don't ask for them. And they mostly appear within the content of another website, giving significant SEO value to your web pages and improving your search ranking.
Use the principles here in this post and test with your ads and with your emails that you can enthuse your customers and get them involved in your brand story.
Some less conventional tips that will definitely impact your headline click rate
I have now explained the most important tips that you can apply immediately. Even a formula so that you can immediately start with your own headlines.
But I want to dwell on some less conventional tips here.
Tips that have been proven to ensure a higher click rate.
With these headline writing tips, I'll show you how even the smallest tweak can have a huge impact on your title's catchiness.
Use of punctuation marks
For example, a recent study conducted by the Content Marketing Institute found that including a hyphen (-) or colon (:) in the headline increased click-through rate by 9%.
Strange numbers in headlines
Several studies have shown that headlines with numbers tend to generate 73% more social shares and engagement.
Numbers are like "brain candies". In other words, the brain is receptive to numbers.
But there is even more power in strange numbers.
It is very important to understand the science behind odd numbers. Often you will find viral blog posts with odd numbers in the headlines and you may have wondered why the authors didn't use even numbers in their posts list.
Here are typical examples, from Buzzfeed.com:
According to the Content Marketing Institute, the brain seems to believe odd numbers more than even numbers. Odd numbers also seem to help people process and recall information more easily.
And, when a headline was tweaked to include the odd number 7 instead of 8, clickthrough rate increased by 20%.
Ideally, instead of using the word "seven", you should replace it with the number "7" in your headlines. So instead of "Seven steps to start a home business" use "7 steps to start your own business".
Note: If you're writing a step-by-step guide, don't include more than nine steps, as the human brain usually finds it difficult to process more than nine items at once.
However, if you're writing about tools or different ways of doing something, there's no limit to how many you can use.
Little known ways
People love to discover something. They also love to share their discovery. That's why this next formula works so well.
The formula "Little known ways…" works great. Each of the words in the formula is emotionally driven. These types of headlines usually grab you and stay in your head even after they've read it.
The formula goes like this:
Little-known ways to [post your solution here]
And these kinds of titles are often a social magnet because people want to share their find.
For example, if your industry is photography, here are some headlines:
7 Little-Known Ways to Shoot Portraits
25 little-known tips to make your Lightroom powerful
Daylight Photography: 10 Little-Known Lessons I've Learned Through Experience
Here are a few headlines for digital marketers:
3 little-known steps to set up a successful blog
How These 5 Little Unknown Secrets Increased My Search Traffic By 54%
17 Little-Known Ways to Increase Conversion Rate
How do you survive your first
This is strong formula introduced by Sherice Jacob, known as "How To Survive Your First…"
The formula goes like this:
How do you survive your first [put subject here]
These headlines that promise that the reader will be able to solve a certain problem and it shows exactly what kind of audience it is for: the beginners in this field.
This headline will lead the reader to take three steps:
Read the first paragraph to determine if you really have the answer
Reads to the end or scrolls down
and takes action
Who doesn't want to?
The who-wants-not formula. This headline style works because it asks a question and the right question usually generates the right answer.
It puts the reader into discussion mode and makes them feel at ease. Copywriters ask different questions in their texts to give the customer a break and consider the product.
The same principles apply to headings as well.
Asking the right question can greatly increase your social shares and engagement.
Here are some examples of the "Who doesn't want" headline formula:
Who wouldn't want to learn about a [step by step] conversion optimization technique that works?
Who wouldn't want to know the 6 steps to perfecting your A/B testing?
Who doesn't want to raise capital for their new startup?
Downsides of the SEO Tag Tester
I did think the ease of use was somewhat lacking. I've used it for several years now and. I still don't know the best way to group tests.
On the experiment group level or the experiment level?
I'm also not sure if the winning title is being shown for every user. You can select if you want that to happen, which I don't.
But after having selected that in the initial setup, you can't see your choice anywhere once the tests are finished.
That makes it hard to guess which title the tester will use when doing a new test for the same URL, is it the original title that you have now replaced or the previous winner?
But it's a great tool to have in your toolkit if you don't mind a little figuring out.
Conclusion
With new and emerging content marketing strategies every day, it becomes difficult to focus on what works. This is why savvy digital marketers are disciplined.
They understand the importance of great content and the right headlines and whether it generates search traffic and leads.
It's a given that the headline is an integral part of your content, regardless of the type of post you make.
Your overall focus should be to educate prospects and customers by teaching them new things. It's not enough for them to click on your head. They should also read the information you provide them in the content of your message.
The best approach is to use storytelling and data-driven content to build your authority, while solving their problem at the same time.
Above all, be consistent and continue to learn from others and from your own tests to turn an ordinary good headline into a catchy headline that begs to be clicked.
Do you have any other headline writing tips? What was the most helpful tip for you to produce great headlines?
Joost Nusselder is The Content Decoder, a content marketer, dad and loves trying out new tools en tactics. He's been working on a portfolio of niche sites since 2010. Now since 2016 he creates in-depth blog articles together with his team to help loyal readers earn from their own succesful sites.