I love creating free content full of tips for my readers, you. I don't accept paid sponsorships, my opinion is my own, but if you find my recommendations helpful and you end up buying something you like through one of my links, I could earn a commission at no extra cost to you.
More information
Visitors are valuable.
You've spend a lot of content and perhaps even backlink efforts into getting them, now you need to get the maximum result out of them.
Optimizing the conversion rate of your niche site is very important for your profitability. It has often cost you a lot of time and money to get good traffic to your site so that you bring in as many customers as possible.
Plus, if you're not optimizing for conversion, your competition is and they can spend more on creating content because of their higher value per visitor.
"Optimization of the site and design is something you have to test….."
Best A/B testing tools for niche sites reviewed
First of all, I would like to discuss the best tools that you can use to perform A/B tests on your website. The use largely depends on your wishes and what you expect to do with it.
Here are my top picks:
Overall best tool for A/B testing: VWO (Visual Website Optimizer)
For starters, why consider a paid A/B testing tool when there are free tools like Google Content Experiments (formerly Google Website Optimizer) available?
I mean, Google is the best on the web, so why pay for software when they offer the exact same thing for free?
Because it's not exactly the same. A worker is only as good as his tool Or, tailor-made for this case, a CRO (conversion rate optimizer) is only as good as his a/b testing tool.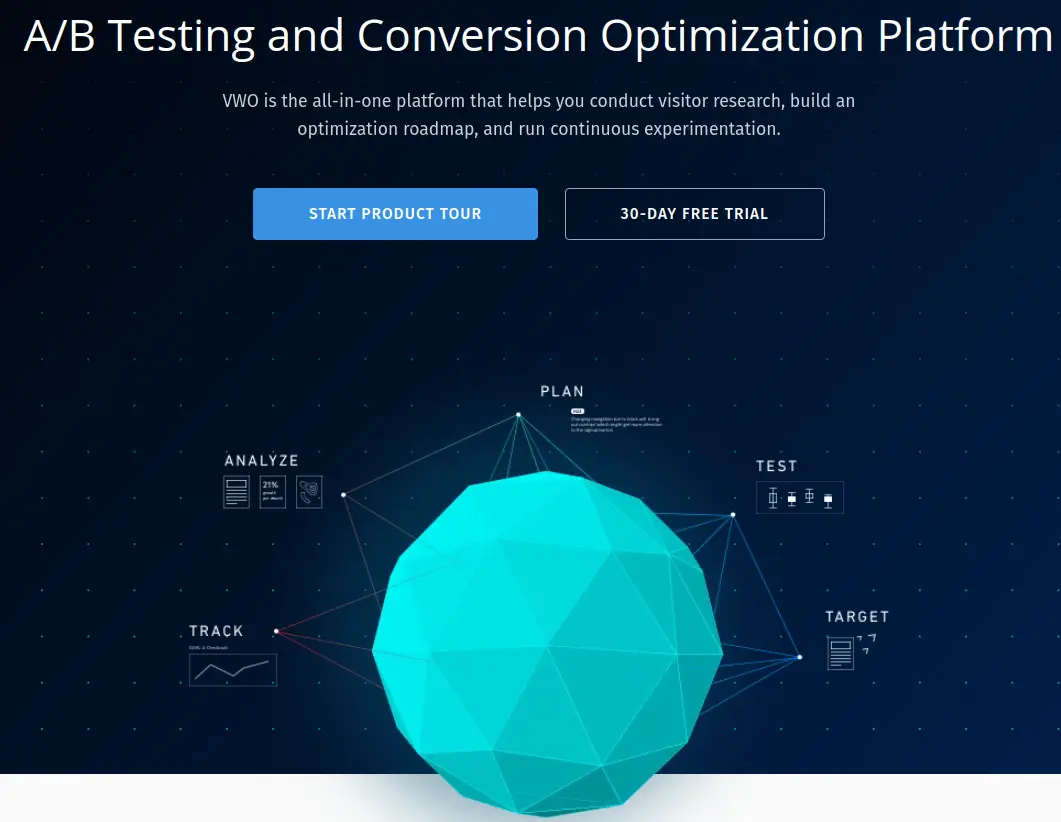 VWO is a product (currently the only product) of Wingify, the brainchild of online marketing strategist Paras Chopra.
Wingify's main goal is
"create website optimization tools that get results without requiring a rocket science degree"
(Chopra's words, not mine)
Basically, this tool from VWO is A/B testing for the masses of would-be CROs who aren't too gifted about the technical side of things. It has almost become the industry standard due to their many keynotes, case studies and webinars.
Here VWO has a handy video on how to easily set up an A/B test to increase the conversion rate:
VWO's testing abilities
First, let's take a look at each of VWO's testing skills one by one.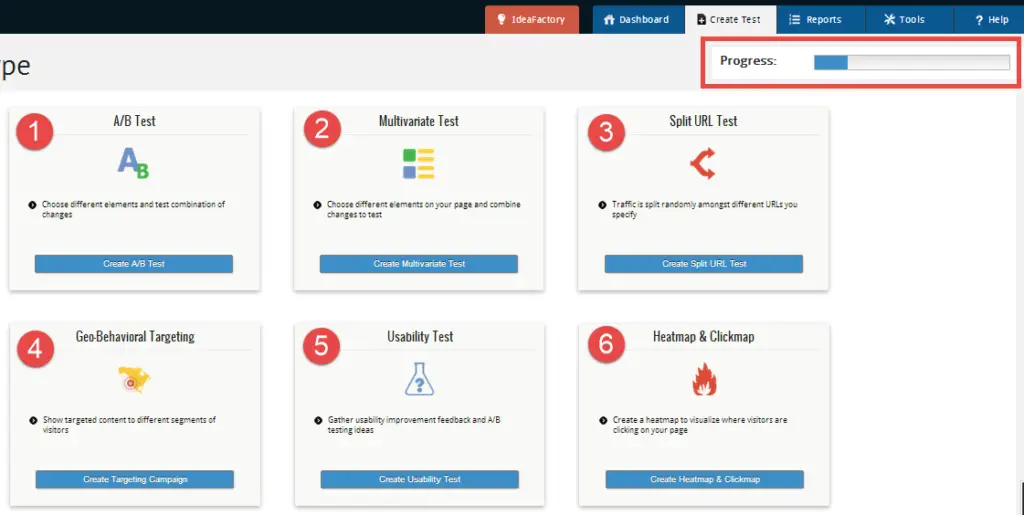 When you navigate to the Create Test tab in the menu, this is the dashboard you will land on. It is a home screen that allows you to select the desired test type.
One notable feature is the progress bar in the top right corner that shows a bar indicating how much progress you have made in the test creation process. Here are the available test types:
A/B testing
Multivariate testing
Split testing
Geo-behavioral targeting (pretty much the same as A/B & multivariate testing so I won't cover it)
usability testing
Heatmaps & clickmaps
Check out all VWO packages here
A / B-testing
The most fundamental feature of a conversion testing tool is undoubtedly A/B testing. After selecting the A/B test from the home screen, go to step 2 where you need to enter the URL you want to test.
In addition to manually entering the address, you can also select one of your three most tested URLs that will automatically appear below the URL input bar.
After you enter your URL and select 'Create', the background will be grayed out while the web page loads.
In design mode, by hovering over a specific element (e.g. an item in a navigation menu), you can edit the HTML, clone, rearrange/move/resize, etc.
That's why it's called VISUAL website optimizer.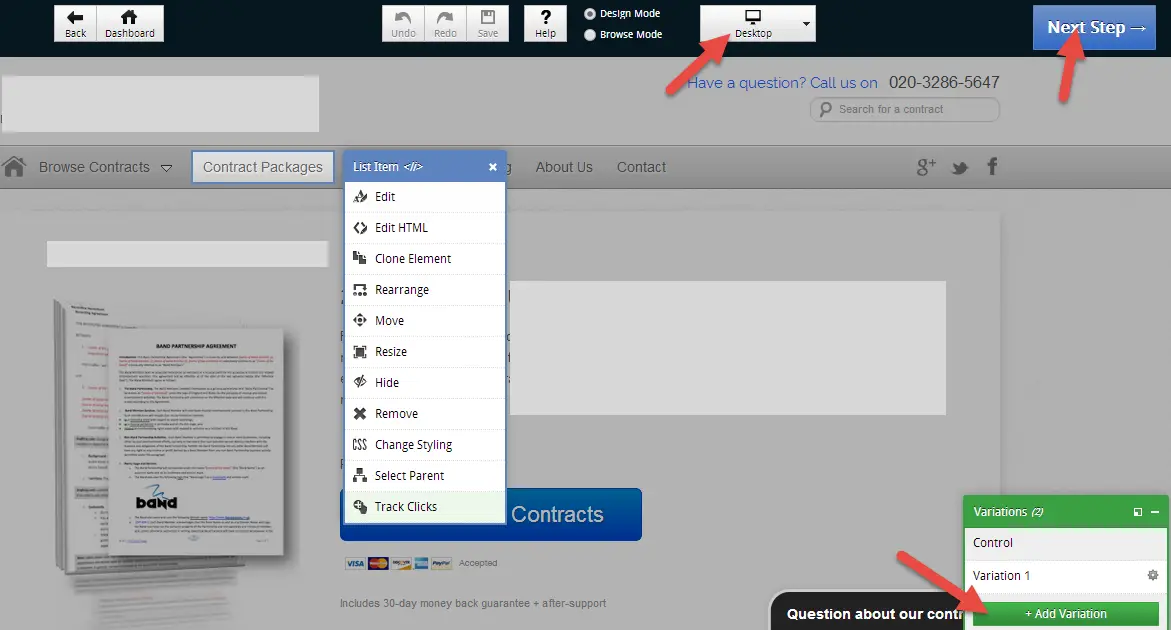 In browser mode, you can browse your web page like a normal front-end visitor would.
For example, you can customize a checkout page by enabling browse mode and clicking a Buy Now button that generates a unique URL for each order when clicked, then re-enable design mode and edit the checkout page elements.
For an A/B/C/D/etc test on a single page element, you can add as many variations as you like. In addition, certain higher-priced VWO packages (I'll get to the plans and prices at the end) also allow you to perform special operations only for mobile devices and tablets.
Personally, I believe that choosing the responsive display type you want to test is a feature that should be integrated even in the entry-level packages, as it is such a crucial feature for ecommerce websites that rely heavily on mobile traffic.
After you've edited your variant(s), click "Next Step" to move on to Step 4, where you'll create a conversion target.
Multiple targets can be added/removed. However, one target must be selected as the primary target for the test, for the most prominent feature is in your test reports.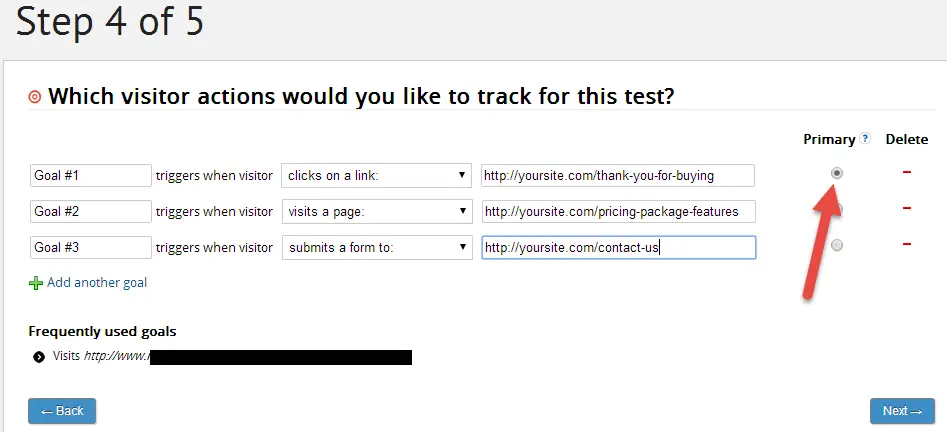 In the last step, you can write a test name and a few comments about your test (for example, your hypotheses and conversion rate wishes).
In addition, you can change the test URLs, adjust the percentage of traffic to include in the test, and add traffic segments and visitor conditions.
Clicking on 'other settings' opens up the much more advanced options such as test scheduling, enable/disable automatic loss/win transaction, heatmaps, and much more.
It's pretty safe to say that VWO excels in their A/B testing and capabilities. The user interface is so intuitive and simple, it took me less than five minutes to get the hang of things.
Multivariate testing
Multivariate testing is A/B testing on a broader scale. You're still testing only one page, but you're testing more than one page element. Steps 1 & 2 in the process of setting up a multivariate test are identical to those of an A/B test.
Step 3 is where it gets interesting. You can click on an unlimited number of page elements and modify them. As you edit each element, a new section is created below your list of controls and variations.
In addition, you can add a custom CSS or Javascript section to each variant.
After you've created your test variables, go to step 4 to enter your goals and finally step 5 to set up traffic segments, heatmaps, and other options (same screens as in the A/B testing procedure).
Like the A/B testing procedure, the user interface was again very simple and easy to navigate. Editing and engineering new test variables was a breeze.
Split-Testing
Unlike A/B testing, a split test lets you split incoming traffic to a specific URL and segment it into two or more other pages.
Instead of displaying variations of the same page, display separate web pages with separate URLs for equal shares of traffic.
Step 2 allows you to enter the URL of the monitoring page (from which the traffic will be redirected) and in step 3 you can insert the URLs of the competing pages (where the redirected traffic will go).
Step 4 takes care of your goals and step 5 takes care of your advanced settings, test name and description, and traffic segmentation. Again, this tool is incredibly easy to use. Setting up a split test literally took me no more than 60 seconds.
Usability Test
The key to a compelling website (and ultimately more conversions) is the usability of your website. If it's not clear what you want your visitors to do on your website, then you really can't expect most of them to convert.
Most webmasters approach their own usability on the website with predefined biases, after all they built/owned it. It is probably very clear to you what needs to be done. But for your visitors?
Maybe not, and that might cost you a lot of conversions. Fortunately, there is a route you can take to find ways to improve the usability of your website: by asking a visitor up front.
The nice thing about VWO is the possibility to conduct visitor surveys on your website.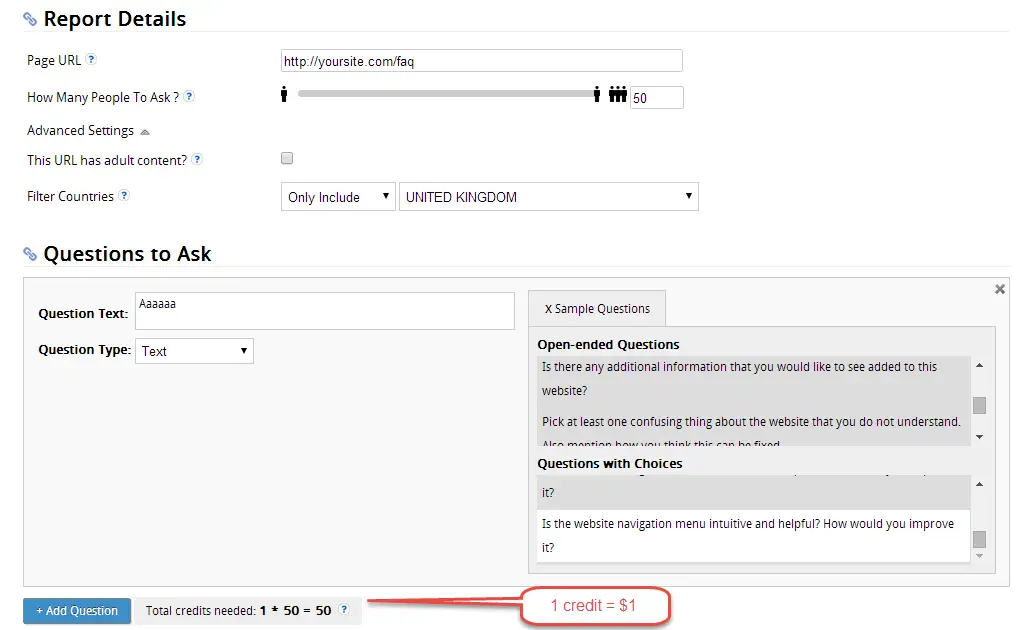 With the usability test tool you can create a new question to ask your visitors out. It's a one-step process. Set the page URL, the number of people you want to ask, select whether you'll display adult content, and segment your traffic based on location.
Finally, enter the question text (you can create your own text or choose from 21 sample questions which is useful to start in this process, although you will have to translate them into Dutch) & type (text vs multiple choice) and save your test and run it.
However, this feature is not free. You have to pay to view the survey and get the feedback. It's quite pricey at $1 per credit (1 credit = 1 answer).
For me, that was a very disappointing drawback, and while most A/B testing tools don't have this feature at all, there are much cheaper tools specifically made for this, such as hotjar.
The usability test had been pretty promising and would definitely have been one of my favorite features until it started showing off such a hefty price tag.
You will have to decide for yourself whether the feedback is worth using once or whether it is beneficial because it is integrated into your testing tool.
Heatmaps & Clickmaps
A handy new test that has gained traction among webmasters in recent years: heatmaps and clickmaps are now almost essential for optimizing your site.
With a heatmap you can visualize how your visitors scroll on your site, how engaged they are with each part of the page and where they scroll.
A clickmap helps you visualize where your visitors click on your site (with a clickmap on VWO you can see exactly how many clicks each element on your website gets).
This data is invaluable – it tells you whether your call-to-action button needs to stand out more, whether certain links confuse your visitors, etc.
Creating a new heatmap and clickmap with VWO is as easy as entering the map URL in step 1 and adjusting some advanced settings and segmenting traffic in step 2.
Overall, VWO offers a wide range of testing: you have your basic A/Bs and split tests and then you have advanced geo-targeting, usability testing and user navigation maps.
Tracking conversions
Setting up conversion tracking for a website or specific webpage outside of each test is also a cinch. Just enter the desired URL, specify the conversion target, configure test settings and you're done.
VWO-integrations
Aside from the built-in capabilities, any tool that claims the best spot in a niche should also be compatible with complementary products.
VWO is also doing well in this department, as it is fully compatible with various web analysis tools:
Google Analytics
Clicky Stats
Omniture SiteCatalyst
ClickTale
KISSmetrics
mixing panel
It also integrates with popular shopping carts Big Commerce and Magento
and has also developed plugins for the top 3 open source content management systems: WordPress, Drupal and Joomla.
In short, if you plan to use VWO alongside other webmaster tools, you can rest assured that full compatibility is provided.
VWO Tools
VWO comes with a set of tools including:
a landing page analyzer
A/B ideafox (a library of case studies and A/B test reports – absolutely priceless!)
a test duration calculator
The landing page analyzer is just awesome and great to increase affiliate conversions. Go to the Tools tab > Landing Page Analyzer, enter your landing page URL and VWO will take you through a series of questions (21 to be exact) that will help you analyze every aspect of your landing page.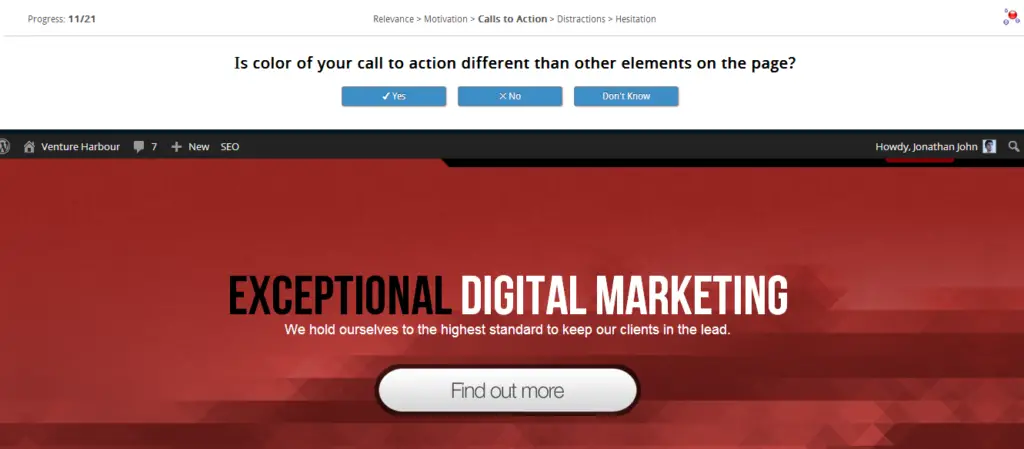 Based on your answers, the analyzer will give you a report detailing how well you did on each aspect:
relevance
motivation
call to action (call to action)
distractions
and hesitations
Together with ideas about what you can solve.
It's absolutely incredible.
AB-Ideafox
The A/B ideafox page, a collection of A/B test reports and case studies conducted by VWO reports is also an indispensable resource.
In the past week itself, I've watched at least 20+ of them. The page even lets you filter case studies by industry and conversion goal. Here are some casestudy examples that VWO has publicly available without a subscription.
Calculate how long an A/B test has to run before you have a winner
Finally, the test duration calculator allows you to estimate the duration of your test before it produces the desired result.
How long an A/B test has to run before you get a significant result depends on:
existing conversion rate
expected increase in conversion
combinations (sections x variations)
average number of daily visitors
and the percentage of visitors to be included in the test
The calculator will immediately spit out an estimated test duration when you click the "Test Test Duration" button.
VWO-pricing
With all those features you will think that VWO has a hefty price tag, but that is certainly not the case.
Yes, the tool isn't overly cheap, but it isn't outrageously expensive either. Compared to the ROI (in terms of improved conversion rate) you will undoubtedly recoup your investment very quickly using this tool.
VWO offers a free trial, five predefined plans and an advanced plan that requires a custom quote. In all paid packages you get:
unlimited concurrent tests
the full suite of features, integrations, and testing functionality featured in this review
Email support
The free trial lasts 30 days and allows you to test up to 1000 visitors, more than enough to get the hang of everything and decide whether or not you like the tool. But not enough to start getting real results for your site.
All in all, VWO offers very competitive prices for CROs at every level.
Conclusion about VWO's A/ B testing tool
If you're serious about optimizing conversion rates and want to bypass the limited capabilities of Google Content Experiments for a bigger and better CRO tool, you can't go wrong with VWO.
It has great functionality, a long list of features, easy integrations, and fair pricing.
With a large, ever-growing customer base full of positive reviews, VWO is slowly but surely becoming the industry standard tool for CRO.
Check packages and pricing here
Best A/B testing tool plugin for WordPress: Nelio
Split testing (or A/B testing) is a very interesting topic and especially when you can implement it easily. With Nelio you can integrate seamlessly with WordPress so that everyone can start testing immediately.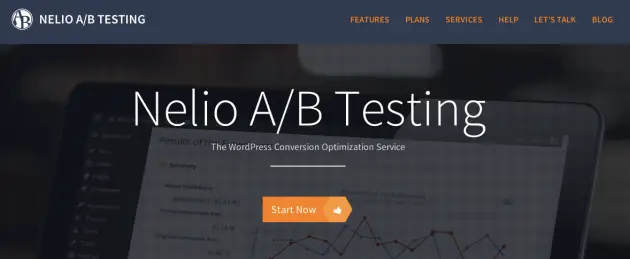 If you want to learn more about split testing in general, Nelio has created a very good slideshow on the topic for you to check out.
[slideshare id=32852551&doc=neliopresentacion-en-140328083823-phpapp01]
Why should you choose Nelio for A/B testing?
There are a number of split testing services online, but the first point in favor of Nelio is that it is a native solution for WordPress. That means you don't have to sign in to yet another website to create new tests or view tests.
Everything is visible from your WordPress dashboard. You go to the Nelio website for the first login phase, from that moment on everything is done via the dashboard.
So, let's see exactly how it works.
You must first choose a Nelio subscription from the website, then you can install the program as a plugin for WordPress. The service includes a 14-day trial to get you started and you can use it to see if it's the right service for you without being tied down.
After signing up and filling in the details in the Nelio screen in your WordPress dashboard, you will get a settings screen saying "subscribed". Account set up and ready to use!
What that means is that you are ready to begin your first experiment! Go to the Experiments screen and you will see all the available experiment types: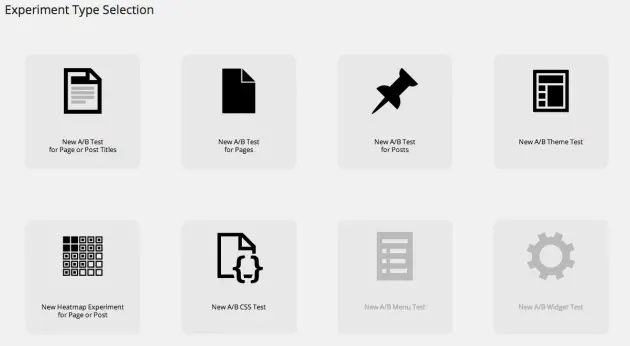 Let me take some time to explain what each of these are for so you can get a better idea of what A/B testing is and how it works.
Note that for each test, the Nelio service measures how two alternatives stack up against each other. What we test for is which of the alternatives leads to a higher conversion rate.
A conversion is defined by an action on the part of the user and that action that results in opening a particular URL in the browser.
For example, from the products page, I could have the goal of getting users to add products to their cart and then click the Buy button, which will take them to the Checkout page.
So the Checkout page URL is my target in this case.
A/B testing for page or post titles
The goal here is to see if a change in the post or page titles will convert better. You might think this is a trivial thing, but if you actually try things out, the results might surprise you.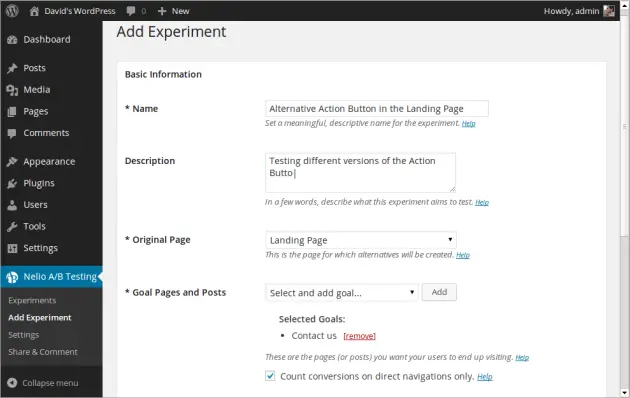 A/B testing for whole pages or posts
Here we go one step further and change the content on that page or post.
So, for example, on the original page, I could have a paragraph of text and an image on the right, while I would then create an alternative with a single column consisting of an image at the top, a paragraph, and a Buy Now button.
Then I would throw the two versions into battle through Nelio and see which one performs the best.
A / B-theme-test
With this test you can put two themes against each other. Can be a very powerful test when you want to implement a lot of changes or switch themes altogether.
It is also impossible to realize in any other way than with an integrated plugin such as Nelio.
A new theme can be very beneficial for most websites, so you want to make sure that the new themes deliver better results than the old ones, otherwise there's no point in changing.
I've heard so many stories about new themes and designs that dramatically worsened business performance, even though the site owners thought they were a much better design than the previous version and more beautiful looking.
So don't take things for granted, test before implementing.
Heatmap-experiment
This is one of my favorites. With the heatmap and clickmap, you can see which areas on your page or post attract the most attention and where users click.
This is invaluable and helps you realize what users are really looking for on your site and if they might be overlooking what you really want them to see and click.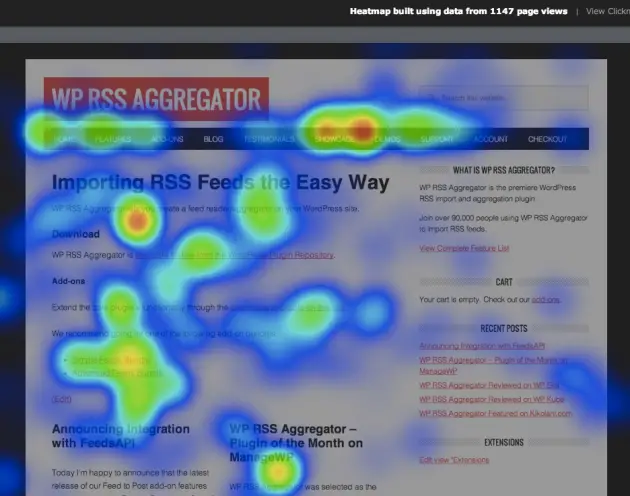 One thing I noticed was that the heatmap showed clicks in places where I actually didn't expect one.
After some discussion with the developers of the plugin, I found that there are several scenarios where it happens:
Click to scroll. We have found that some visitors have this habit (especially with touchpads).
Try clicking on the vertical scroll bar, but click in the wrong place (closer to the bar, but not inside the bar).
Misunderstanding between what is clickable and what is not. This is an important scenario that can help us improve our site.
Just because they clicked in a pointless way.
Therefore, common sense should be applied when interpreting the results, and you should consider the above points before making any decisions following the results of a clickmap test.
A / B CSS-test
With this test, you can make CSS changes and see how they affect your users. Useful for quick things like changing button colors.
Whatever experiment you try, you will get new information every day about the evolution of the experiment, with beautiful images about visitors and conversions.
Detailed statistical information is also available if you wish. Otherwise, the plugin will summarize the most important information for you.
Don't worry about your server's performance. The collected information about experiments and statistical calculus is stored and executed in Nelio's back-end servers, saving your server from a lot of load that would otherwise result if those processes were running on your server.
Nelio A/B Testing is built very robustly and will work smoothly with all popular WordPress hosting providers. With the professional plan, Nelio also offers a personalized service where one of their business experts will suggest possible tests for your site (for example, based on their and the community experience of what has worked on other sites in the same domain) and they can even make the tests for you if you wish.
User environment
One of the things the Nelio team clearly appreciates is the importance of a native experience, meaning the average user doesn't even have to realize they're using something that isn't part of WordPress itself.
How do they achieve that? By ensuring that the plugin's interface is composed of the same elements that WordPress itself uses.
Nelio A/B testing is now one of those plugins that by their very nature require a custom interface, and it is very difficult to get developers to do things properly when building custom interfaces within WordPress.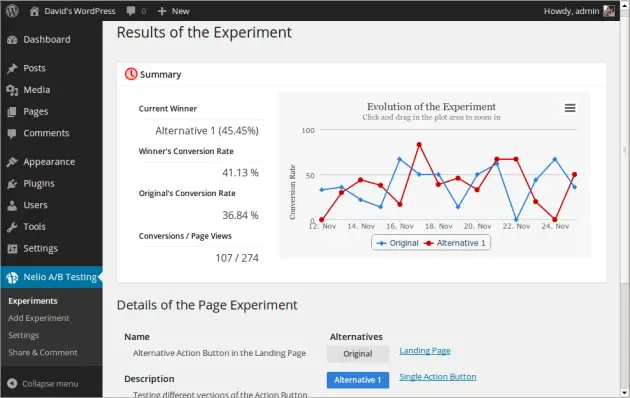 I was pleasantly surprised to find that Nelio used all the standard WordPress UI elements, and in the areas where something had to be completely custom built, they kept the same WordPress look-and-feel, so you don't even notice a custom interface. is.
The guys at Nelio clearly know what they are doing and have done a great job with the interface, great stuff, one of the best I've seen lately.
Support
Support is amazingly fast and polite. I had a few issues getting the plugin to work on my site due to my particular SSL setup and the guys at Nelio were super helpful.
They offer support via email and telephone in both English and Spanish (no Dutch unfortunately). You can open a support request from the plugin interface itself, there is a submenu item that opens a form you can use for this purpose.
The get started guide is very well done and using this resource as my guide I was able to figure out how to run all the tests, no problem at all here although you should be fluent in English.
The FAQ page also does a good job of solving most of the questions you might have when using such an A/B testing service, so be sure to check that as well.
I give Nelio top marks for support and documentation.
Prices
Nelio A/B tests come in three flavors, two of which can be purchased outright and the other is a custom solution:
The basic plan is worth $19 per month and includes 1 site and 5,000 tested page views.
The Professional plan is $59 per month and allows you to install and activate the plugin on 5 sites simultaneously. There is a limit of 35,000 tested pageviews across all sites plus the ability to use it on a multisite installation. You also get the added bonus of priority email and free office hours.
The third plan is called Enterprise and is basically a tailor-made plan for your needs with larger sites. To get this plan, you need to contact Nelio and tell them about your requirements and they will come up with a quote.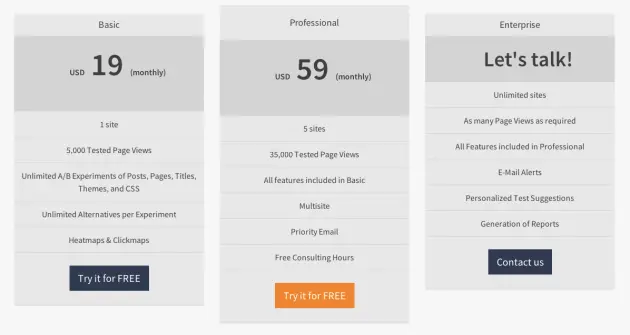 For the value this service provides, I think the pricing is right. You also have the trial period that you can use to check it out.
Conclusion about Nelio A/B testing software
Nelio AB testing is a fairly new plugin that only has a thousand downloads at the moment, but I'm sure this pack will start to see more use.
I really enjoy using this plugin and the potential impact on your business is huge, and we're talking purely financial here. Even a simple improvement in your conversion rate can make a difference of thousands of dollars a year.
Nelio A/B Testing has all the features you would expect from a serious A/B testing tool, this is not a quick plugin but a really well thought out solution to a problem that every site owner has on the internet.
Optimizing your website is one of the best things you can do to improve business results. If you own an ecommerce shop (and not only then), you should definitely do a/b testing, and this is one of the best tools I've come across if you're using WordPress.
More information about the features and the free trial, here on the Nelio website
6 best practices to improve your niche site conversion rate with testing
To use A/B testing tools, you always need to have a plan to get real returns from them. Here are our 6 tips to improve your conversion rate.
Tip 1: Always test all your adjustments and try multiple variants
As a conversion specialist, Decision Tree has many years of experience in optimizing e-commerce websites and increasing conversion. But we also know that traffic from one site is different than traffic from another.
Before optimisations are used, it is therefore always crucial to test the new design and new expressions on your specific traffic. Testing these different designs is called "A/B testing".
Namely, one visitor to your site will see design "A", the other design "B". With the help of statistics, such as subscriptions to a newsletter, items in the shopping cart or an actual purchase, you can compare the results of the different designs.
Of course you don't have to limit the test to making two different versions. You can also choose to put 3 or more versions side by side and see which one of these generates the most sales.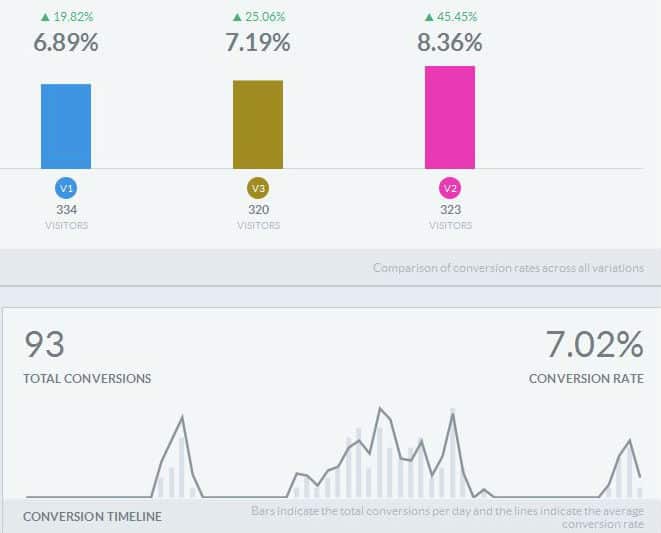 Our first tip is to always test multiple variants. You always have the control group that sees design "A". In addition, you take a major adjustment to your site, such as a large image with accompanying text on the category page instead of immediately showing the products that fall into that category.
You then make another variant of this adjustment in which you test another image to see whether one of these two images works better and will increase the conversion rate, or whether they both do not work and the test group ultimately scores the best.
We always say to measure is to know. Stop making design and user experience decisions based on a feeling or an idea, but test it before making a decision.
Some ideas for getting started in the wonderful world of testing are:
Overall color scheme of the site
Color and expression add-to-cart button
USPs and the way they are listed (free shipping from/delivered within 24 hours)
Various Trust Badges
Test whether you want to offer free shipping instead of paid
"Case studies show that testing your site significantly increases the conversion rate………"
There are many case studies that prove it. Continuous testing of the text and design of the site can give you a big advantage. Your visitors simply like to be convinced to make the purchase. It is not for nothing that large sites such as Bol.com, Amazon and Booking.com achieve such good results. They test everything on their sites.
What remains in the end is a site that appeals to your target group exactly on the points to which they are sensitive. Free shipping, next working day at home, warranty, home shopping quality mark, secure connection. Your customer is sensitive to something and you can discover it by testing it.
Visual Website Optimizer is a Visual A/B Testing Tool and also has a number of Case studies of Dutch companies. The text is written in English, but the results can certainly also be applied in the Netherlands.
They have a lot of useful tips and tricks to help you get started with tests. We have also used it for a very long time.
We recently switched to VWO as a Testing Tool. Making the tests is a bit more difficult for them, but they have also integrated website personalization and product recommendations. Many of our customers also wanted to implement this and that's why we changed our choice.
Tip 2: Know your audience
Bringing in the right traffic is essential to online success. The best keywords are used for optimal results. But optimizing doesn't stop with choosing the right keywords and budget. So you also want to optimize your site for conversion.
Optimizing your conversion rate gives you more customers and leads, without having to attract more visitors. But are you going to run tests at random? That's not really smart, it's better to think in advance about what your specific audience needs, and you can do that with an analysis of your on-site traffic.
What exactly is on-site traffic analysis?
By Analyzing on-site traffic you can take the first step to conversion optimization: knowing who your audience is and what their specific behavior is. For example, what are the types of customers who have the highest conversions?
What is their age, their gender? What are their areas of interest? On which days and times do most people buy? And which customers actually come back for repeat purchases?
Analyzing your website traffic is important to see which target groups have the most potential and which have the least. Once you know who your audience is, you can optimize for the best results. Adjust expressions on the site for the type of audience that attracts you the most and ensure that you will get this traffic to your site.
Google Analytics is a handy tool to gain insight into the type of traffic that comes to your site. We use this information to further increase the result on advertisements by also targeting or excluding specific customer groups and adjusting bids accordingly.
The most important factors you can implement and continuously monitor are:
Mobile/desktop targeting and bidding
Geographic location targeting and bidding
Targeting and bidding gender
Targeting and bidding interests
Targeting and bidding day and time
Remarketing for cart abandoners & boosting repeat purchases
By smartly using analyzes of your traffic, you can further increase your on-site conversion and thus significantly increase the result from advertising.
Your analysis will help you determine what your best audience looks like. Make this a "buyer persona". A description of the kind of person you see as your ideal customer. You can then use this persona to determine what to focus your site on and what tests you should perform to convince this person.
Tip 3: Choose a niche and personalize your website for higher conversion
For many online stores it is still a difficult step, but research shows that a shop is much more successful when it clearly appeals to a certain target group. By trying to appeal to everyone, you lose a lot of customers that you could have won over by speaking to them personally.
With the analysis of your traffic you can see what kind of audience comes to your site and also buys. Perhaps the greatest potential lies in appealing to the target group that visits your site a lot but buys little.
That is working a bit harder than addressing the target group that is already buying at the moment, the latter is often the best choice for your shop.
You can then put a lot of energy into making your message to this target group even clearer and to ensure that you reach this target group as much as possible and get it to your site.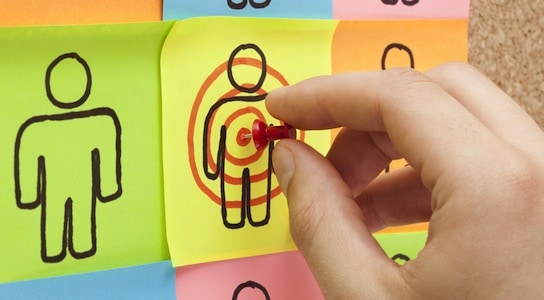 In this age of online shopping, visitors to your site expect an increasingly personalized experience. That is also the reason that niche websites still have a great right to exist compared to the major players in the market.
They have in fact personalized their entire site specifically aimed at their target audience and can therefore compete with major competitors.
However, it is becoming increasingly difficult to compete as a small personal website. The big boys in e-commerce land have found more and more ways to offer their customers a lot of extras, precisely because they are so big.
Think of the late shipping times (ordered before 23:59, still at home tomorrow) or even shipping on the same day. And free shipping and sometimes even returns. They play the big numbers game, the more purchasing power the cheaper they can offer it, and so are the shipping rates.
Do niche websites still work?
Sure, this can still work. You often have to lose out in terms of price and service. Yet consumers still often buy from the smaller niche websites because this appeals to them more, the message of the site is in line with the visitor's thoughts and you know how to touch them as a web retailer.
It is even a gun factor. I'd rather buy from you than from the big Wehkamp. For example, I'm a very big fan of Mighty Good Man's style and am willing to pay a little more for it myself. But then I really feel like I'm buying a quality product.
Just a good feeling with the people behind it, that it's personal. For example, you know your customer service journey much better than larger companies because you might be doing it on your own or with a handful of super committed colleagues.
That is very different from a call center employee, however good he or she is at his or her job, and of course the customer notices that too.
Is your niche big enough to personalize for?
Finding a niche can sometimes be a eureka moment. It's surprising that no one else has jumped in here yet. It is going well, you have quite a few sales per day despite the fierce competition and you offer excellent customer service that even makes a large part come back for a next purchase.
And you may also recognize yourself in this: every time you try a new channel to attract more visitors to your site, your conversion drops enormously and you do not remove the costs of, for example, advertising.
You've grown to about your max, precisely because this is your niche. Your site attracts this group of customers, which has a limited size. And by choosing a site that focuses on them, you exclude a large proportion of possible other customers.
If you keep your website that way, growing into something bigger has actually become impossible. What was your success has now become your brake.
No problem at all of course. You have created a good site and you know how to reach your target audience. You have a right to exist. Often online entrepreneurs who started this way actually speak to themselves.
The site radiates your personality. You started it from your own interest that you wanted to fill in because you felt that this was still missing in the digital landscape between the many other sites and just like you addressed yourself, you also found like-minded people.
Growth beyond your existing target audience
I've seen some growing sites make the mistake of trying to grow beyond their target audience. The success you had will close you off from your style and when the "larger audience" fails, you have also lost your core target group.
I often try to follow some switches. For example, as an economics student, I sometimes bought something at studentmobiel.nl and I heard on the radio that they have now switched to Mobiel.nl. This is, of course, a textbook example (pun intended) of the switch from a niche to the wider public.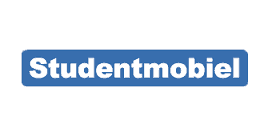 Where the site first focused on the student, the choice has now been made for the Dutch in general. I can imagine that this switch has a good chance of success since the audience they were going for has now also gone along with the new target group they want to offer.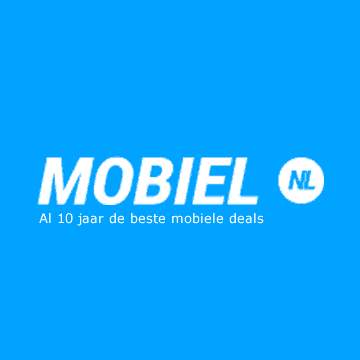 The student has now grown into a working or older person, so this choice is perhaps a more natural one than tapping into a whole new target group that had no relationship whatsoever with the previous one.
The second option that often works well is starting a new niche website for a new target audience. I have also found many online entrepreneurs that this strategy works very well for. You are now building an empire of several small niche sites.
The advantage of this is that you can continue to grow without putting your existing customer base at risk. You can also combine many back office activities with several small sites, such as packaging and shipping and even customer service.
The disadvantage is that it is very time-consuming to build up a whole new customer base for your new website, to ensure that it is found in the search engines and to build trust again with, for example, reviews and word-of-mouth advertising such as through social media. You have to start building your social proof from scratch.
Personalizing your website for multiple target groups
Do you want to keep your existing social proof and also use it to tap into new target groups? Then it is important to keep your website as it is for the personal touch to your current target group, but to gradually expand the tone and message and, for example, the recommendations to a new target group.
games gratisthuis.nl, for example, struggled to find new channels for more website traffic. Most traffic came through Marktplaats. The site was focused on cheap, free shipping and savings, something that the marketplace visitor is very sensitive to.
But the traffic through other channels had a much lower conversion rate, that while the site was still in the lower segment in terms of total cost of getting a game home, but the message "cheap cheap cheap" just gave too little confidence for customers who not only but were surfing for the lowest price.
Together we initiated a plan to analyze per channel which potential customers came to the site as a result. What age are they? Man or woman? You can also see what other things they are interested in via google analytics.
For example, through tweakers it came out that (of course) many technophiles came to the site. And via Beslist many people who were also interested in home furnishings and garden. The target group ranged from late teens and twenties to customers who were also parents themselves.
Personalized checkout buttons were introduced with not only more "save" but also texts as fun for the kids. Sales of DS and Wii showed an immediate improvement.
The Playstation 3 lagged a bit behind. That's why on the PS3 games category page, extra personalized recommendations were put above the normal category products to separate the parents and the gamers who bought for themselves as much as possible and immediately show the correct recommendations.
A personalized photo was also used in the banner to address the gamer or the parent of a child.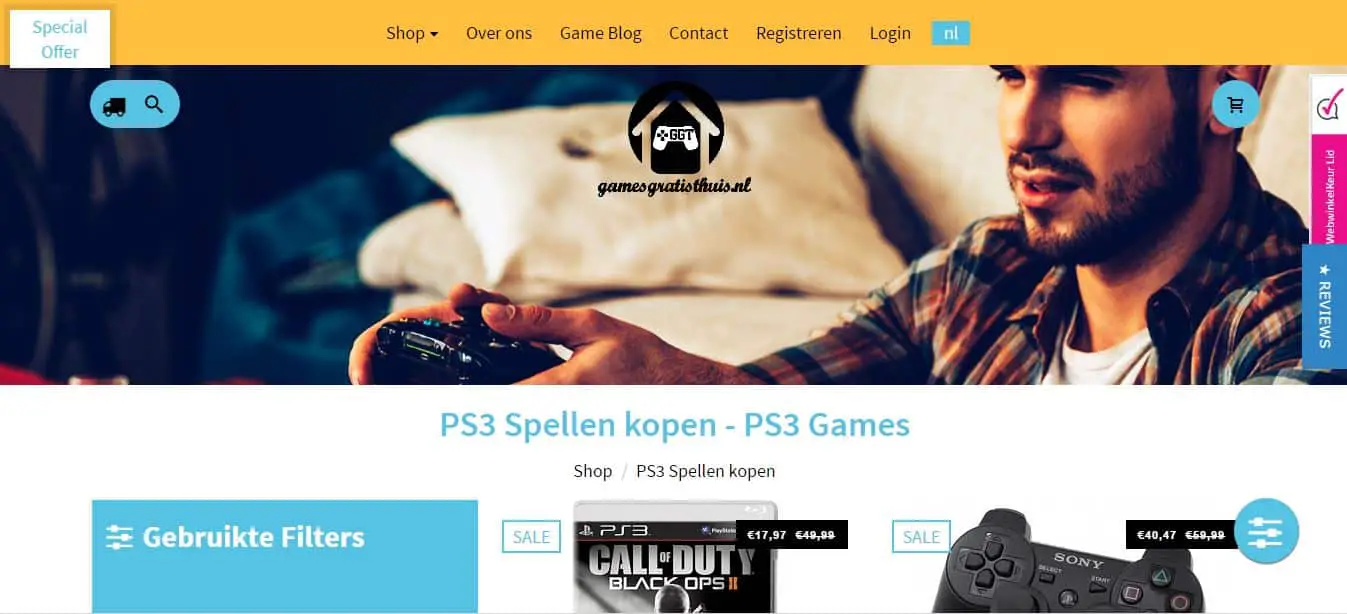 This allowed the website to use the trust they had built up over the years selling to bargain hunters to expand their target audience into entirely new segments. It is a process that takes time and must be extensively tested.
You also need software to ensure that the right visitor sees the right message (we now use VWO). But it is more than worth the investment if you want to grow outside your first niche, outside the customer that you probably are a bit yourself.
Tip 4: Don't forget mobile
It's good to target the device where you make the most sales, but don't forget about mobile. More and more visitors will come via mobile, so while optimizing your ads to target the device where you get the highest conversion, it's important to keep thinking about mobile solutions.
A mobile app or responsive site is definitely a must-have these days. And while you optimize your site for mobile sales, the conversion of the mobile visitor will increase, and you can spend more and more to get this group of customers to your site.
Tip 5: Ask your visitors for help, only they know what moves them
The visitors on your website go to different pages, quietly view the offer or quickly make a purchase, or what you don't want: completely away from the site. Increasing the conversion is important so that you achieve the greatest result per visitor.
By analyzing the traffic you bring in you can recruit the right customers and with A/B testing you increase the conversion rate of the visitors. But what are their reasons for making a purchase or not?
You can read a lot about it and you can test it, but the best preparation is to ask your visitor about their motives. Why they click or don't click through on some pages. What she likes or doesn't like about the look or what wasn't clear. And of course what the reason is that they do or do not make a purchase.
As soon as you know what the reasons are, you can take action.
"Minimum disruption for your visitor, maximum insight into their behavior….."
By means of a small poll screen at the bottom of the site you disturb the visitor minimally while you still get good steering information. After you have created a plan for your site, you can start polling and start polling the visitors.
The best tool we have found is Hotjar, and the best part is, you can try it out for free too!
This way you can directly create an online poll on your website to see what people are saying to your questions. Then you can expand it if you want.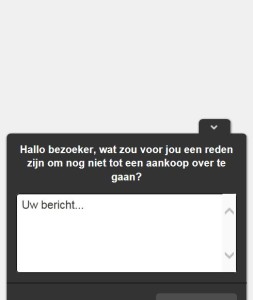 If you have a lot of fans, you can also create an online Poll on your Facebook business page. In this way you ask the people who are already a customer of yours or at least follow you for their opinion.
Make sure that you ask the customers who do like your site and your style, and you may not consider the people who for whatever reason don't buy something. This can of course give a distorted picture.
In addition, you can also set up a Poll for all customers for whom you have the email address. Sending a Poll in an email is possible with many integrations. I like the Mailchimp Poll the most as it comes in here by itself. You can ask customers with an email address for their response directly in the email.
Tip 6: An emotional reaction gives you a lot
Tip number 6 is at the very bottom, but not because it is the least important. More because you now better understand the background of testing and getting to know your customer.
If you know who your customer is, you can optimize for him or her so that they will convert more. The turnaround that will bring you the most is that of the emotional response or emotional targeting. If you can elicit a feeling in the reader, there is a good chance that you can persuade them to buy.
The rational part of the brain then gives way to the emotional part, and that way you can convince the customer to make a purchase. Later, he will rationalize the purchase, while it is made on the basis of feeling.
We've even devoted an entire blog article to emotional targeting for you to read more about it.
Conclusion, how do you influence your conversion rate?
Using these 6 tips, you too will become a conversion optimization specialist.
So with the same traffic you will achieve much greater results. And these are lasting results, because a successful adjustment to your site can benefit you for a long time.
It doesn't have to be a complete redesign of the webshop that will give you the biggest boost in conversion rate. Small adjustments often yield a very big result, such as the text and color of the "add to cart" button or a clearer presentation of the core qualities of your website.
Which version is ultimately the best has to be tested extensively.
Joost Nusselder is The Content Decoder, a content marketer, dad and loves trying out new tools en tactics. He's been working on a portfolio of niche sites since 2010. Now since 2016 he creates in-depth blog articles together with his team to help loyal readers earn from their own succesful sites.