I love creating free content full of tips for my readers, you. I don't accept paid sponsorships, my opinion is my own, but if you find my recommendations helpful and you end up buying something you like through one of my links, I could earn a commission at no extra cost to you.
More information
You're building your niche site and interlinking between your pages, what a good SEO does, right?
A lot of on-page SEO involves linking to the right pages. So if you're like me, you probably have a lot of links coming to and from each page.
Keeping track of those is a pain, and if you make even the slightest change to some pages, you could end up with broken links.
A terrible user experience and Google doesn't like it!
That's why the Ezoic Broken Link Checker was built, so you can be notified if you have links on your site that don't work anymore.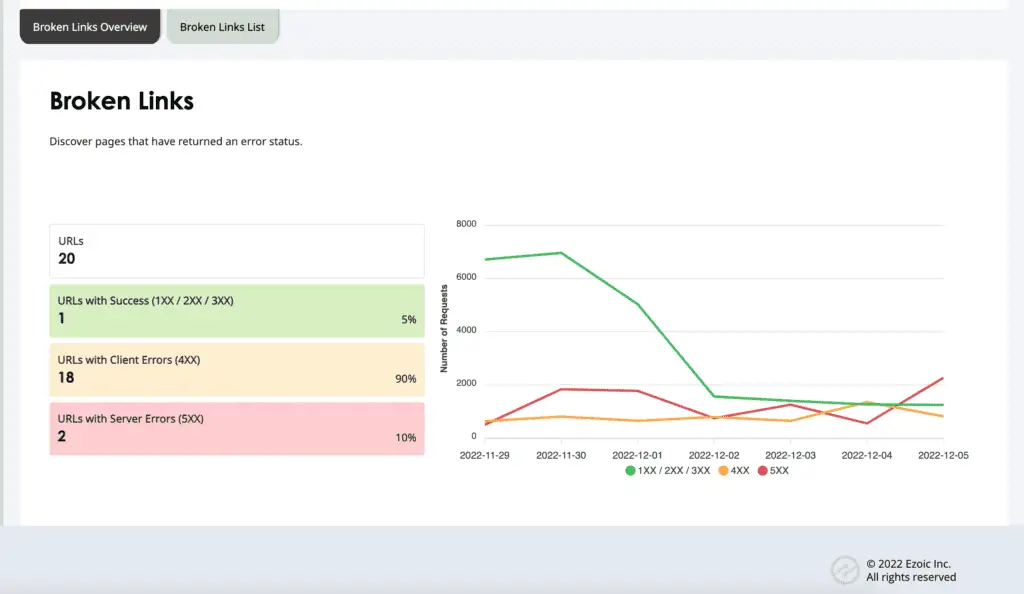 The tool triggers when one of the links on your site is crawled, but gives an error. This could be that the page. no longer exists, but also when a page can't load.
So this is a great on-page optimization tool, as well as a tool to discover large errors on your site.
I've removed numerous pages on my sites over the years. Because the content was thin and I'd rather remove it than upgrade it.
Or because I had duplicate content on the site and decided to create one better article for it.
I would always redirect the URLs, but sometimes I'd forget. I haven't always had the same rigorous systems in place as I have now.
How Ezoic Broken Link Checker works
Ezoic crawls your pages and then visits the links it finds on those pages.
Because Ezoic has access to your WordPress site, it can easily do this for you and is much more accurate than some other tools (and Google).
When one of the pages it crawls can't be loaded, it returns an error.
This error is then relayed to your dashboard within Ezoic so you can see all the URLs that got an error.
The types of errors are:
1xx errors – Informational (common example 100 Continue)
2xx errors – Successful (common example 200 OK)
3xx errors – Redirection (common example 301 Moved Permanently)
4xx errors – Client Errors (common example 404 Not Found)
5xx errors – Server Errors (common example 503 Service Unavailable)
Ezoic will show you the 200 ok links, that's when everything's fine. But it will also alert you of 4xx and 5xx errors.
Find errors on your site and fix them
Ezoic
Broken Links Checker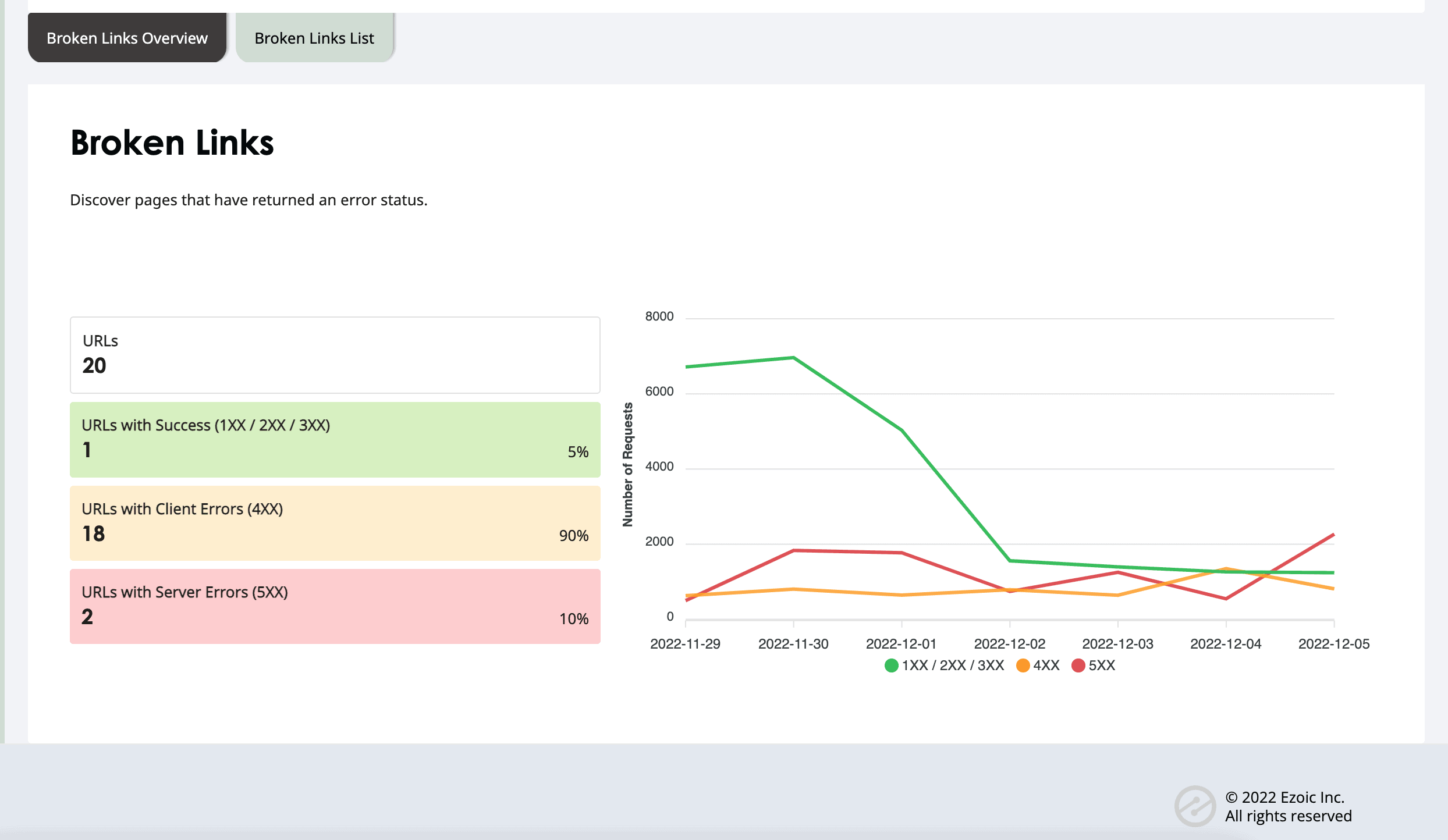 Best for
You wish you'd had it if you're in trouble

Helps prioritizing and fixing old mistakes
Falls short
Only notifies of internal broken links
How to fix broken links with the Ezoic Broken Link Checker
To get to the Broken Links dashboard, head over to NicheIQ, then Site Health:
You can see how many broken links you have in your dashboard. You can also see the trend here to make sure you're moving in the right direction: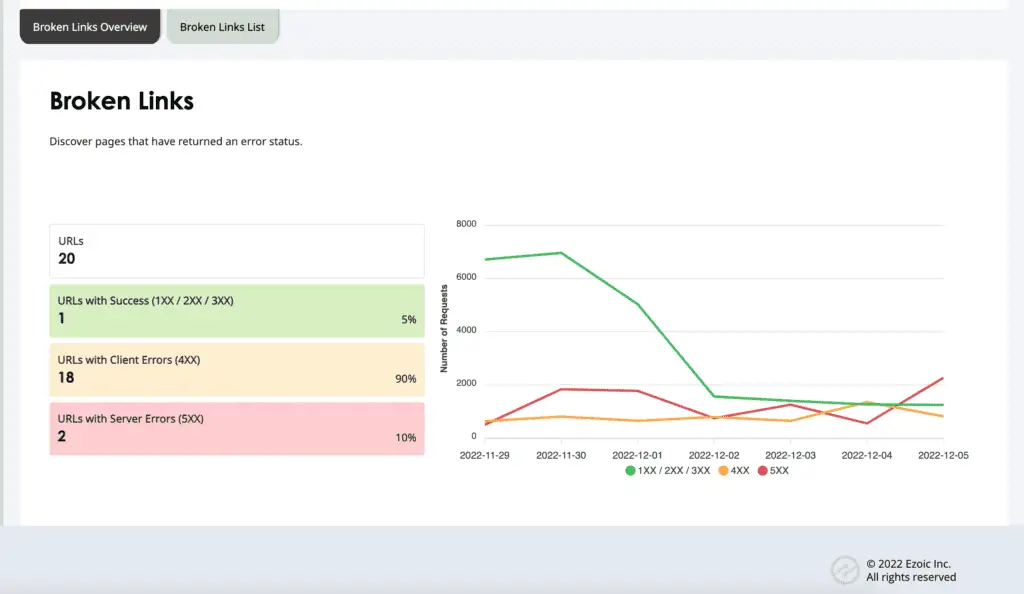 If you see a few error codes, like the 4xx and 5xx ones, head over to the Broken Links List tab: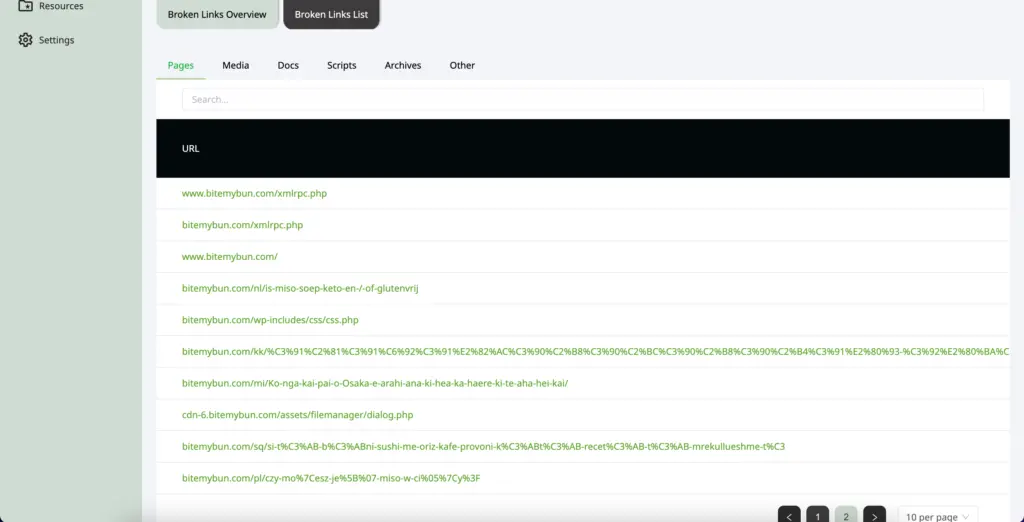 This is where you can take a deeper look into the problems.
For each URL with an error, it shows the URL and the reason why beside it. It also shows the amount of traffic that resulted in an error.
You can also click on details to find out more about the issues with a particular URL: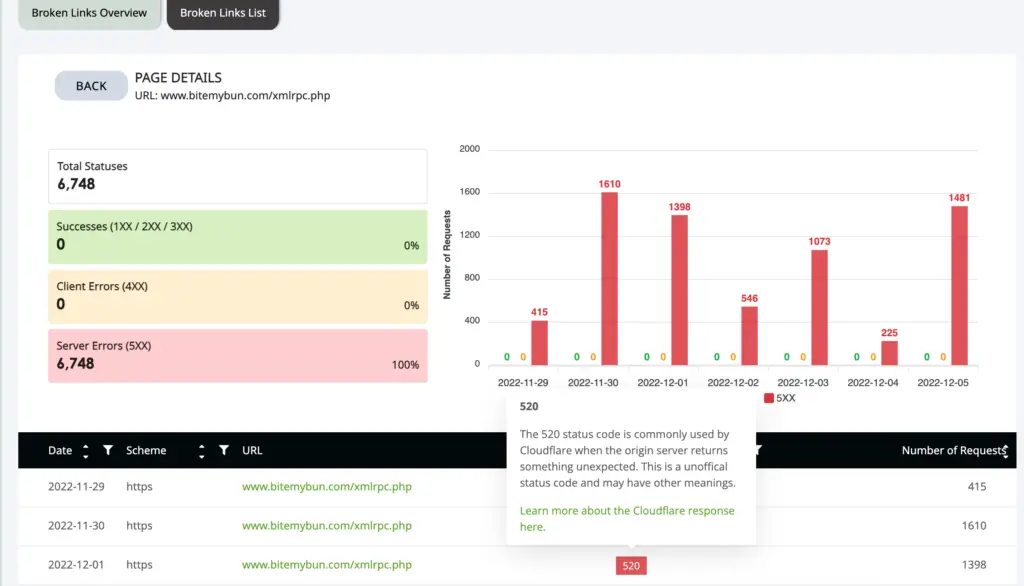 Sometimes you have to do a little digging to fix an issue, but the most common ways to solve these are:
Solving 4xx-errors
These indicate that the page cannot be loaded because it isn't there. You get a 404 error in most cases.
I often find this happens when I moved a URL but forgot to redirect it. Redirecting the URL would solve this problem as visitors would then be taken to the new page.
I've also had one where the URL was translated into a different language (I use multiple languages on some of my sites) and the translation added a / in the middle of the URL.
That was also an easy fix.
I also sometimes get a 499 error, which is fine if it happens now and then but could indicate a larger problem.
It's when Nginx server responds with an error because the client closed the connection before the server could fully respond.
Solving 5xx-errors
5xx errors are harder to solve. Sometimes when you visit the URL to check the problem, it will work fine.
This may be because your site gets too much traffic and the server can't handle it during all parts of the day.
I've also had a spike in errors because I migrated large amounts of data from the site when doing a backup which strained the server too much.
I won't be doing that on a busy part of the day again.
I've also had this error for my xmlrpc file, which isn't there because I disabled it, so that's totally fine and an error I can ignore.
This results in a 520 error from Cloudflare.
Prioritizing the work
One of the great things of the tool is that it prioritizes the errors based on amount of pageviews to that URL.
I like to use the 80/20 rule for all of my work. Most tools don't allow you to do that because you can't see how impactful the errors are.
So being able to only work on the top issues helps me a lot in running my online business.
I try to get to all of the errors, but priorities not always allow it. Plus, I usually use VA's for this type of work and there's only so much budget to go around.
Importance of fixing broken links
Broken links are bad for the user, and Google rewards things that are good fro the user. It's only a small part of the algorithm but if you have a lot of errors on your site, Google will start to take notice.
You should fix the URLs that get traffic so people can spend more time on your site and become subscribers to your email list or buy the products you recommend.
Plus, loading an extra pageview is good for ad revenue as well.
Be alerted to critical site issues
Another advantage of getting alerts like these is that you can see if there are any critical issues with your site or part of it. If you sudedenly gets lots of errors, this may indicate the site is down, or that there's too much traffic for the server to handele.
Good you're getting lot's more traffic, but this way you can invest in a larger server and take advantage of those visitors.
Cons of the Ezoic Broken Links Checker
When I was first informed of the addition of this software into the Ezoic Toolkit, I was ecstatic! I hate having broken links on my site!
But I soon found out it was only for broken links on the site itself. I have a much larger issue of broken links to other websites due to link rot.
I still have to use an external tool fro that.
I don't use this tool often, but it has helped me clear up some important issues once or twice.
Conclusion
It's a nice tool to have in your toolkit for those moments when you're in a bad spot. Other than that, I don't use it that often.
But it does give you a way to fix previous problems and be aware of the things you need to look out for that would otherwise go unnoticed, compounding the site errors into an even bigger problem.
Also read: Ezoic, the perfect Adsense alternative for non-Us traffic
Joost Nusselder is The Content Decoder, a content marketer, dad and loves trying out new tools en tactics. He's been working on a portfolio of niche sites since 2010. Now since 2016 he creates in-depth blog articles together with his team to help loyal readers earn from their own succesful sites.