I love creating free content full of tips for my readers, you. I don't accept paid sponsorships, my opinion is my own, but if you find my recommendations helpful and you end up buying something you like through one of my links, I could earn a commission at no extra cost to you.
More information
Can I write 24 blog articles in 24 hours for my niche site if I really had to? Google is looking for quality content after the updates, so I set to find out if I could write a 24 article topic cluster in 24 hours to please the Google quality content update.
It was an epic journey, and Google AI was against me every step of the way.
I talk about my process for writing, using AI writers or writing assistants, and how you structure a blog article from intro to answer target to a blog outline structure and even creating images.
Did I manage to make it?
The storyline here is about Joost, an everyday regular guy and niche site owner.
When you've just started creating your website you don't have many posts up. It can take a while before you start seeing some results.
It's how I began with my first site, cranking out a few articles per week.
In this video, I have to try and create 24 quality blog posts for Google quality content update, and do it within 24 hours.
1 article per hour.
Here are the ground rules:
I have to do everything from the topic research to the writing and images.
The blog posts need to be good,
I need to be able to publish them to the site
and they need to be at least 600 words and cover the question completely.
I have until noon tomorrow!
Topic research
I already knew what I wanted to write about, I had a Kamaboko, the Japanese fish cakes, article on my site that was already doing pretty well: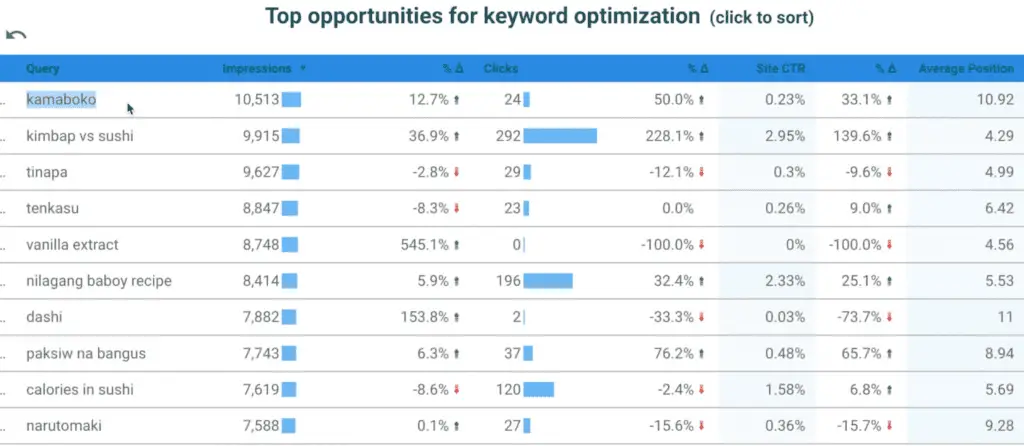 I decided to write a topic cluster about that, and answersocrates.com had the questions I needed answering.
I started typing a seed keyword into answer Socrates to get the topics going.
Now all I have to do is turn these questions into topics to write about, going through all of these manually would be a nightmare so I'll use a tool I recently fell in love, Keyword Cupid.
You can download all of the questions in answer Socrates to a CSV file. It's all completely free, and then upload that CSV to KeyWord Cupid.
Keyword Cupid then turns these questions and topic ideas into topic clusters so you can see pretty quickly which questions goes with which blog posts, and you can cluster them together.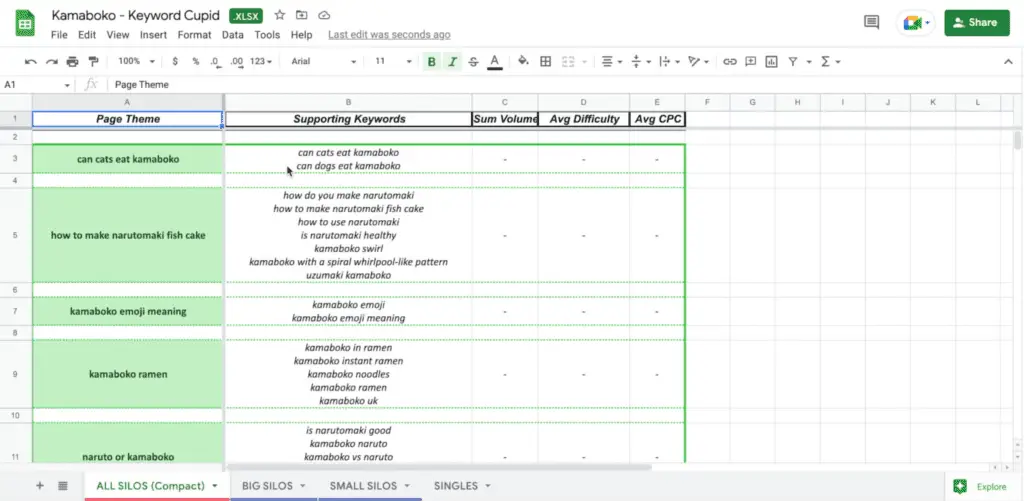 Writing about underserved topics
A lot of these clusters are "underserved topics", questions people are typing into Google but where there are no real good answers to.
When doing the research for an article, I try to put myself in the shoes of the searcher and what they are looking for.
Can cats eat kamaboko for example, the first article I'm going to write in this cluster.
I think someone either is thinking about feeding it to their cat, or their cat just ate one and they're wondering if he'll be fine.
Those are the points I really need to address in my article.
Googling can cats eat kamaboko doesn't provide a great answer. The first thing you'll notice is that the top answer is from reddit, a user generated answer platform.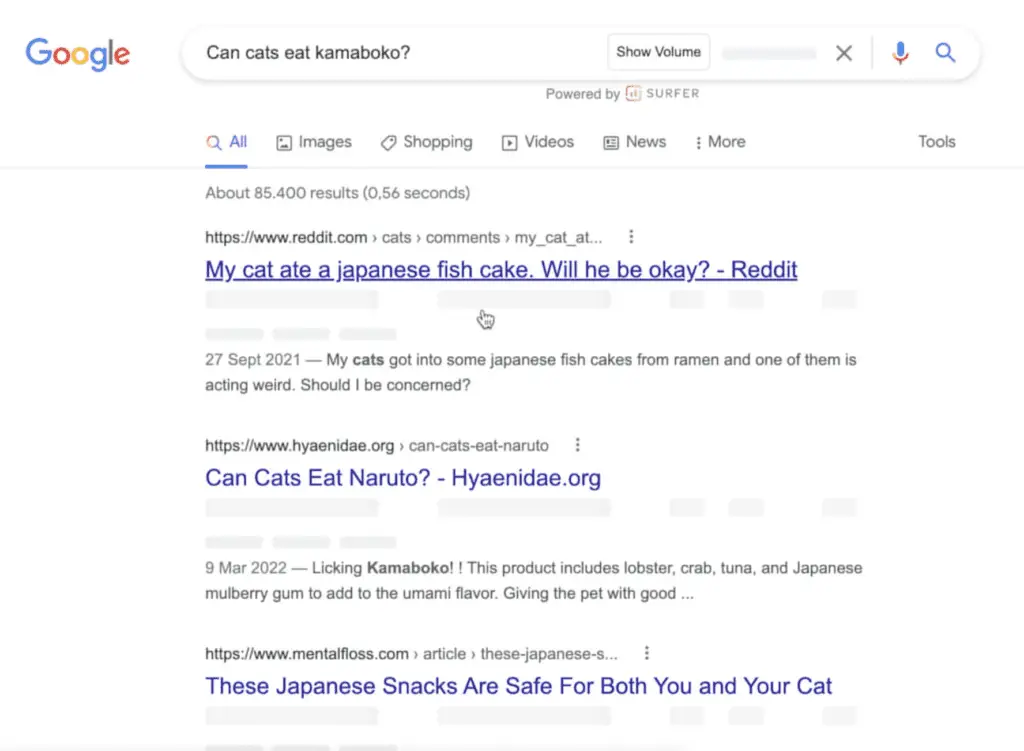 Underneath Reddit, there are two sites ranking that don't answer the question specifically, only in a more generic blog article.
So there isn't a blog article answering this specific question precisely.
Yet…
We're going to remedy that.
Reddit will often have a great answer to the question, that's not the problem with that site ranking. The problem is that the content there is in an unstructured format.
The reader has to scroll through the question and numerous answers to piece together a helpful answer.
If you with your site do that piecing together for them, go through numerous Reddit answer and other blog posts and formulate the best answer for them, that's the quality content that helps readers, and what Google wants.
To know if a cat or a dog can eat one, I need to know what's in it and if those ingredients are fine in the amount that's in one of these fish cakes.
That requires a bit of research and putting together the answers.
I always write the article first, and write the intro and answer target last. That way, I'll know exactly what to put in the intro to get someone to read on and put in the answer target to help them out quickly.
An answer target is a paragraph of text that will be the concise answer. It's what you want Google to show in the SERP as the featured snippet.
For Google to pick up your answer as the featured snippet, it has to be the best short answer out there, and it has to be below 50 words.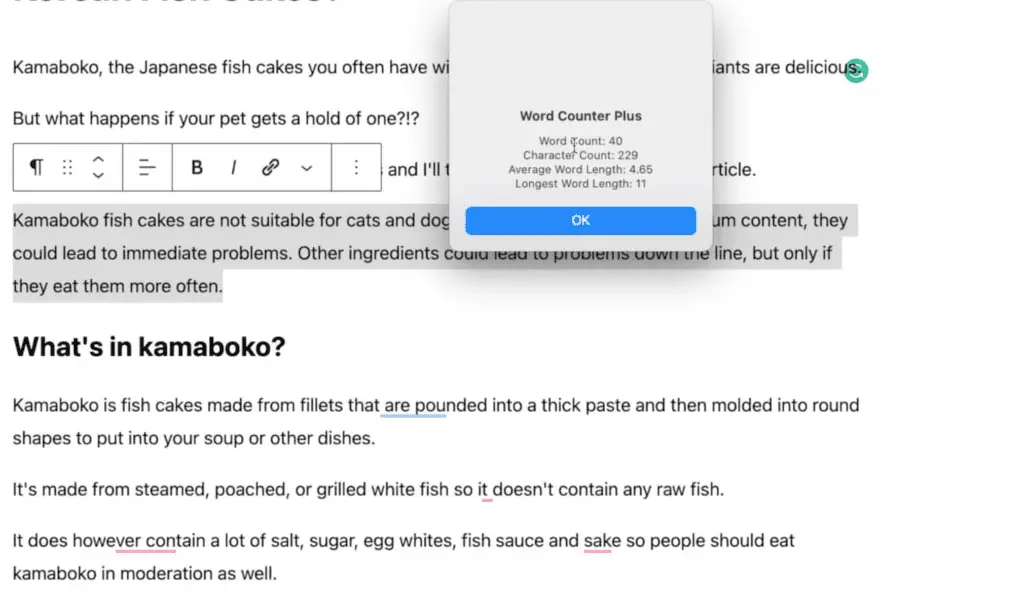 I use the extension Wordcounter Plus to quickly see how many words are in a paragraph.
I also like to bold that paragraph. I've heard other people talk about doing that, though I've never tested if it matters to Google. I do think it helps the reader out so they know that's the answer they're looking for.
That short answer rarely is the complete answer to everything they want to know, it's just 50 words, so don't worry about putting it at the top of the article.
Just let the reader know you're going to help them with the answer and they're in the right place, and if they want to know more, they'll read on.
After the article was done, I just needed a featured image for the post, and I use Canva for that.
Sometimes you can't find specific stock images for these types of niche questions, but you can remove the background and crop out a few things pretty fast to create a fun image to suit your topic.
Writing the first article took me about two hours. At this pace, I'll never reach the 24 articles in time, I have to bring out the big guns.
Can AI writers write for me?
I tried writing 10 articles with an AI writer, Jasper.ai.
It does it's job really fast, you just give it a seed keyword, topic or a sentence and it'll start writing off of that.
The problem here is that it combines things that it knows with things that it might know and things that are complete nonsense.
If you just use the AI writer to write a whole article you will get unusable content.
It what some now very large sites are using to write answer those these underserved topics and are ranking well with.
It's destroying the internet at them moment and why Google has to do something about it with updates like the quality content update.
Jasper will just make up facts for things it doesn't know, and these facts now get published on the internet for readers to find and read, and maybe base their decision on.
I think that using the AI to write everything will hurt you in the long run, and these sites that are ranking with millions of nonsense answers are going to get deindexed.
But they're probably fine with that, just earning display ad income while they can.
I've also found that fact-checking everything probably takes just as long as doing original research and writing your piece from there.
So using it to write whole blocks of text isn't the answer either.
Using AI with the right processes
I had to find a way to work smarter without pissing off Google.
The key to effectively using an AI writing assistant is having the right process in place.
Me and my team use AI to assist us in writing, not write the whole thing itself.
It's great at speeding up the process in a few key areas:
writing specific types of text, like an AIDA or PAS intro
generating ideas for an article outline so you have a few topics to start researching and writing about
writing a few lines of text about a topic you already know the details about, so you can use it as a starting point and fact check immediately
I've worked out a process for my team to use these advantages and get out blog outlines fast. It's called a Jasper "recipe".
That's where you write a few lines of commands Jasper can use to write very specific types of text, you can get all of my processes, including these commands for absolutely free on my blogging secrets page so be sure to check that out.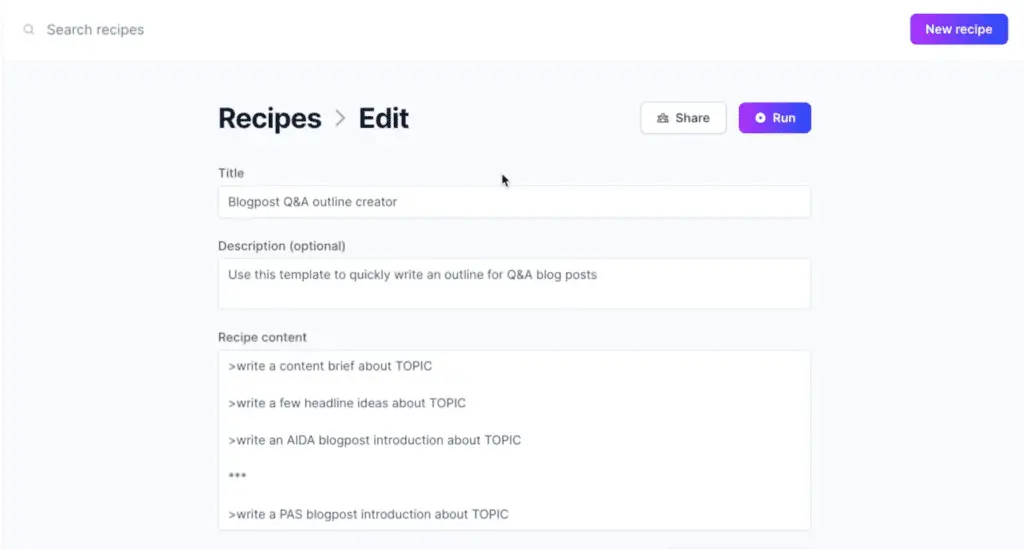 My favorite command is >write an AIDA blogpost introduction about [TOPIC]
Writing for 24 hours straight
I really did write for 24 hours to test out if it was possible, which I do not recommend, but I finished the 24 articles and published them.
At around midnight, halfway through, I was at the 12 article mark. But it was difficult to keep writing.
My eyes were all red and watery from staring at the screen. I had typed a lot and my fingers were starting to cramp.
But taking a break every so often really helps and will give you energy to sit down and write articles for your site.
Writing in perhaps smaller batches is something you can do as well to jumpstart your site and that's something I do recommend you do to start changing your life, one blogpost at a time.
If you have a list of ready-to-go topics it's easy to just pick up the next one when you have an hour to spare and write that article.
Writing with an AI writing assistant has really saved my butt on this one, and it's the only way I could have finished this monstrous job in time using Jasper recipes and commands to get blog post outlines fast.
I know not everyone will have a budget to pay for tools, but if you start with the free ones like answersocrates and then work your way up to maybe a paid plan for Japser or another AI assistant, that will help out so much in your efficiency and your ability to write great content in the time that you do get to set aside for working on your sites.
Conclusion
It is doable to write a great blog article for an underserved topic in under an hour and it will help grow your niche site if you do it concistently.
Make sure you have the right process in place and a list of topics at the ready and you'll be able to write these in no time!
Here are all of the articles I created in the 24 hours of writing:
Can Cats & Dogs Eat Kamaboko Japanese & Korean Fish Cakes?
Can You Keep Kamaboko & Narutomaki In The Fridge Or Frozen?
How to use Kamaboko: Does It Need To Be Cooked?
How To Use Surimi: Can You Cook Or Fry It Or Eat It Raw?
Kamaboko In Ramen: The Swirly Things Called Narutomaki
https://www.bitemybun.com/narutomaki/
https://www.bitemybun.com/kamaboko/
How to make Japanese Ramen Fish Cakes: Narutomaki [Full Recipe]
https://www.bitemybun.com/ramen-fish-cake-narutomaki-kamaboko/ https://www.bitemybun.com/kanikama/
https://www.bitemybun.com/surimi/
Are Kamaboko And Narutomaki Gluten-Free, Keto Or Vegan?
How To Cook Japanese Kamaboko: 30 Min Recipe
9 Best Recipes With Kamaboko: Choose Your Favorite
Kamaboko Fried Rice: 20 Min Yakimeshi Recipe
The 3 Best Kamaboko Substitutes for Fish Cake Fans
Kamaboko Crab Dip: The Hawaiian Favorite
Kamaboko & Spam Wontons: 2 Hawaiian Deep-Fried Delicacies
Can You Eat Surimi "Kanikama" While Pregnant?
https://www.bitemybun.com/is-kanikama-imitation-crab-shellfish/ https://www.bitemybun.com/kanikama-crab-salad/
https://www.bitemybun.com/kani-vs-kanikama-vs-surimi-vs-snow-crab/ https://www.bitemybun.com/surimi-kanikama-maki-roll/
10 Best Fish Cakes For Ramen: From Soft And Squishy To Fried
I'll keep you posted on the progress and results on the Youtube channel.
Joost Nusselder is The Content Decoder, a content marketer, dad and loves trying out new tools en tactics. He's been working on a portfolio of niche sites since 2010. Now since 2016 he creates in-depth blog articles together with his team to help loyal readers earn from their own succesful sites.