I love creating free content full of tips for my readers, you. I don't accept paid sponsorships, my opinion is my own, but if you find my recommendations helpful and you end up buying something you like through one of my links, I could earn a commission at no extra cost to you.
More information
AI-written content has gotten a bad rep in the past. And honestly, I'm not surprised since AI-writing software used to churn out a whole lot of nonsense and unoriginal content.
When you're reading something online, you can easily tell when the text is written by a competent human being, or it's written by a machine, complete with a lot of nonsensical phrases, expressions, and even incorrect information.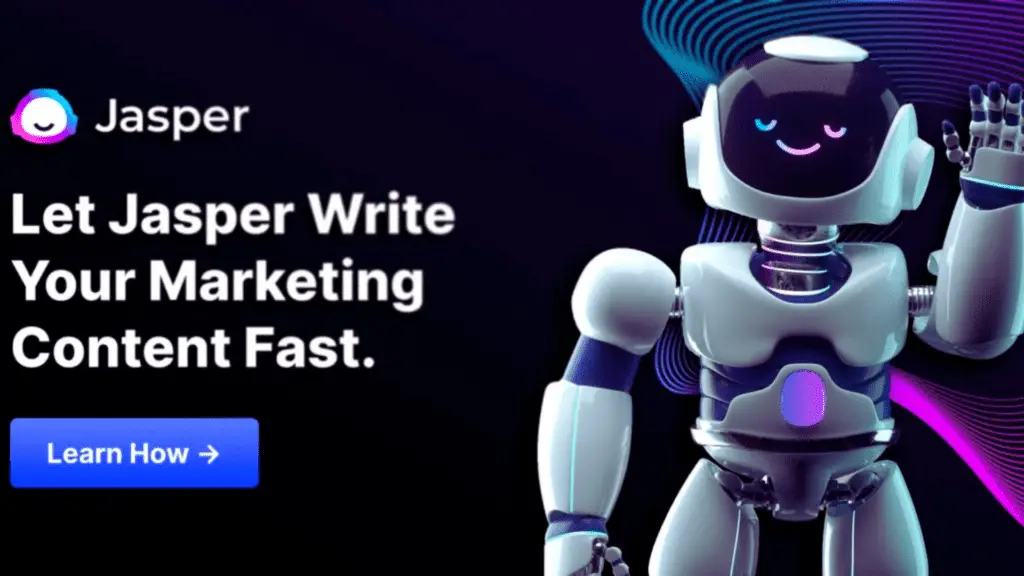 Imagine being able to generate high-quality blog outlines with all the correct information your users are looking for with the help of AI writing software. Jasper.ai is the perfect tool for busy content creators and writers looking to streamline the content research and outline generation process.
Jasper.ai is an AI-powered content generation tool that creates original, well-researched, and engaging content outlines for you.
It can also create marketing and social media content on mostly any topic.
Keep reading for my full review of Jasper.ai and find out the best and worst features.
I'll also share how I use this tool to create high-quality and SEO-friendly content my readers come back to read.
What is Jasper?
Jasper is an AI-powered content generation tool that helps busy content creators and writers streamline the content research and outline generation process.
It also writes the words for you, although you should always make edits here and there to make it sound more natural.
With Jasper, all you need is a topic, and the software will quickly generate an outline for you, complete with all the information you need to write a high-quality, well-researched blog post or article.
In a nutshell, Jasper.ai takes a topic you want to write about and does all the heavy lifting for you by researching the topic, gathering data, and creating an outline of the content piece for you.
You can then take this outline and use it to write your own original piece or adapt it to create marketing or social media content.
The great thing about Jasper is that it can write on almost any topic you can think of.
Whether you want to write a blog post, a social media ad, or an email marketing campaign, Jasper can help.
How to use Jasper?
The way it works is you enter a topic, and the software will generate a list of subtopics and ideas related to your main topic.
Jasper.ai will then help you expand on those ideas and subtopics by formulating original content.
I use this tool as a framework for my blog posts. I use the ideas and expand on them and make them my own, combining my own words with the help of Jasper.ai
This has saved me so much time, and it allows me to come up with topics that I wouldn't have thought of.
While I still use Google for my research, Jasper helps me reduce my work time by providing ideas to expand on.
My team can edit, expand, and write on all of the topics and create truly valuable articles for my readers.
You can also use any of Jasper's templates or create your own "recipes" which are personalized templates you can keep re-using.
My main concern with this tool is that it doesn't provide its sources, so you don't really know where the information is taken from, and thus you have to double-check and fact-check it.
This can be time-consuming, especially if you're writing very specific articles.
However, if you don't like something the AI comes up with, you can delete it and try to rewrite it again, and it might come up with something new.
You can also use all kinds of commands and shortcuts when working with Jasper.
For example, if you don't want it to use the same information or become repetitive, you simply add ***, and the software will come up with something new, unlike the text it previously wrote.
You can tell the software what to write using the special Jasper commands.
Here's a video where I explain and show you how to do this:
You can also set the output length to short, medium, or long-form content.
If you want, you can also add additional information for the software to use, such as a list of keywords or topics and the tone of voice.
Read more about How To Do Keyword Research For Niche Sites
How does Jasper.ai work?
Jasper.ai is a machine learning software that creates new content by taking in a huge amount of data and picking out the most important bits.
This is done through a process known as GPT-3 technology (an autoregressive language model).
Jasper.ai then uses the information to create new content that is more in-depth and accurate than what a human could write.
The software is constantly learning and improving, which means that the content it produces will get better over time.
What are the benefits of using Jasper.ai?
I've been using Jasper for long enough to tell you that this tool helps me create content much faster, so I'm saving time and energy.
I can also come up with tons of original content and outlines that I might've otherwise spent hours researching and writing.
Here's what I like most about Jasper:
It saves me time: the software can create content much faster than a human can, about 10x faster, actually.
It's error-free: Jasper.ai's NLP technology ensures that the content it produces is accurate and free from errors. Integrate Jasper with Grammarly, and you have a content powerhouse.
It's great for brainstorming: if you're ever stuck on what to write about, Jasper can come up with tons of ideas and outlines for you.
Improved SEO: the software can help you to create more targeted and keyword-rich content, which can improve your SEO ranking on Google.
Simple interface: Jasper.ai is very easy to use, requires no tech skills and has a simple interface, so you'll be up and running in no time. The content editor page is clean and clutter-free, so even beginners can use it.
Create great affiliate marketing content
By creating high-quality content, Jasper.ai can help you to generate more leads and affiliate sales from your sites.
If you're a marketer, you know that creating content is one of the most time-consuming tasks.
Jasper can help you to create content much faster, so you can focus on other tasks.
But the main advantage is that Jasper's words are well suited for marketers – the writing needs to appeal to humans.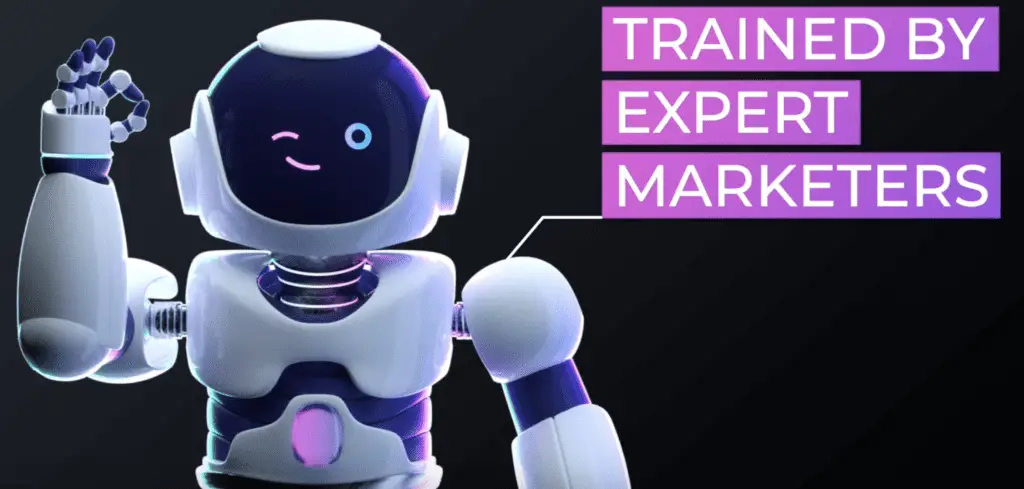 Did you know that Jasper uses two of the most valuable marketing formulas and frameworks out there?
That's right, this robot will create content based on the PAS (Problem, Agitate, Solution) and AIDA (Attention, Interest, Desire, Action) models.
This means that your content will be highly effective in getting the reader's attention, holding their interest, and motivating them to take action.
The content Jasper creates isn't just Wikipedia-style information, it actually sounds like it was written by a real person.
If you're looking for a content creation tool that can save you time and improve the quality of your content, then Jasper.ai is worth considering.
What are the disadvantages of using Jasper?
Here's the reality: Jasper doesn't write the best high-quality content for some niche topics.
If you need content that will engage and convert your audience when writing about very specific and niched-down topics, then you might want to consider hiring a human writer.
I have niche sites, and some topics are extremely focused and specific.
For example, if I'm writing about a specific Japanese ingredient or recipe, it can be challenging for Jasper to find good information on the topic.
If this is what you're going to do, you'll need to include your own research and pick and choose what Jasper comes up with.
Another potential disadvantage of using Jasper.ai is that, because it's a machine learning software, it can take some time for the software to learn and improve.
This means that you might not see results immediately.
Finally, I want to mention that when you use Jasper, you are using "credits."
Depending on the subscription plan you choose, you might need to purchase more credits if you want to generate a lot of content.
Sometimes Jasper churns out some text that you don't end up using or is repetitive, so, in that sense, you're wasting some of your money and credits.
If you're patient and willing to give the software time to learn, then Jasper.ai can be a helpful and useful tool.
Integrating Jasper with SurferSEO
One of the benefits of using Jasper is that you can integrate it with SurferSEO.
If you're unfamiliar with SurferSEO, it's another AI & NLP technology-based helpful tool used to optimize existing and fresh content for Google so you can rank higher and improve your SEO score.
The integration between the two tools allows you to get real-time feedback on your content from SurferSEO.
This feedback can help you to improve the quality of your content and make sure that it's optimized for Google.
Basically, SurferSEO is an SEO (search engine optimization) tool that offers a helpful keyword research tool and shows you what your competitors are ranking for and what content they're creating.
So you might wonder what my opinion is on these two tools working side by side.
Well, SurferSEO is very helpful because it comes up with keywords you can use when you're writing content.
As a marketer or blog writer, this information is helpful.
But there's something I find a bit unhelpful: the content score. SurferSEO comes with a content score that rates the quality of your content.
I'm not a fan of this because I feel like it takes away the creativity of writing.
It's like saying, "This content is good because it has a certain number of words and uses these specific keywords."
Sometimes the score isn't a true reflection of the quality of the content.
It can even lead to poor writing because you're trying to squeeze in as many of the words as possible, and this breaks up the text.
Now keep in mind that Google now prefers fresh, original, human-written content created for humans.
Thus, having too much of a focus on the content score could result in lower quality content.
My suggestion would be to use Jasper for writing your content and then use SurferSEO more for the keyword research tool and competitor analysis.
This way, you're not letting the software dictate how you write each piece of content or blog post.
Who is Jasper for?
If you write any of the following content, Jasper might be for you:
blog posts
articles
ads
website content
social media content
marketing content
e-mails
product descriptions
ebooks
This is obviously not an extensive list of everything you can use Jasper for, but it gives you an idea of the types of content you can generate with this tool.
The idea of automated content generation is very appealing to blog post writers, marketers, and copywriters because it can help them to save time while still producing high-quality content.
This tool isn't just for long-form copy, it can successfully create social media captions, ads, and short-form content.
I would just caution you not to get too reliant on it and to be still involved in the content-creation process to ensure your ads are unique!
Takeaway
Overall, I'm satisfied with how Jasper works and the type of content it produces.
Jasper.ai is nothing like the AI-content creators of the past – there's no nonsense here, and the software actually works smoothly.
I think it's a helpful tool that can be used to generate content quickly, especially if you don't have a lot of time to write.
I also like that it integrates with other software, like SurferSEO and Grammarly, to ensure your content is SEO-friendly and you can rank well on Google.
If you own many sites, even affiliate sites, you can generate all kinds of content for them quickly with Jasper. If you're a writer, you can create all types of content, from social media posts to blog posts to e-books.
There are endless possibilities with this tool. The downside is that it's not free, but I think the price is reasonable for what you get.
Read next about Search Intent Rules (Don't Make A Monster Blog Post That Doesn't Work!)
Joost Nusselder is The Content Decoder, a content marketer, dad and loves trying out new tools en tactics. He's been working on a portfolio of niche sites since 2010. Now since 2016 he creates in-depth blog articles together with his team to help loyal readers earn from their own succesful sites.