I love creating free content full of tips for my readers, you. I don't accept paid sponsorships, my opinion is my own, but if you find my recommendations helpful and you end up buying something you like through one of my links, I could earn a commission at no extra cost to you.
More information
Finding the right topics to write about is always hard. It's hard when you're starting out, and it's hard once you've covered a lot of ground already.
That's why publishers spend a lot of money on tools to help them uncover articles with great potential.
Ezoic knows this. They've asked us, their publishers, what we were struggling with and decided to help out with the free NicheIQ Topics tool.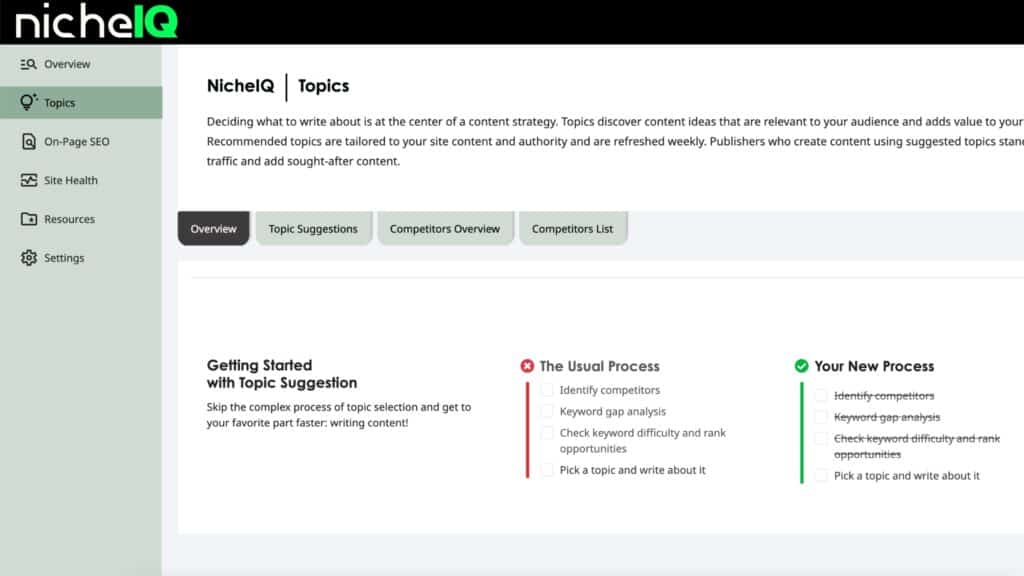 What is Ezoic NicheIQ Topics?
Topics is a product that falls within the NicheIQ suite of tools, a cloud software application made by Ezoic.
It offers publishers insights into what content is working for competitors and what content gaps you have in your niche.
You get 3 ways of looking at content gaps:
Topic Suggestions
Competitors Overview
Competitors List
Best for
Quickly get the most important topics to write about

Very user friendly
Falls short
Very limited search options

Questionable data on lower competition keywords
Topic Suggestions
This is where you'll spend most of your time when using the tool. When you click on this tab, you'll see a list of topics you could write about.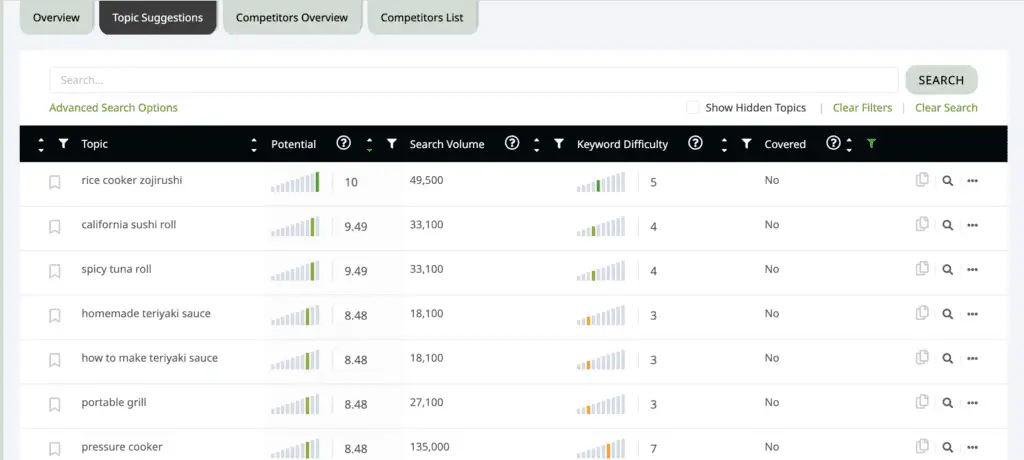 Each topic has a few additional columns of information to help you decide what your next topic should be:
Potential: This is a metric Ezoic calculates to determine the topics with the highest potential for your site. It's based on the search volume and keyword difficulty scores.
Search Volume: An estimate of how many searches the topics gets each month.
Keyword Difficulty: A measure of how difficult it will be for your domain to rank for this topic. It's based on the search volume, domain authority and relevancy of the topic to your site.
Covered: If you've covered this topic already.
You can mark any of these topics as covered so the value "No" will turn into "Yes".
You are also able to sort or filter on any of these columns to get your ideal set of topic ideas.
Competitors Overview
The competitors overview tab shows you which domains you compete with the most: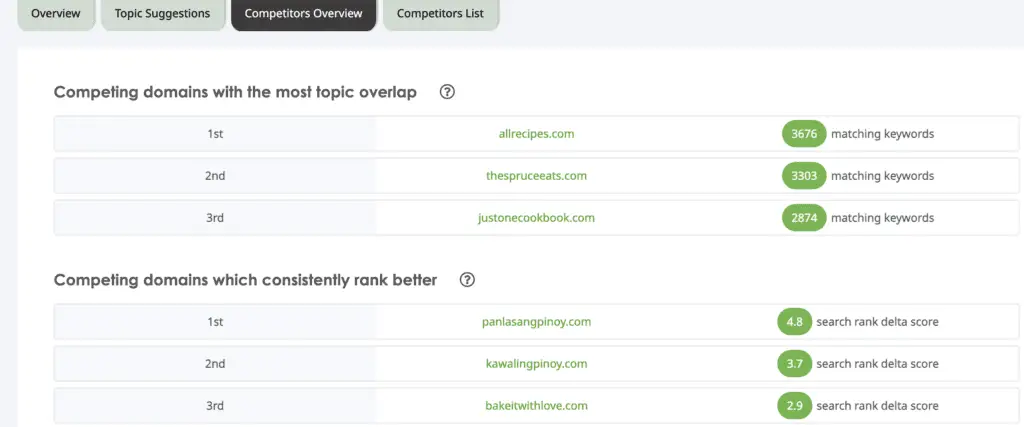 You get the top competitors for your niche determined as the sites that rank for a lot of the same keywords as you do.
You also get an overview of the amount of domains that rank worse, equal, or better.
Competitors List
This is a full list of all the competing sites with your website with a ratio of how much overlap there is between this website and yours.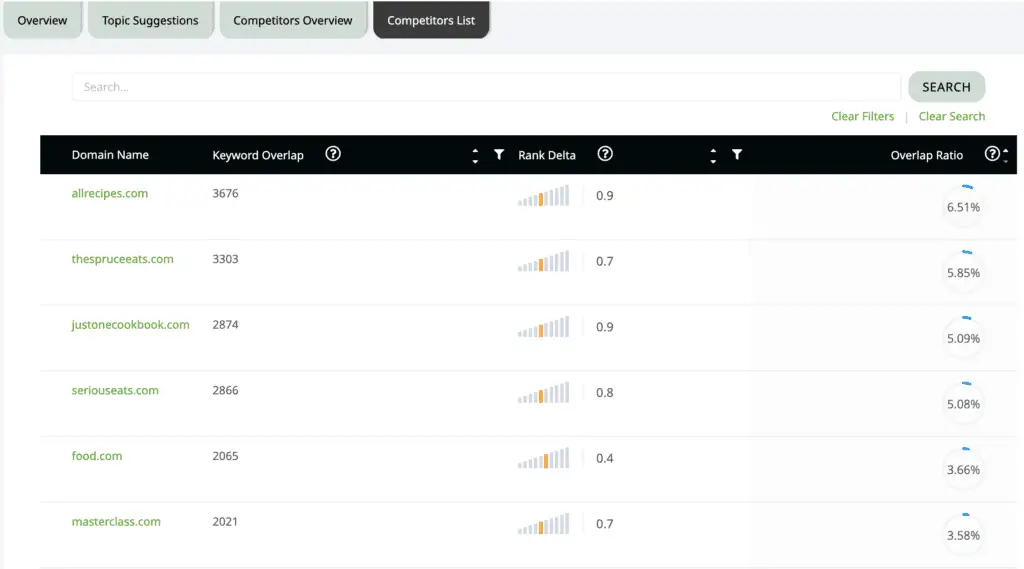 There's also a rank delta score which indicates if this domain is outranking you or not.
What makes Ezoic NicheIQ Topics a great tool?
The best thing about the tool is that it's free in your Ezoic account. I use Ezoic for all of my display ads on our sites because it's gets you great revenue but access to great tools like this one as well.
Other than that, it's a pretty light tool when it comes to keyword research and that comes with its advantages and disadvantages.
The pro is that it's very easy to use. You can see they've stripped away hard to understand metrics and search options to only focus on your site.
I'm a data scientist and I sometimes struggle to find good opportunities for our sites in numerous other tools like SEMrush and Ubersuggest.
It's really geared towards the publisher that wants answers quickly and to the point.
I also like the "Potential" column, because it's a way to sort not only on keyword volume, but also on the ability of your site to rank for the topic.
That way you can skip the harder to rank for topics and they'll resurface in your list once your site is ready for them.
That's a huge advantage to other tools. Although a lot of tools have come out with suggestions to tackle, like Ubersuggest and the SurferSEO Flow tools.
The best feature might be the ability to mark a topic as done, so you can keep track of what you've written already and what topics you could still cover.
I know I've done my fair share of that manually or in my head trying to remember everything we've already covered.
I also like the competitors list to quickly see which competitors are in my field. A lot of them I already know but there were some I didn't have on my radar yet.
What are the disadvantages of Ezoic NicheIQ Topics?
That being said, the Topics tool is a very barebones keyword tool. It doesn't let you search for new keywords like other tools do.
It's only there to find the best potential for your site right now.
That's also one of the major drawbacks for smaller sites. You only get very closely related topics in the suggestions, so you already have to have some content on the topic in order for new suggestions to come in.
So it isn't a great tool for newer sites or sites looking to expand into new territories.
The Competitors Overview also gives you very little information about the domain. SEMrush has a much better suite of tools to analyze your competitors than this.
But of course, that's an expensive paid tool.
I'm missing a way to see the keywords you could outrank your competitors for here. It would be great to get a list of keywords from a competitor you consistently outrank.
You could probably beat them on those newer keywords as well.
The bar chart at the bottom of the competitors overview is also not very helpful:
If there was a way to see this over time, it could at least give you an indication of your progress compared to your competitors.
You also need to vet these topics yourself. I think for the larger topics the data is fine, but when looking at low competition keywords I get some weird competition suggestions.
Like 2x spicy sauce for my recipe blog. There's loads of competition on that:
Or best scuba diving vacation packages for my smallest site I just started. It has a competition of 1, but there's no way I can rank for that.

I only talk about surfing and watersports in Kauai and there are huge publications ranking for this.
Results from the NicheIQ Topics suggestions
I found the best options with looking for keyword difficulty of 1 to 2 for now, at least until my sites have improved their topical authority.
One such suggestion was cassava cake recipe, which I now rank for and gives me 700 pageviews per month. The great thing is that it also gives me Pinterest traffic so it's not just for SEO:

And once you're done with it keyword you can just mark it as "covered" in the tool so you can make the suggestions better and better.
You can also mark ones as covered if you've written about it, but in just a slightly different query form. There are a few suggestions in there that you might have already written about but you can easily remove those.
I also did a whole section on kanikama, which you may know as surimi sticks, and by searching the topic suggestions for that word I got a bunch of them and I now have over 1K clicks per month on those articles:

And you can see Google is trying to decide if my site has enough topical coverage here to rank for the overall broader terms.
Who's the Ezoic NicheIQ Topics tool for?
I first thought this tool was for beginners because of the easy to use interface and barebones data you get.
But the more I use it, the more I understand that it's not for beginners at all. It's for publishers that want a simplified way to order their topic ideas for the highest potential.
The more topics your site already covers, the better the suggestions become.
So while it isn't the best tool for new bloggers starting out, it's a great way to ensure you cover your existing topics fully.
It's best to stick with the top suggestions and not use it as a low fruits tool and search for very low difficulty keyword opportunities and it's better to follow the opportunities your site might be ready for according to the tool.
Because that's one of the major advantages. It looks at your site and your competitors and analyzes what topics your site is ready for right now.
Conclusion
I think the tool is great for publishers who don't want to get into all of the details of other keyword tools and just start writing about the most important topics for their site.
It could also be an addition to your current tool stack to uncover new oppportunities you might not have thought of otherwise.
But as a keyword tool, it's lacking a lot of search options and data to make informed decisions and this certainly wouldn't be your only tool.
It's great that it's free and very useful if you don't want to spend too much time on topic research.
Joost Nusselder is The Content Decoder, a content marketer, dad and loves trying out new tools en tactics. He's been working on a portfolio of niche sites since 2010. Now since 2016 he creates in-depth blog articles together with his team to help loyal readers earn from their own succesful sites.