I love creating free content full of tips for my readers, you. I don't accept paid sponsorships, my opinion is my own, but if you find my recommendations helpful and you end up buying something you like through one of my links, I could earn a commission at no extra cost to you.
More information
We all have made some blogging mistakes on our niche sites, and this article and video are about how to correct them.
I'm showing you how to upgrade old content and deal with search intent the right way, so you won't end up with a blogzilla, a monster blog post, as I did.
Now I have to cut it up into little pieces to ensure I don't break the rules of search intent ever again.
Blogging is like putting a good puzzle together; you look at the pieces you have, see what pieces are left, and try to make them fit.
Only with blogging, you don't have the helpful border lines that puzzle pieces have so you know where the edge is.
One of these pieces is the search intent, and I'm going to tell you why that border matters so much in a minute because it will save you from complete google update obliteration one day.
Let's first look at how a blog post could easily turn into a blogzilla over time and what you should do to avoid it.
When you have an article that's doing pretty well, you want to improve upon it to make it rank even better, right? That's called upgrading old content, and there are many articles about it.
No wonder, because according to some, upgrading old content can be up to 58% more efficient than writing new articles, and MOZ has posted an article explaining the importance of the freshness effect of content in search rankings.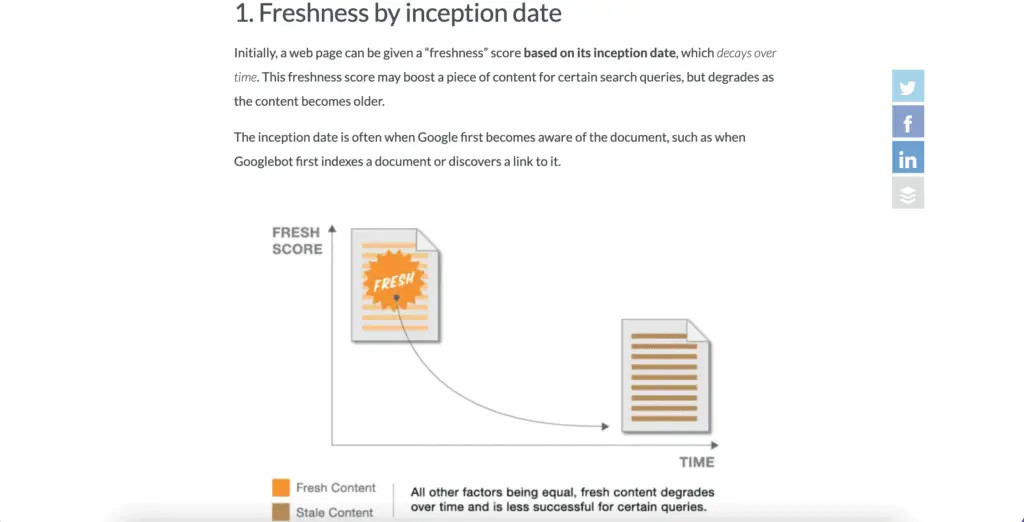 It's why upgrading old content is an important part of my overall content strategy as well.
You can look at different tools to see which blog posts could be improved, like SEMrush and Ahrefs. I like to stick with the trusty old free google search console.
I've identified dashi substitutes as my target page to upgrade, and I'll show you why a little later on.
Once you know which post to update, you can look at what you could add to improve it.
Have you ever had that tip? Look at your search console data at what keywords you're ranking for and optimize for those as well?
It's what big sites like searchengineland have written about, and it can be a good strategy.
Don't follow this advice to the letter though because for one, this article is from 2020, and we all know SEO changes faster than the stock market after China's collapse, and you can't be stuck investing in the market, or your site, with outdated info.
One of the concepts that have been talked about a lot since then is search intent.
Let's decode this some more and look at what I did wrong so you can avoid it and what I'm going to do to fix it.
We have a few concepts like search intent, search console, and the keywords you are ranking for.
Google search console is the free tool google provides to help webmasters with understanding how their sites perform in the search results.
It can tell you a lot of things, and one of them is the number of searches your page shows up for and what those searches were.
So, I'll explain it with dashi. It's the Japanese broth that's the base ingredient for a lot of their dishes and an important page on my site.
I've funneled the search console data to google data studio, another free tool of google that you can use to visualize data because, well I'm a nerd and that's what nerds do.
And here are the searches my article on dashi substitutes is being shown for on google as a possible answer:
So, back in 2020, when this advice looked solid, I took these keywords and added more about them on the page.
I thought I'd have a real shot ranking for things like dashi instead of just teppanyaki with my article.
Then I saw recipes in the SERP so we should add that too. Then some FAQs, that's brilliant we can write everything there is to find about this topic, and here we are, at 6000 words.
But then, my article was starting to decline in search rankings, being shown less prominent for my main keyword, and I wasn't very successful at gaining traction on those extra keywords.
The problem here is search intent. I've heard a lot of advice over the years to write for multiple search intents you see in the SERP to cover all of the bases.
I've also used tools that promote this, like SurferSEO and POP, and if they aren't used wisely, you can make a mess of an article like I did.
Then Google showed me the way, took me by the hand, and said, Quality content is content created to satisfy A user intent.
And then they showed me that sites can rank for multiple intents for the same keyword with different pages.

Google was telling me, it's ok, you can write about all of this stuff. I know you're passionate about teppanyaki, and you want to share your knowledge, just don't do it all in one place!
Someone looking to make it at home isn't going to want to read about the history of teppanyaki.
In the video, I go through step-by-step how you can turn your blogzilla into multiple articles targeting different intents.
Conclusion
It's always hard to cut up something that already gets traffic, and you never know with 100% certainty if what you're doing is what Google will reward going in, but I had to try because it's what I know is the right thing to do.
It's not about how thick a book is but about the value it brings the reader. The answer they are looking for at the moment of googling something.
And I wasted their time burying the lead somewhere in the middle of the book instead of in the first few paragraphs.
Now, we have an article that's perfect for the person looking to find a substitute, and if he or she does want to know about the history or an authentic recipe, we'll leave in a nice link to those so they can go off and read more about that. Now let the rankings start coming in again.
Update: Teppanyaki content is already up 41,5% since the update and cutting up the monster blog post into smaller pieces, that's amazing!
Joost Nusselder is The Content Decoder, a content marketer, dad and loves trying out new tools en tactics. He's been working on a portfolio of niche sites since 2010. Now since 2016 he creates in-depth blog articles together with his team to help loyal readers earn from their own succesful sites.