I love creating free content full of tips for my readers, you. I don't accept paid sponsorships, my opinion is my own, but if you find my recommendations helpful and you end up buying something you like through one of my links, I could earn a commission at no extra cost to you.
More information
You've probably heard that search engine optimization is important for your website, but it can be hard to know where to start or how to keep up with the latest changes.
Not only is SEO constantly changing, but it can be hard to implement all new changes. That's why you need a good content planner that will help you use SEO tools correctly.
So, is Surfer SEO any good?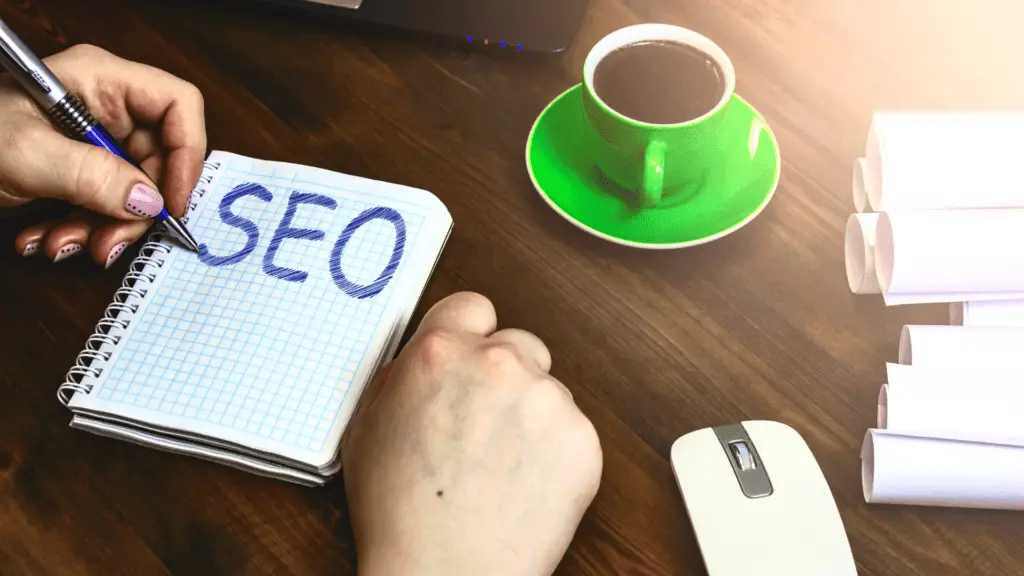 SurferSEO is a complete SEO software solution that includes a keyword research tool and on-page optimization features to help you rank your content. This software makes SEO easy by giving you simple, actionable advice that you can implement right away.
Plus, it keeps up with all the latest changes, so you don't have to.
Surfer Seo alternatives are quite expensive, and their user interface can be overwhelming and downright confusing.
As a content writer and marketer, the Surfer SEO tool is essential to my workflow. It's helped me improve my website's ranking and also get insights into what my competitors are doing.
Overall, it's a great tool that I would recommend to any serious content writer.
But in this surferseo review, I'm going to get real about all features it has, what works, what doesn't and how to best use this tool.
What is Surfer SEO?
Surfer SEO is an SEO planning tool that gives you content optimization recommendations based on real-time data.
It's actually a cloud-based optimization tool called, and it evaluates and contrasts your website with others that are currently ranking highly in search engine results.
This tool conducts a data-driven analysis that reveals exactly what is lacking from your website rather than making assumptions about how Google likes to rank websites.
By knowing what you lack, you can then make changes and improvements.
This tool can analyze and compare about 500 aspects of your page to your top 10 competitors on the SERP.
This means you get the best recommendations to outrank the competition with better content and rank higher for various keywords.
So, Surfer is basically your on-page SEO assistant.
It can help you create content that's optimized for your target keywords without having to spend hours of your time doing research.
It is a powerful SEO tool that can help you improve your website's search engine ranking, so your blog posts and website pages show up in SERP!
Is Surfer SEO any good?
Yes, this tool is excellent because it helps you figure out the ideal content length, the best keywords to use, the keyword density, and other SEO practices you need for optimal on-page SEO.
Surfer SEO offers a wide range of features that can help you optimize your site for better visibility in search engines.
It also helps optimize existing content by showing competing pages for a given keyword.
Surfer SEO also has a free google chrome extension called Keyword Surfer that allows users to analyze a webpage for on-page optimization.
The SERP analyzer is a great feature that allows users to see the top 100 results for a given keyword and quickly assess what is working for their competitors.
Since this is a data-driven analysis tool, it is important to have an analytical mindset when using Surfer SEO.
The tool that helps me create content faster is the AI outline generator – it's just like a template but for your content!
This tool is not a magic wand that will guarantee number one rankings, but it gives users the insights they need to improve their on-page SEO.
The good news is that you can use this tool for your entire content writing team – this is what I'm doing, and multiple team members can all log in and work on different articles.
How Surfer SEO works & main features
The first time I started using this tool, I was expecting it to help me with keywords. But it actually does much more than that.
With SurferSEO, you can get detailed insights into your website's performance, including keyword rankings, SERP features, and more.
So how does this tool really work?
Surfer SEO uses AI as well as NLP technology (Natural Language Processing) to give users keyword recommendations that are based on their website's content.
It also includes a handy on-page optimization feature that gives users tips on how to improve their website's ranking.
You can also use the tool for competitor analysis to see how your site stacks up against your competitors.
It is designed for content writers, marketers, and developers who must individually optimize each page of a website.
With the Surfer SEO content editor, you can enter a URL, and the software will give you an SEO score and recommendations on how to improve it.
The editor also includes a content planner that helps you optimize your content for the right keywords.
The tool gathers information on your competitors, such as:
The search terms they aim for
Their connections
The articles they produce
It's a great way to get backlinks!
And what's more, the software is always up-to-date with the latest Google algorithm changes so that you can be confident that your website is following the best SEO practices.
You can optimize your blog, eCommerce store, or website using Surfer's SEO tool.
It combines the utility of a keyword research tool with insights into the competition and high-ranking content.
But what's special about this tool is that it's all data-driven yet still accessible and user-friendly for all types of users.
There's no need to be a technical expert to use SurferSEO. And that's why I think it's one of the best SEO tools on the market today.
What is a good score on Surfer SEO?
When you're writing content, there's always a score that shows you how valuable or "good" your content is.
For example, if the score is red and reads between 0 – 33, it means your text is considered low-quality and kind of irrelevant.
34-66 is marked with an orange color and indicates that the content is of decent quality but can be improved greatly.
67 -100 is marked with green, and this indicates that the content is very relevant, high-quality, and well-optimized.
User interface of SurferSEO
The layout can seem a bit confusing at first glance, but the overall design is user-friendly.
The editor is on the left-hand side of the screen, and the right-hand side is reserved for the SEO insights that the software provides.
Therefore, you can write your content AND see the keywords you should use and the overall content score all the once.
You also see the word count and keyword density which is very helpful info.
The content editor allows you to create headings, paragraphs, bullet points, images, links, quotes, and code, depending on your needs.
I like that the interface is clean and uncluttered because it makes it easy to focus on the writing without feeling overwhelmed.
It's similar to writing your text in Microsoft Word or Google Docs, except you're getting tons of guidance and tips on the writing journey.
Main features SurferSEO
As with most such tools, Surfer offers a combination of free and paid tools you can use.
I'm sharing all the features you get access to and how they work. I'm also sharing why I find them useful.
Content Planner
Surfer uses all kinds of data to gather the best keywords for your chosen topic.
You can use this to plan what topics you should write about, and the software will give you a list of keywords that you can target. They're all grouped together, making them easier to target.
You'll get a list of dozens of relevant topics, heading ideas, questions, and a glimpse into your main competitors.
Content editor
The content editor allows you to edit your content in real-time. You can see how your changes will affect your site's ranking and also get real-time feedback on your progress.
This is a great feature for writers who want to be able to see how their work is impacting their SEO.
It's a great way to avoid basic keyword research and get a list of all the important keywords as well as the keyword usage frequency to aim for.
Keyword Surfer Extension for Google Chrome
This free browser extension lets you check keywords right in your Google search results. You can see things like monthly search volume, CPC, and SERP features for each keyword.
This is a great way to check keywords quickly without having to leave your browser.
Content Editor Extension
This tool allows you to integrate Surfer's content editor with WordPress or Google Docs.
So, you don't have to worry about having to copy and paste text from one source to another, and the editor even handles the formatting for you.
AI Outline Brief
Simply type in what you want to write about, and the AI Outline Generator will give you a structure for your article.
It's a type of article outline generated from all the top 10 ranking pages for each analyzed keyword.
It includes all the main points that you need to write about, and it's a great way to ensure your article covers everything it needs to.
This includes things like headings and ideas (H2, H3) as well as paragraphs and uniquely written content.
Think of it as your AI guide, telling you the points you need to write about in order to rank well.
Audit
This feature is excellent because it runs an audit on your page. It tells you what's wrong and what you need to improve.
From there, you can make the necessary changes to your website.
The audit report will tell you things like:
Your website's loading speed (page speed)
The number of words on your page
Your title, meta description, and header tags
Number of headings
Referring domains
How many backlinks you're missing
NLP entities & sentiment
SEO mistakes that are preventing you from ranking higher
Keyword density
SERP Analyzer
This tool allows you to see how your content is performing in Google search results.
You can track your progress over time, see what SERP features you're ranking for and get insights into what your competitors are doing.
Any piece of material can be well created (or improved) by taking a look at the competition.
How so?
Surfer displays what Google considers to be the best match for the query. Google believes it to be the most relevant content for that phrase.
Therefore, you'll need to outrank it if you want to overtake the competitors.
You may quickly and easily learn how the results page for your chosen keyword appears by using Surfer's SERP Analyzer tool.
It exhibits alternative recommendations for keywords to use on the page, the inquiries that individuals are looking to get answered when looking for that phrase, and the websites that link to those high-ranking pages.
However, the pages of search results can vary greatly. You may switch between mobile, desktop, and location results in Surfer.
You may observe the URLs that are ranking highly on mobile if, for example, the majority of your visitors browse on mobile.
Additionally, you may view how the SERP has evolved over time. This information can help you prepare your content for the future.
Missing common backlinks
Backlinks are essential in optimizing a website's content.
After optimizing the website, you can reindex the content and see the rank on the page.
Sometimes, you have to switch up your article, and you have to create backlinks.
Surfer SEO has the expertise to assist you. It'll prioritize the sites from which the link to the website must come.
Consequently, your website is ranked more often by your competitors.
Additionally, it'll show you the kind of content that those websites are linking to. You can quickly change your strategy and improve your ranking.
Grow Flow
The grow flow feature is a growth management platform for a website (or multiple websites, depending on your plan).
You can use this feature to grow new websites or improve older ones.
What is it?
Well, it's an automated AI list of weekly tasks you should complete in order to grow your website or blog.
It helps you optimize domains. It's like the SEO audit but on steroids.
The tasks are based on data from your website and the competitor analysis you've done with Surfer.
For example, if you're missing out on some backlinks, the grow flow will tell you to go and get them.
If your website is missing some important pages, it will tell you to create them.
It's a very helpful feature, especially if you're new to SEO and need easy-to-implement tasks and solutions.
It sure beats hiring a specialist to do the job for a large sum!
SurferSEO pros
Ease of use
The software is designed for users of all experience levels. Even if you've never used an SEO tool before, you'll be able to figure out how to use SurferSEO with ease.
Affordable
SurferSEO is one of the most affordable SEO tools on the market. If you're on a budget, this is the perfect tool for you.
Keeps up with all the latest changes
There are constant software updates to make sure it's compatible with all the latest changes in SEO.
This way, you don't have to worry about your website falling behind.
Simple, actionable advice
SurferSEO gives you simple, actionable advice that you can implement right away. This way, you can start seeing results quickly.
Insights into your competitors
SurferSEO provides insights into what your competitors are doing. This way, you can stay one step ahead of the competition.
This is one of the most valuable resources for me because I know what I have to aim for and what I have to improve.
You get to see your content score, and this indicates how relevant your text is as well as the quality of your article or blog post.
SurferSEO Cons
Surfer SEO is a great tool that can help you improve your website's ranking. It's easy to use and keeps up with all the latest changes.
However, it's not perfect.
Although the general user experience is positive, some things could be improved upon.
I have found that the SEO score it gives is not always accurate, and sometimes, the recommendations it provides are not all that helpful.
The tool doesn't guarantee that your website will rank higher, but it does give you a good starting point.
However, some suggestions are pushed too aggressively in the sense that if you don't implement them, you can't improve the score.
But always use your judgment because not all the suggestions are relevant to your content. In fact, some suggestions may even hurt the readability of your text!
One of the biggest problems I have with Surfer SEO is that a lot of the outlines it provides are useless without major modifications.
I prefer to skip using them and instead use them as very basic guiding points.
If you try to copy and paste the outline title, heading, and question suggestions, you'll end up with a lot of nonsensical text that will only serve to hurt your ranking.
Therefore, each given suggestion needs to be double-checked.
Here's an example of something Surfer SEO came up with:
Missing common backlinks: Once the optimised content is finished you can start a new page by searching the site in Google. When the need arises, you can start implementing an additional linking program using popular backlinking sites and other techniques. Surfers Search engine optimization provides you a list of sites to build links with, depending on how many links are linked to a competitor. 7 competitor sites I've missed have Quora links and they're quite cheap. Please just go through the list.
Now, as you can tell, this paragraph is hard to read, hard to understand, and not very useful!
The heading can be changed to something like "How to use Surfer to get backlinks," and then discuss the topic using your own words.
What works better is to take the broad topics it provides and then fill in the details with your own unique information, insights, and text.
Since some people complain about the surfer seo cost, it's worth considering how many articles your can audit per month and if that's enough for your needs.
How I use Surfer SEO
The best way to use SurferSEO is to get a monthly or yearly plan.
Depending on your needs and your business's content marketing strategy, you can opt for the basic, pro, or business plan.
The main difference between these plans is the number of projects you can track, the number of websites you can grow, and the number of keywords you can research.
Since I've been using Surfer SEO, I spend less time optimizing on-page SEO for each blog post or article I write.
The biggest advantage of using SurferSEO is that it reviews all the most popular competitor pages and websites and compares them to yours.
So, not only do you know what the competition is up to, but you get detailed outlines, briefs, and a long list of keywords to use when writing your article.
Integrating SurferSEO with Jasper.ai
Now combine the benefits of SURFER SEO with the AI writing tool Jasper.ai, and you've got the most powerful content creation strategy and tool to date.
If you're serious about ranking in Google and getting more traffic to your website, then I recommend using Surfer SEO and integrating it with Jasper.ai.
This will significantly reduce your work time and workload, and you'll get content that actually gets included in SERP.
The two tools work together to help you not only write better content but also get your articles and blog posts ranked higher in search engines.
If you have a small blog and post once a week, you realistically don't need both of these paid tools.
But, if you're serious about creating content, own multiple blogs and sites, and post several times per week, then using both SurferSEO and Jasper.ai will save you a lot of time and energy.
AI-generated content is quite good these days, and you can quickly create a good blog post using the AI-generated text combined with the Surfer Seo keyword research and on-page seo tools.
When you integrate Surfer with Jasper.ai, you get the text editor on the right-hand side of the screen and the Surfer software on the left side.
But you can always toggle the Surfer on or off, depending on how often you want to refer back to it.
Surfer Seo vs other Seo tools
There are plenty of surfer SEO reviews out there, and some will tell you it's better to invest in other tools, but if you're serious about writing blog posts that will soon rank higher, you need all that Surfer Seo has to offer.
Surfer is most often compared to SEMRush and Ahrefs, and it's been said that Surfer is the new way to do things because it offers so much more than those two tools.
The truth is that they each have pros and cons.
Surfer SEO vs Semrush
Both SEO technologies are highly effective marketing tools for growing internet businesses.
They provide a wealth of information, such as link building, rank tracking, backlinking, and keyword research.
While Semrush and SurferSEO have some very similar traits, they also differ from one another.
The latter is a cloud-based tool that assesses your website using more than 500 on-page indicators as a starting point.
With the help of its dedicated SERP analyzer, SurferSEO enables you to locate and evaluate rival websites to your own.
SEMrush, in contrast, is more of an 'all-in-one' kind of marketing tool with over 40 functions that may help you with any aspect of internet marketing.
It is beneficial for both on-page and off-page SEO.
SEMrush is a straightforward tool that could improve your digital marketing efforts. You can also keep an eye on social media marketing with the goal of finding fresh prospects.
Semrush costs more than Surfer SEO, though. The good news is that you can sample the former for free for seven days.
The value that Semrush offers goes beyond keyword analysis and content production.
On the other hand, compared to its rival, SurferSEO is easier to use and has a more user-friendly interface.
Overall, Surfer is better for content writers, copywriters, and content marketers, whereas Semrush is great if you're interested in social media marketing, PPC, and digital marketing and you need specific data in that field, you should use Semrush too.
Surfer SEO vs Ahrefs
Without a doubt, one of the most well-known SEO tools to complete with Surfer is Ahrefs.
You can use it to determine your desired keyword metrics quickly. Additionally, you can learn why your rivals rank ahead of you.
Surfer is well-known for its on-page SEO features, whereas many people use Ahrefs for its backlink authority checker.
Nearly all other tools are outperformed by the Ahrefs URL analyzer.
This is due to the fact that it offers essential performance measures like domain and URL rating, backlinks, statistics on organic and paid traffic and other details that the majority of other tools do not.
Although Ahrefs can be used to evaluate already published material, Surfer SEO might be a better choice if your objective is to create original, optimized content from scratch.
Surfer's users prefer its user-friendly and intuitive UI as well. In contrast, the large amount of data that Ahrefs provides can easily overwhelm users.
Surfer SEO vs PageOptimizer Pro
As an on-page SEO tool, PageOptimizer Pro is also useful. Any page you want to optimize is scanned, and it offers suggestions for improvements.
You can use it to check your position in the page rankings plus how your site compares to the competition.
However, Surfer goes further because of its SERP analyzer.
Additionally, it provides a thorough study of a certain term by contrasting your website with other well-ranked ones.
Your pages and the top 50 rated websites are automatically compared by Surfer. PageOptimizer Pro falls very short in this area because it necessitates manually adding each of your competitors' websites.
Additionally, Surfer offers 50 rivals, as opposed to the maximum of ten that PageOptimizer Pro permits.
The user interface is another obvious distinction. Surfer features a very simple and approachable user interface. In contrast, PageOptimizer's user interface (UI) is less clear.
Surfer is a clear winner here: it's more comprehensive, has a better UI, and is much simpler to use.
Surfer SEO vs Cora
Cora SEO is another similar tool that prioritizes over 500 factors when it comes to ranking your pages.
But it's nowhere near as user-friendly and easy to use as Surfer.
Some of the pros think it's one of the best keyword research tools, although a bit outdated. Surfer is still best when it comes to design and insights.
How to use Surfer SEO
Surfer SEO is a tool that can help you optimize your website for search engines. It provides you with data-driven insights that can help you improve your website's SEO.
To use Surfer SEO for a website audit, follow these steps:
Enter your website's URL into the Surfer SEO tool.
Choose the country and language you want to target.
Select the type of device you want to use for your audit (desktop or mobile).
Choose the type of audit you want to run (basic or advanced).
Click "Start Audit" to begin.
Surfer SEO will analyze your website and provide you with a report.
Review the report and make changes to your website based on the recommendations.
Repeat steps 1-7 as needed.
Now, to use Surfer SEO for keyword research, follow these steps:
Enter a keyword into the Surfer SEO tool.
Select the country and language you want to target.
Choose the type of device you want to use for your research (desktop or mobile).
Click "Search" to begin.
Surfer SEO will provide you with data-driven insights for your keyword. It tells you how many times the keyword is searched for (search volume), how difficult it is to rank for the keyword, and how many times you need to use the keywords.
Review the data and make changes to your website based on the recommendations.
To use the content editor, you should enter the topic or keywords you want to target in the search bar.
Learn more about keyword research and what tools to use here
FAQs
Is SEO surfer free?
No, you have to pay on a monthly or yearly basis, depending on the plan you sign-up for.
You can try a free 7-day trial to see if it's something that would work for your business.
How often is Surfer Seo updated?
The software is updated every two weeks with the latest trends in SEO.
They also offer monthly training so you can keep up-to-date with the latest changes.
How to increase SEO content score in surfer?
You have to implement the suggestions the software provides.
For example, you can:
use keywords as many times as the tool suggests
use each specific keyword somewhere in your text at least once if you can't and don't want to overstuff your text
ensure you use the number of words the software suggests
use enough headings and paragraphs
What is NLP on Surfer Seo?
This acronym stands for Natural Language Processing. It's a type of artificial intelligence that helps the software understand human language.
This is what allows the software to read and analyze your text so it can provide you with data-driven insights.
How to cancel Surfer Seo subscription?
You can cancel your subscription at any time by logging into your account and going to the billing section.
From there, you can click on the "Cancel Subscription" button.
How long should you wait before optimizing a piece of published content?
You should wait approximately 3 to 4 months before optimizing a piece of published content.
This will give you enough time to gather data and see how well the content is performing. You can then use this data to improve your content.
Content optimization is necessary but should be done carefully, so you don't hurt your ranking.
Conclusion
If you're looking for an all-in-one SEO solution, then I recommend checking out SurferSEO. It has everything you need, and the price is a good value compared to other similar tools.
As I mentioned in the first part of this surfer SEO review, SurferSEO is much more than just a keyword research tool.
It's an all-in-one SEO platform that can help you with all aspects of SEO, from content creation to link building.
If you want to create better content for SERP, investing in this SEO tool will surely pay off because you reduce your total work time and create content that potential readers can find and read!
Also read: Why is it smart to outsource your search engine optimization?
Joost Nusselder is The Content Decoder, a content marketer, dad and loves trying out new tools en tactics. He's been working on a portfolio of niche sites since 2010. Now since 2016 he creates in-depth blog articles together with his team to help loyal readers earn from their own succesful sites.