I love creating free content full of tips for my readers, you. I don't accept paid sponsorships, my opinion is my own, but if you find my recommendations helpful and you end up buying something you like through one of my links, I could earn a commission at no extra cost to you.
More information
It's not always easy for small businesses to bring in more foot traffic.
But brick-and-mortar stores that know how to promote their brand can certainly be successful in attracting customers.
In today's times, selling online may seem like the most lucrative and more convenient option, but with the right promotional ideas for local stores, brick-and-mortar sellers can be just as successful, if not more successful, as their online counterparts.
While it sometimes seems like brick-and-mortar retailers are at a disadvantage, they actually have a very, very big advantage in being able to connect with their customers and deliver a consistently great customer experience.
If you're concerned that large online stores with low prices will swallow your small business, consider that 86 percent of consumers are willing to pay more for a better customer experience.
Those are impressive numbers! To give you an edge over the competition, here are some store promotion ideas that you can use right away in your business.
Promotion ideas for local shops
1. Sale
Everyone likes to get something for less and some people will even wait for an item to go on sale before buying it.
So our first promotional idea for stores is obvious: a sale.
Sale sounds like "I already knew that", but make the super powered sale!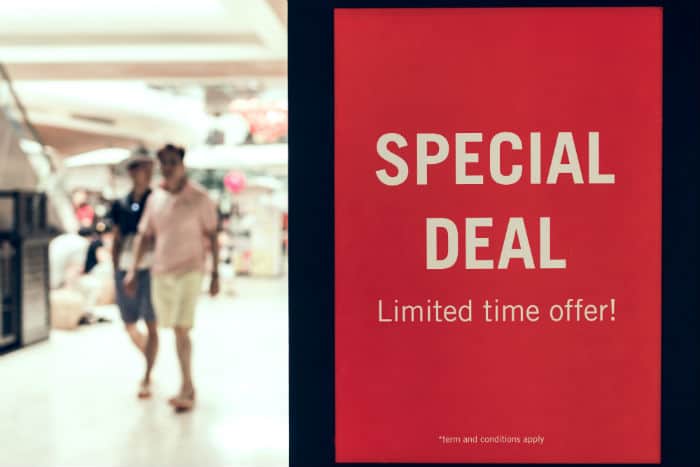 Continue to the bottom of the tip to use your sale to bring in many new customers.
But first…
The sale as a sales tool for old stock
Briefly about the sale in general.
Stores that don't offer sales or that only offer small occasional discounts are missing out on this marketing winner.
For clothing stores, the season change gives time to put all items from the past season on sale.
Items that were once hip and trendy and have now been replaced by the next trendy item can be put up for sale.
Get rid of your bad selling stock
You also want to keep an eye on slow-moving items, seasonal or not. And this applies to any kind of store.
You don't want to keep old stock in your company that is only good to collect dust and take up valuable shelf space.
Put these items on sale to make room for new or more profitable items.
Tell your upcoming sale to existing customers
But every store uses sales, especially in the fashion industry. Therefore, use this tool to create some hype around your sale period.
Tell people in the store that you'll soon be on sale on items they were viewing but didn't buy and lure them back for a cross-sell opportunity.
It's like emailing an online store customer when they view something but don't buy, one of the most powerful email marketing tools for e-commerce.
But then a lot more personal
Point people to the upcoming sale and put it on the voucher, for example, which they can take with them for an extra regular customer discount.
Mail your e-mail list that a specific item is only on sale this week and pull them back into the store that way to buy more in addition to the item on offer.
The tip to get more out of your sale
Of course, a sale does not always have to be the products from last season. It can also be the bait to get people back into your store.
Supermarkets also master this art. It also works for your store!
How do you make a successful sale?
Pick a brand or type of product that many people love.
Go to facebook, instagram or linkedin (if they are company articles) and target people who are fans of this brand, product, or activity you can do with it.
Spend a few bucks a day to create a very targeted ad for people who live around your store and who like, for example, "baby clothes brand Noppies" (yes, I recently became a father) with an ad for your sale for … .Noppies!
For little advertising money very targeted audience that you can get to your store with a suitable offer.
2. Master the art of the window display
Creative and attractive shop windows are an art form and can be an important way of displaying promotions for stores.
Shop windows can be anything you want. You can recreate an exotic location, make a political statement, be humorous, or anything in between.
The possibilities are endless. What is important, however, is making sure that your shop window clearly displays what your company is selling and what the offers are.
Presenting a clear and powerful message will intrigue those who pass by your shop window into taking a moment of their time to visit your store.
It's about getting the attention from their Facebooking, tweeting and Instagramming lives to give themselves some time and grab articles instead of going online.
Because that is ultimately your big advantage of a physical store compared to online:
a personal approach where people like to visit
items you can grab and try
I would also always test whether including this call to action in your store window can help you get more traffic:
"Try our new….."
"Have you held the new xyz phone yet?"
It's like a headline on an advertisement. Instead of clicking them to learn more, you want them to walk into your store to learn more about your offerings.
3. Loyalty Programs
Loyalty programs are a great promotional idea for stores to show their appreciation to repeat customers.
Using the purchase history and customer data extracted from your POS system, you can create personalized promotions and send them to your customers.
More and more customers expect companies to approach them with personalized offers rather than general promotions.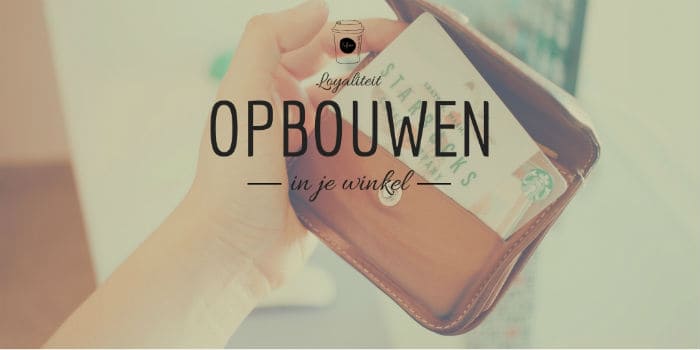 If a customer walks in for a latte with ice almost every Friday, send her 20% off that latte on Friday. A surprise will take you very far.
If it's always the same time, make it ahead of time and set it up with a treat, a pastry, or something awesome they should try but never do.
A surprise like this that's really genuine might get this customer to tell the neighbors. Maybe she'll share it on social media. And maybe just buy such a pastry next time.
That's what I mean by expressing appreciation and building a very personal customer experience.
Word-of-mouth is still everything, and a fun action that is sincere and hits the spot might just get the attention of many people.
Social Media has suddenly expanded the reach of people about their experiences.
You may also want to consider using different platforms for your loyalty programs, including:
e-mail
social media
text message
For text messaging, make sure you offer exclusive promos that are different from the ones you share through other channels.
This way you encourage customers to join your special SMS loyalty club.
By giving customers choices about how to contact them, you also ensure that you pay attention to their preferences and don't spam them where they don't want to.
4. Organize events
By giving customers a unique experience in your store, you can bring in more people and, ideally, drive sales.
Hosting a party, themed event, or class can be a way to entertain and/or educate customers about your products or services.
If the event is successful, you can count on more people coming to the next one, making this a powerful promotional idea for stores.
When done right, holding events is one of the more effective ways to demonstrate the appreciation you have for your customers.
Also a wonderful way to reach a new target group through advertisements. Especially when you offer more expensive consumer items or B2B products, a small investment in promoting your event can offer a lot.
For example, create a free dinner for a select group of business owners in your area for an inspiration session/dinner to discuss what entrepreneurs in the industry are struggling with.
If you're selling more expensive items, it's best to spend some money on some ads, aimed at
nearby businesses
in the industry you are selling to
And maybe €1000 dinner costs at the end of the evening.
You can target on social media in such a way that you hit the right target group with your ads. Make a banner or better still a video in which you invite them to a free dinner and inspiration session.
A few sales and you have it out and you have established yourself as the store / service provider in the industry in this region!
For smaller product sales, you can organize a somewhat larger event and invite as many people as possible to it, something that doesn't involve a lot of extra costs for more extra people.
5. Make use of social media
Even if you don't sell online, it doesn't mean you can't use the internet to your advantage. Social media can be a great place for small businesses to promote their goods or services.
But before jumping into the social media frenzy, it's important to research and identify which social media channel (or channels) is best suited for your business to participate in.
While you ideally want to be present on all major social media channels (Facebook, Instagram and Twitter) if you have limited time, it's fine if you start with one or a few.
Make sure you know where your customers are. You don't want to post to Instagram if your customers are mostly on Facebook.
Once you've identified your channel (or channels) to start with, make sure you familiarize yourself with each channel's features and use them not only to promote your business, but also to provide added value to your customers.
6. Start a YouTube Channel
More and more customers are interested in DIY solutions. Looking up information online is a big part of consumer research.
Starting a YouTube channel that describes your knowledge of your local area or showcases how unique your merchandise is can help promote your brand, generate interest, and establish you as an expert.
If you can answer their questions and give them information, there's a good chance they'll want to buy something from you, too.
A big additional advantage is that you can also advertise very specifically on Youtube with nice videos that you already have for your channel.
Once someone in your area has googled certain keywords, you can show them your ads when they come up on Youtube.
Or if people have watched a certain type of video on Youtube, you can then show them your ad.
Look, again a very targeted audience of interested customers.
7. Rent a booth at a local fair or fair
As a small business, many of your customers are people who just happen to pass by your store. This makes trade fairs and events the perfect place to introduce your brand to a wider audience.
High volumes of traffic at these events give you the opportunity to promote merchandise or services and attract new customers who would not otherwise have come into contact with your store.
In terms of store promotion ideas, it's a great way to start building your brand, engage with your local community, and have real-time connections with potential customers.
8. Sell locally produced products
The move to "go local" is the opposite of online shopping.
The rise of the conscious consumer and the desire to support local products and brands has helped grow small business sales.
In 2017, local and regional brands accounted for 46 percent of retail purchases.
Consumers who support local products are also more loyal and do more research before buying.
Selling regionally produced items is a great example of a retail promotion idea that can really make a difference for you.
And you can perfectly use it to advertise in your newsletters and in your shop window!
This way you support each other and this will spread like wildfire through the community.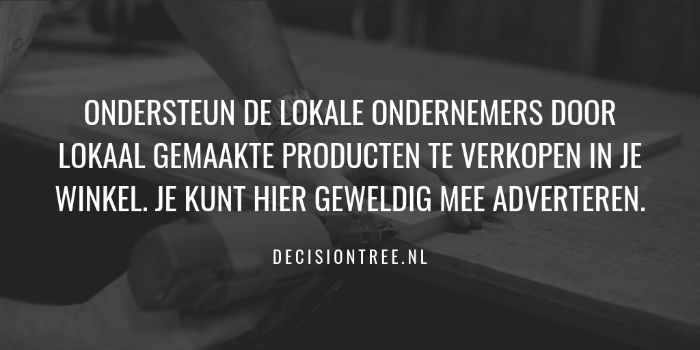 9. Support your community
Along the same lines as selling local products, you can also support your local community by making a donation or even hosting a charity event.
This local involvement can also boost your store's reputation. In the end, it's not always about the direct bottom line.
People also want to feel good when buying from a particular brand or store.
Showing you care about where you live can affect how customers see you and your business.
These are just a few store promotion ideas: offering discounts, promoting local products, hosting events, and other ideas can all help small businesses keep their sales strong.
Just try new things, test what works and remember that your business needs to meet your customers' expectations.
10. Focus on how you sell what you sell
Let's say no one really needs what you're selling, because they probably don't either.
In just over 25 years, we have gone from an economy based on scarcity of goods and services to one that offers unimaginable abundance.
That's why many local stores are now going under. It has become a whole different world.
You can sell very few items that you can't get elsewhere.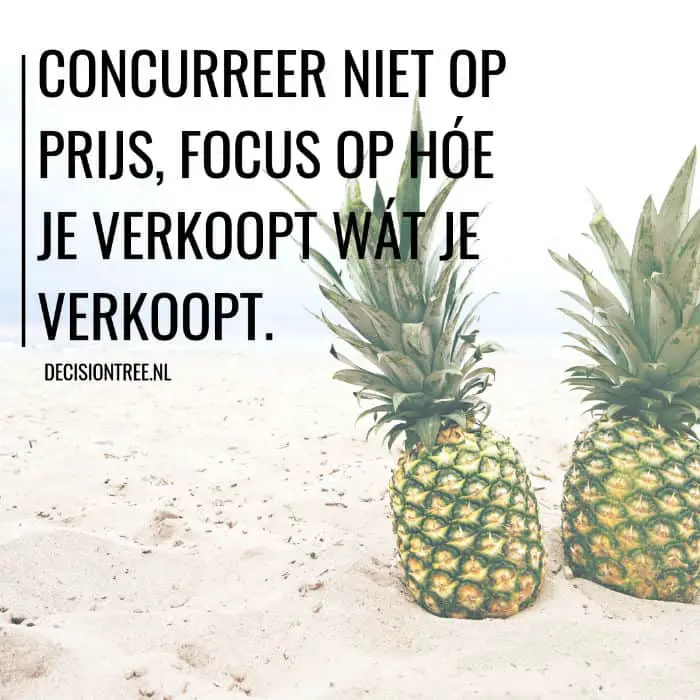 Instead, focus on how you sell what you sell.
Make your customer experience completely distinctive and make sure it is remarkable. Products come and go, but there will always be a market for truly remarkable experiences.
And this also applies when you want to sell online. You will also be able to buy almost all products at another store, but how do you sell them? Focus here on a specific niche market and ensure that your message connects to exactly that target group. People will give you a little more money if the experience of online or offline shopping offers them just that little bit more.
Also take a look at our content marketing advice on what we can do for your local store
11. Worry about even the smallest details
Design your customer experiences to bring your brand to life in great detail.
Make sure every detail is right, make it the standard and make sure that no customer walks out the door with a lesser experience.
12. Never Stop Researching
Research the resale of your stock
Research your competition
Research their customers
Research your customers and the ideal customers you would like to win
Research your employees before hiring
Research sales techniques and customer service to help them succeed
Read interesting blog posts for inspiration
The list goes on. Very simple, continuously research what you can do to improve your sales, your marketing, your merchandising, your employees and even yourself.
Never stop researching.
13. Connect online to offline
With the knowledge of the entire collective humanity at their fingertips (mobile phone), today's customer is much smarter than ever before.
To cater to these powerful shoppers and facilitate unplanned purchases, it is critical that retail environments provide access to rich product information and most importantly provide social proof for in-store purchases, such as making in-store reviews available online.
While more than half of shoppers now use digital tools to shop, the vast majority still want to complete the transaction.
When retailers think about their digital marketing, they shouldn't just think about capturing online sales.
Providing a good store locator, providing access to real-time in-store inventory, and having a well-executed local SEO plan are among the most digitally valuable activities for any brick and mortar retailer.
14. Use promotion work
Promotion is a great way to create an effective contact moment with your customer. By deploying promoters on location you can give a face to your brand and introduce your products socially and actively.
Promotion can be used in various ways. For example, for handing out flyers, to inform your customers about a certain promotion. Or for sampling, where the customer is given the opportunity to try or taste a product before perhaps making the purchase or simply to get acquainted with it.
You also have the option of manning a stand with hosts and hostesses or having the catering taken care of. With the right personalities and appearance, you can create positive interaction with your customer with promoters during, for example, a trade fair, expo or event.
You can bring the brand to life for your target group through an integrated action on location. This can be done with a playful promotion, special outfits and a large setup so that you stand out from the rest and can really show customers what the organization or brand stands for.
In most forms of promotional work, direct sales are not central, but it is more about the customer's experience and brand experience and making it as good and positive as possible. Promoters can be able to convince people of the benefits of a particular brand or service in a pleasant way.
Why use promoters as a company?
For promotional work it is important as a company to have a team of enthusiastic people who are social and representative, flexible and of course customer-friendly. The promotion team or these individuals will function as a walking business card for a brand or company.
Promoters who are enthusiastic about their work ensure that a brand is given a physical representation and a face and can even lead to a preference for this brand. Promotional strategies and marketing naturally go hand in hand. Promotion is a very important factor in highlighting the good sides of a product or service to customers.
When promoted correctly, it can lead to more customer traffic, more brand awareness, long-term success and, of course, more profit. With good direct promotion, a brand or service will be able to reach the target group effectively.
How does promotion contribute to positive business results?
Promoting a brand through promoters can positively influence sales and profits in various ways.
First, direct and personal promotion makes it easier for a company to introduce products to today's competitive market. Every company must be able to differentiate itself from others offering a similar product or service.
In addition, promotion will lead to an increase in brand awareness. As much information as possible about the brand should be distributed, so that people will recognize it and start looking for the products of this brand or for this service.
Through a positive personal experience with someone who represents your company, a customer will leave a lasting impression and remember the name or product better.
In addition to physical promotion, social media can of course also be used, via the newspaper, or in other ways. Promotion must be well thought out and done in the right way, so that the target group is addressed.
As a company you have to make sure that you have a solution (by means of your product or service) for the "problem" of your target group, so what your target group is looking for. It is important that you provide the customer with the correct information.
Promotion also increases customer traffic. The more promotional strategies are used, the more people get to know the brand, the more interest will be shown in the product.
Conclusion
Now that you're inspired, are you ready to breathe new life into your retail marketing?
Let us know which tip suits you the most in the comments section below.
Joost Nusselder is The Content Decoder, a content marketer, dad and loves trying out new tools en tactics. He's been working on a portfolio of niche sites since 2010. Now since 2016 he creates in-depth blog articles together with his team to help loyal readers earn from their own succesful sites.