I love creating free content full of tips for my readers, you. I don't accept paid sponsorships, my opinion is my own, but if you find my recommendations helpful and you end up buying something you like through one of my links, I could earn a commission at no extra cost to you.
More information
While we're all familiar with the big boys of social networking sites like Facebook and Instagram, you should consider Pinterest in this list.
You cannot deny the importance of the social media sites in our daily life. We want to share all things that touch our emotions with our friends and family via social. We all know that!
I hope and believe that most of the bloggers these days are very famous and love Pinterest. Undoubtedly, we do a lot of things like creating Pins with our products, brands, images, stories, news and views where we as bloggers and site owners share a lot on Pinterest.
Then I come straight to the next point for bloggers, we all know that WordPress is the paradise for the bloggers. It gets harder every day, but WordPress tackles those obstacles on our behalf and comes in handy by providing tools like WordPress Pinterest plugins.
Best WordPress Pinterest-plug-ins
In this post, I've looked up some of the best WordPress Pinterest plugins, which are quite different from any other list you've found on the web. I have listed all these plugins based on the recent updates, top user reviews, and amount of plugins installed by users.
GS Pinterest-portfolio

Gs Pinterest Portfolio plugin is another well-built WordPress Pinterest plugin, which helps to beautifully represent the pins of a Pinterest account with excellent effect.
It also has all the necessary features and options that are really needed to control the activity of the Pins. The main feature of this plugin is that it comes with different themes that will give your Pins a unique appeal every time you have new Pins to share.
Like other Pinterest plugins, which I've already discussed above, it's very easy to set up and customize. It doesn't matter which WordPress theme you choose, it will work with any of the WordPress themes without any problem.
The captivating part about this Pinterest WP plugin is that you have the power to show your pins anywhere on the website with the shortcode, even using widgets. It allows to write custom CSS code which is a boon to those who know CSS for even more flexibility.
GS Pinterest Portfolio plugin has four different types of widgets; it can help you manage your Pinterest account profile, boards, pins and follow button.
AccessPress Pinterest- WordPress Plugin
This is one of the best Pinterest plugins for WordPress users as it has the best features to make your website pins look beautiful.
The installation process of this plugin is not complicated; even the use is very simple. In addition, the "AccessPress Pinterest plugin" has the ability to place the pin using shortcode on your blog pages and additionally you can use this plugin as widgets.
What else can you get with this plugin? You get a lot of choices to add the pin it button to your website, also more options are available to customize the color, shapes and size of the pin it button. You can also choose your preferred language from the list as it is multilingual.
Handy for your Dutch blog, not all plugins do that.
Moving on, I would like to discuss some of the features that make this plugin popular among bloggers. Whether you want to use the pinboard through the plugin settings page or as a widget in the sidebar of your blog, it's up to you, because this super plugin includes all this feature.
Profile widgets also allow you to show your Pinterest profile anywhere on the website. If you want people to follow you, use the Follow Pinterest button on your blog.
This plugin has a premium version with more advanced features. You can get ideas about the premium feature from the official site.
Pinterest pin it button on image hover plugin

Want to experience the pin flexibility of your Pinterest account and give your website a stunning look? If your answer is yes, then you should go for the Pinterest pin button on image-hover plugin, which makes it easy to pin your blog posts, images and pages to your Pinterest account.
Installation is easy, as the process is uncomplicated and very comfortable. Only, you still have to activate the plugin to start pinning.
The easily customizable pin-it button settings let you do many things, such as display the pin-it button in a post or page and in the image hover text. On the other hand, you have the option to show or hide the pin button in the post or pages or the image hover text, and you can control all these actions from the settings page.
In addition, you can make adjustments to the button size and color to give your Pinterest pinboard an attractive look. This WordPress Pinterest plugin also allows you to manage the display or hide option for the button in the image, post and pages of mobile or supporting devices.
JQuery Pin It-button for images

Looking for the easiest and most comfortable way to pin the images of your blog post or pages? The "jQuery pin it button for images" will be your one-stop solution to do this.
This WordPress Pinterest plugin works like a dream. While the users hold their mouse over images or advertisements, a pop-up image appears with the 'pin' button. In addition, as you press the pin-it button, a dialog box (pop-up box) floats across the screen, indicating the element's name and description.
This lightweight and simple yet powerful Pinterest plugin for WordPress is easy to install and activate. You can also decide which image should or shouldn't be displayed with a pin-it button, choose the source for the source description, customize the button placement, and toggle the button on or off for individual pages or messages and much more.
In addition, you have the option to choose your pin button design. You can get more information on the official site.
Pinterest follow button on your wordpress site

If you do it right, your Pinterest account's followers will increase every day. Wouldn't it be great to be able to give that a boost?
Now you can increase the followers of your Pinterest account if you use the plugin 'Pinterest Follow button' on your website. You need to install and activate the plugin and the rest of the installation like choosing button design, configuring and managing can be done step by step using this plugin.
There is no doubt that the admin panel programs are quite easy to use and setting everything up to get the best Follow Us button is easy too. If you want to customize the button or change the presentation to make it look better, you can adjust both the button size and the text.
In addition, you can do one more thing to give your website a professional look. You can place the Follow widget on the sidebar, perhaps under the icons for social sharing or the call to action for your newsletter, for example.
One more thing, under one plugin you can get many follow buttons for different Pinterest accounts if you need it.
Read all about this plugin here on the WordPress site
WPSSO Core
WPSSO Core is a complete plugin to properly organize the website metadata. It generates SEO-friendly meta properties not only for Pinterest but other major social media websites as well.
Meta properties create a bridge between your content and social sites. Therefore, you get the chance to get more social media views with a social-friendly website.
Most of the WordPress plugins for Pinterest generate a button to share content on Pinterest, but this plugin will make your content pin-friendly. For this reason, the popularity of this plugin is increasing every day with more and more installs by users.
It will also unlock some great Pinterest features, which will help drive more traffic to your website from Pinterest. Also, many other important features are available for the premium version of this plugin.
TechGasp Pinterest Master

Pinterest is one of the leading social media sites of the moment. It receives thousands of visitors every minute. To get your target audience from there, you can use this lovely TechGasp Pinterest Master plugin.
In addition, this simple Pinterest plugin can increase your Pinterest followers by displaying your Pinterest profile or pinboard on your website. It creates a Pinterest pin it button, Pinterest follow button and a Pinterest profile within your site.
To bring all these features to your website, this plugin does not use JavaScript or Ajax. For this reason, I must say that it is one of the best and lightweight WordPress Pinterest plugins.
It will also generate widgets and shortcodes to increase the usability of the plugin on your website. Whatever Pinterest-related features are unlocked will all be fully responsive. So you get a smooth user experience and you don't have to worry about the mobile-friendliness of your website.
Usually we have problems installing an outdated WordPress plugin. In the case of this one, you will not have a compatibility issue.
Since this plugin is compatible with the latest version of WordPress, you can always enjoy this plugin, it is also kept up to date. So, if you want a complete and easy Pinterest integration for your website, I will recommend using this free and one of the best WordPress Pinterest plugins.
Pinterest Site Verification plug-in with the help of Meta Tag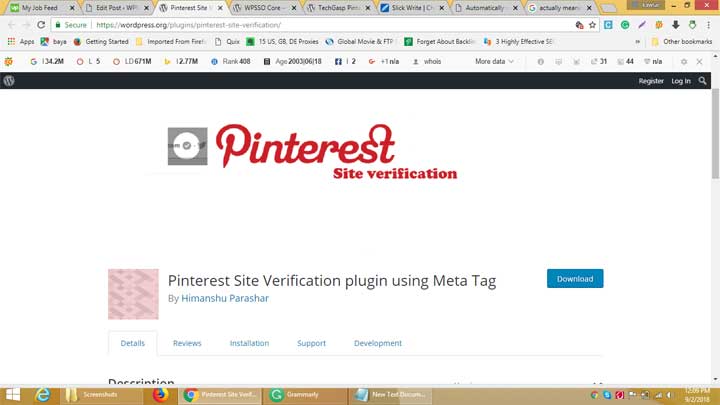 We know that many websites use the different social meta tag to enable different social media functionality on their site. When we talk about the most popular social media or image sharing website, let's not forget Pinterest.
So we must take advantage of this world famous image sharing website to attract more visitors and raise awareness of our business.
This Pinterest site verification plugin makes that task very easy for us by inserting Pinterest meta tag verification code on wordpress site.
A Pinterest verified website will be given the opportunity to track the user's Pinterest related activity. Like: you will be able to see how many people are pinning your website images through Pinterest web analytics.
Pinterest by BestWebSoft

I don't need to say much to introduce BestWebSoft. They are one of the leading plugin builders for WordPress. If you're a WordPress user, I'm sure you've heard their name.
You may have already used one of their plugins. Most of their plugins are a success story. For this reason, there is no doubt that Pinterest by BestWebSoft is one of the best WordPress Pinterest plugins.
Like all their other WordPress Pinterest plugins, it is also packed with features like Pinterest pin it button, save button, follow button and various Pinterest related widgets to show profile and pin board.
When you use this plugin, you get almost all the features in one place. Using this plugin is also very easy. You get full installation and configuration instructions at no cost.
Pinterest Feed

Pinterest Feed is a fully updated, lightweight plugin for WordPress to make any content on the web social media friendly.
You can get your content, social reach and a hundred times more followers using this plugin. Installing and configuring the plugin is very easy due to its user-friendly user interface.
You get both widget and shortcode to use this to place Pinterest functionality within your website.
This WordPress Pinterest Feed plugin allows you to display your Pinterest profile, pinboard and button via shortcode or widget wherever you want. The full documentation and user manual will guide you to configure this plugin the way you want.
It is one of the better WordPress Pinterest plugins to increase user engagement of your website. You can think of this as a one-stop Pinterest solution for your WordPress blog.
Image auto poster

Image Auto Poster is one of the great plugins for WordPress Pinterest because it has fantastic automated functionality. A blogger usually publishes a new post first and then grabs the best or selected image to manually share it.
In this case, the Image Auto Poster plugin makes this task easy. The selected image is automatically pinned after publishing the content. You can say that this is the most attractive feature of this plugin. However, this automated process can save a lot of a blogger's time and workload.
This simple and free plugin does the job in four steps.
First, all images from the WordPress editor are detected and
then you need to select the desired image.
After this, the plugin will detect the Pinterest board to let you choose where your image goes and
finally the image will automatically pin.
Any more handy WordPress plugins for Pinterest?
Now we are already at the end of this post. I already looked up the 11 best WordPress Pinterest plugins for you. I hope you enjoyed reading my reviews and at least have an idea about these plugins.
If you think my post will help you find the best Pinterest plugin you were looking for, please share my post on your social media sites. Also share your thoughts or ideas or plugins I missed. Your opinion is more than welcome.
Joost Nusselder is The Content Decoder, a content marketer, dad and loves trying out new tools en tactics. He's been working on a portfolio of niche sites since 2010. Now since 2016 he creates in-depth blog articles together with his team to help loyal readers earn from their own succesful sites.