I love creating free content full of tips for my readers, you. I don't accept paid sponsorships, my opinion is my own, but if you find my recommendations helpful and you end up buying something you like through one of my links, I could earn a commission at no extra cost to you.
More information
In this video you can see exactly how to add internal links to a blog post on my site bitemybun.com extremely fast using Link Whisper Pro's WordPress Plugin.
It's a plugin I use on all of my sites to create great content silos and internal link structures, but I only use the internal links based on keyword function as the automatic internal links function is way too broad and unprecise for me.
But with just minimal effort you can rank all of your pages with ease. You can sign up for Link Whisper here
Okay let's look at how to use link whisper to quickly add some internal links pointing to this particular post we are editing, and it's pretty important for google to understand our pages but also for the user experience so people can learn more about different topics we discuss on our blog.
So link whisper is all the way down below the content. You can go to the link whisper plugin when you want to add internal links.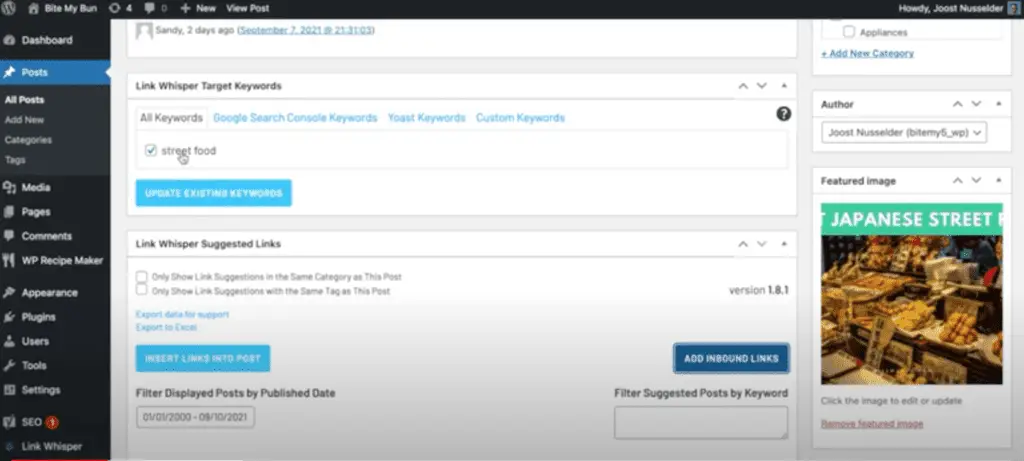 I set it to only look at the keyword for this article instead of the auto suggest feature. I think that feature is way too broad and you get a lot of bad suggestion that way.
Most all of our articles have a keyword added to linkwhisper, some don't, and that's probably because it's a broader topic that really doesn't have one keyword that it targets.
But for the larger topics we have a keyword in this case it's street food, japanese street food.
And when you click on add inbound links what link whisper does is it looks for all the pages where we use that keyword so you can go through these and look for linking opportunities so people can find out more about japanese street food.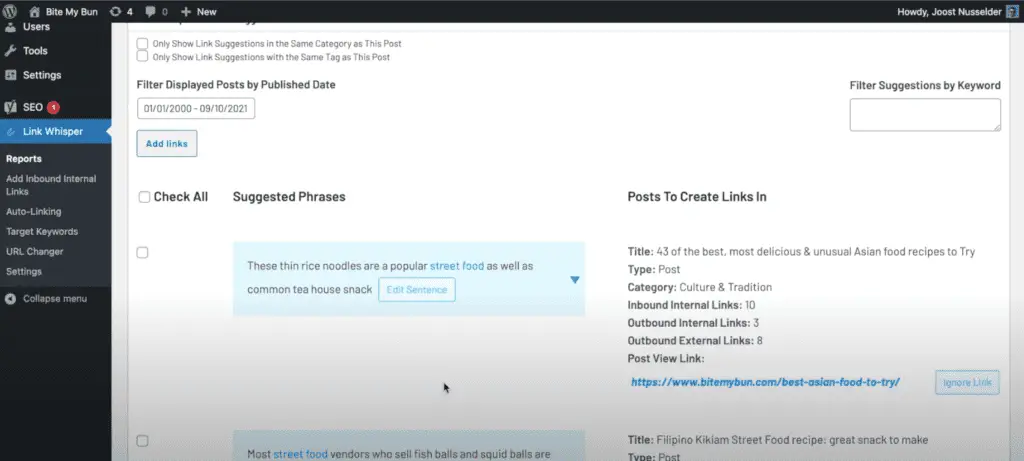 Now the reason I don't auto link these keywords is because oftentimes keywords are used also in a different context and you don't want to link to those if it's in a completely different context.
Also for bitemybun.com for example we have a lot of posts that are on Japanese food but also a smaller group of posts that are on Filipino food and I don't want to link from a Filipino food post to Japanese street food.
So it's always good to look at these and assess if it's a good linking opportunity.
Now the other reason I don't auto-link is that I often want to add a little bit of extra information so a reader can get more of a sense of where he'll go when he clicks on the link to read more and I'm going to show you how you can do that.
So we've got a lot of posts where street food is mentioned and now we can add some extra link opportunities here.
So here's an Asian food post and it mentions street food. You can see street food is in this sentence and when there's a little blue arrow there are more sentences in that post that you can also use, so you can choose one of these that fits the link best.

You can just choose one where you think that link would add the most value so let's just keep the top one and once you check it with the checkmark it will be selected and added as a link.
And you go through all of these links and at the bottom you click on the add links button then this exact blue part is going to be the anchor for the link.
So sometimes I'll just keep it on just street food just the keyword itself and sometimes I'll changed it to give a little more context.
You can edit the sentence and maybe add some extra text so now a person knows where he'll go if he clicks on the link.

So it's not an exact science and I'm sure you can do a better job of explaining where people will go to when they click on the link but if you go through these and add some to our post then we'll cover all of these topics more in depth and google will know that we covered these topics somewhere else on the site.
So that's good for SEO, good for the reader, and good for the comprehensiveness of our site and the site structure.
Now just go and click add links maybe there were a few more we could have done but you can go through all of those and add a few links to our posts.
Now once we click add links the links are added in the posts so you can see them in those editors as well and also the actual text is changed that we changed using the small text editor.
So that's how you add extra internal links with link whisper.
Joost Nusselder is The Content Decoder, a content marketer, dad and loves trying out new tools en tactics. He's been working on a portfolio of niche sites since 2010. Now since 2016 he creates in-depth blog articles together with his team to help loyal readers earn from their own succesful sites.