I love creating free content full of tips for my readers, you. I don't accept paid sponsorships, my opinion is my own, but if you find my recommendations helpful and you end up buying something you like through one of my links, I could earn a commission at no extra cost to you.
More information
Listening to podcasts is becoming more and more popular. As a result, more and more platforms and apps are emerging that allow you to listen to podcasts and/or create them yourself.
In this article, I'll tell you which software is best for creating your own podcasts so you can start your own show. Also, I'll tell you a bit more about podcasts in general.
Would you like to start your own podcasting? Then read on!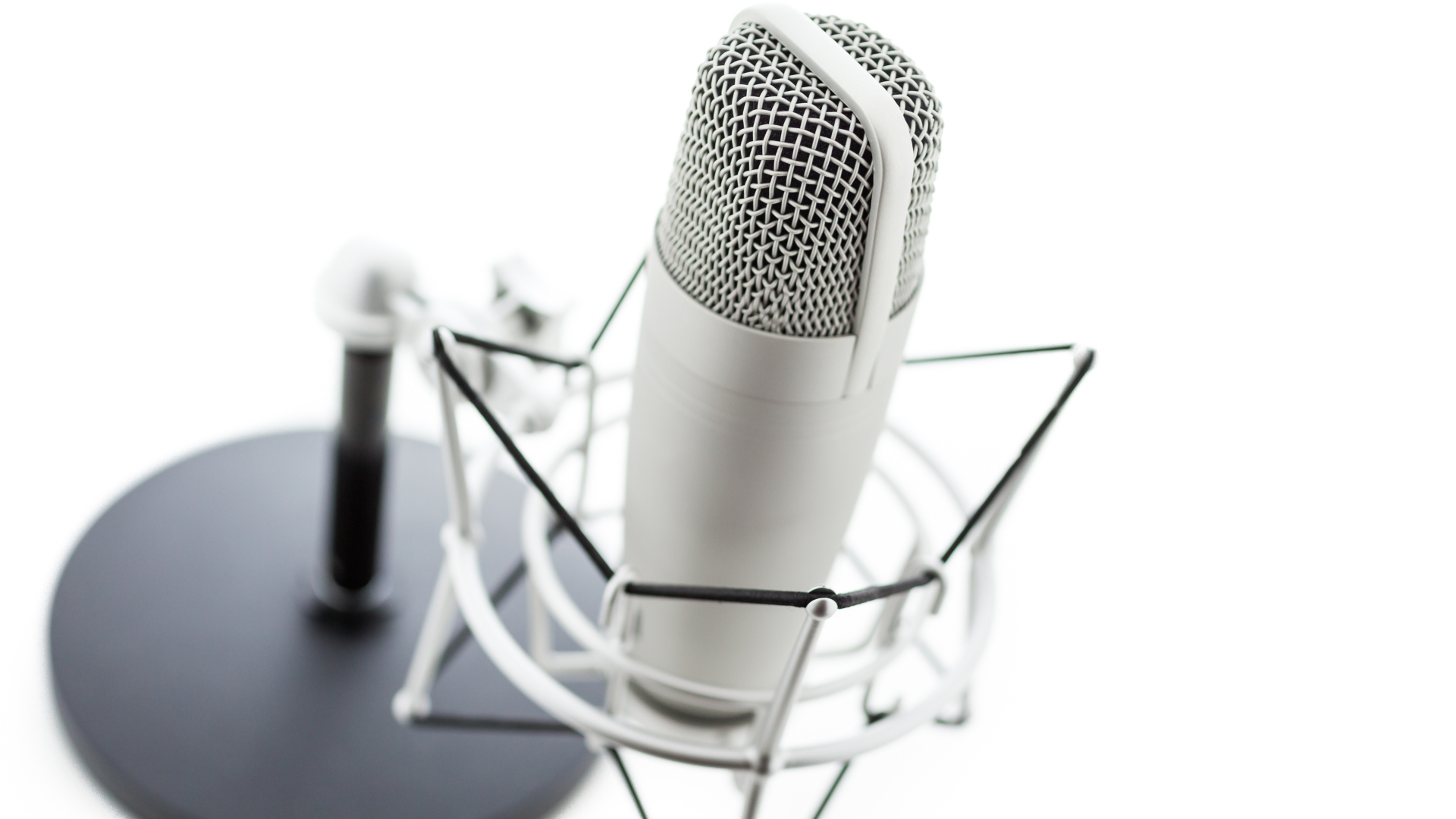 At the moment you can choose from a lot of different types of podcast software. But which one is 'the best of the best'?
The overall best podcast software is by far Buzzsprout. The great thing about this podcast software is that you get a free subscription that you can use forever. Creating your own podcast has never been easier! If you want more options, you only pay 12 dollars per month. It is the perfect podcast software for beginners, you can reach millions of listeners with it and even make money with it.
Do you need a podcast software with which you can make multiple podcasts, or maybe one that is especially suitable for the professional?
Then there are other great options that you can find in the table below.
| Best podcast software | Images |
| --- | --- |
| Overall best podcast software: Buzzsprout |   |
| Best podcast software for multiple podcasts: Transistor |   |
| Best podcast software for live: Spreaker |   |
| Best podcast software for professionals: Adobe Audition |   |
| Best podcast software for beginners: Audacity |   |
| Best podcast software for Mac: Logic Pro X |   |
| Best podcast software for Windows: Reaper |   |
What exactly is a podcast?
A podcast is an on-demand audio broadcast that one can listen to via a platform or application. Podcasts can be found on a variety of topics, including sports, psychology, travel, business and much more.
You could think of it as a kind of radio show, but without music (unless, of course, the podcast is about music) and not via a radio station.
It works on demand so you can listen to audio files or recordings whenever you want.
Best podcast software reviewed
From my research on the best podcast software, I've found seven great options. Let's take a look at what makes this one so good.
Overall Best Podcast Software: Buzzsprout

As I mentioned in the introduction, with Buzzsprout you have a free subscription that you can continue to use as long as you want. It's basically a forever free plan, and you don't even need a credit card to sign up!
This free package lets you upload two hours of audio per month, but the episodes are only hosted for 90 days; after that, unfortunately, all your episodes will be deleted.
However, Buzzsprout's paid plans start at just $12 a month.
Buzzsprout is a great way to start creating and promoting a podcast.
It is a tool for people who want to create, host, follow etc. their own podcast from a single platform. You can share your podcasts on some of the most popular platforms like Spotify, Apple Podcasts, Stitcher, Alexa, iHeartRadio, Soundcloud and many more.
Having your podcast added to all these different platforms is one of the easiest forms of natural podcast marketing to get your podcast off the ground and it allows you to reach millions of potential listeners.
It is also always wise to share your podcasts via social media. You can even easily earn money from your episodes.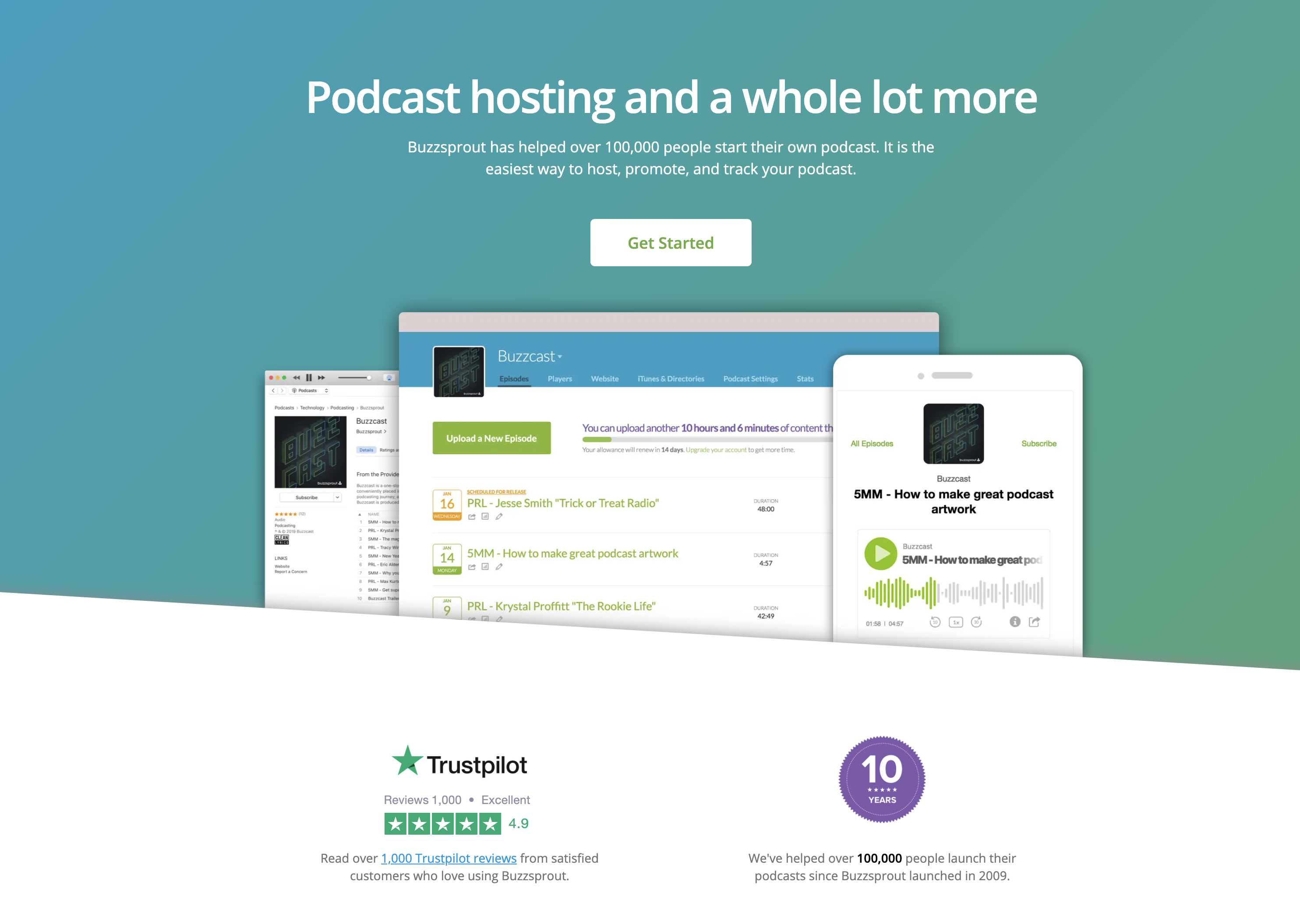 Buzzsprout's audio player also allows you to listen to podcasts at twice the speed. That way you can listen to more content in less time.
Who doesn't like to work efficiently and save time?
Furthermore, the podcast statistics are also easy to understand. Thanks to the 'Magic Mastering' you can adjust your audio quality to your liking, a bit like Instagram filters do for photos.
Thanks to the highly practical dashboards, you can spend more time creating your podcast content and editing, and less on things like uploading. It is an extremely intuitive program with useful features.
Buzzsprout vs Audacity
Another great podcast software for beginners is Audacity, which I'll talk about later.
However, are you not a beginner and therefore looking for a more professional podcast software, or something with more advanced features? Then you might want to consider Audition, or if you have a Mac, Logic Pro X.
You can read more about these softwares and associated features later in the article.
Best podcast software for multiple podcasts: Transistor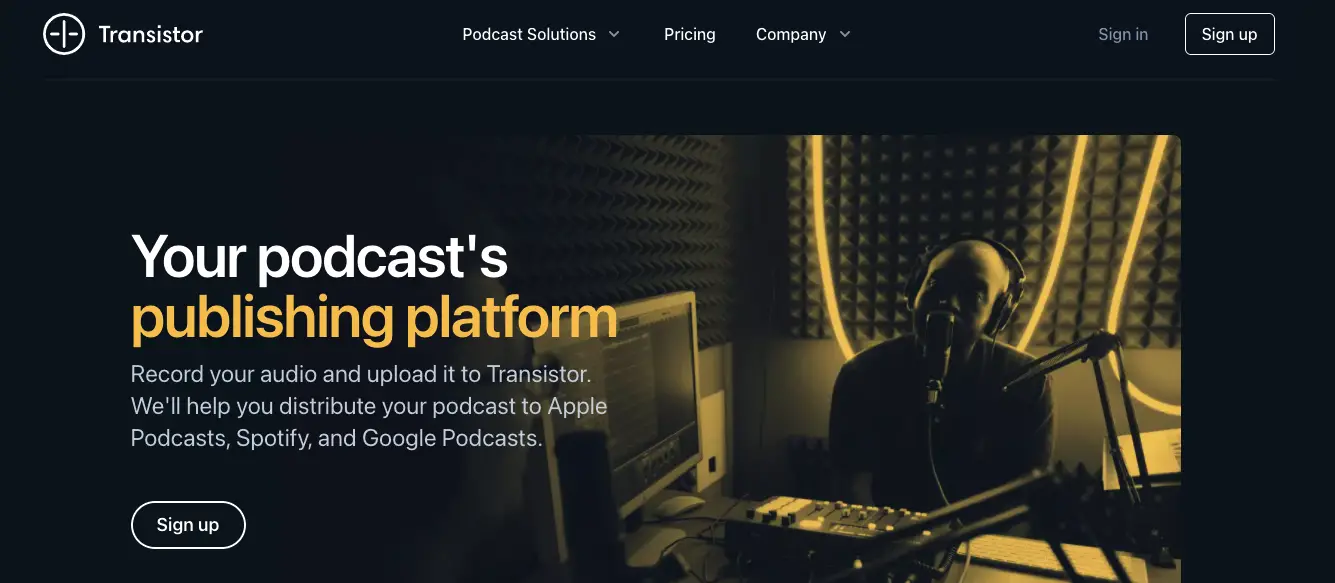 Transistor is one of the newer podcast hosting and analytics platforms and has a great team behind it. They target brands and people who take podcasting seriously.
With this software, you can host as many different shows as you want, add and manage team members (producers, editors, etc.), get great podcast statistics, have an excellent podcast site, and much more.
Since you host multiple shows, you can create both private and public podcasts under the same account without paying for a new hosting plan.
The price starts at $19/month for 10,000 downloads per month, which is enough for most people. If you need more than that, they also have other packs with more downloads and team members.
The disadvantages of this software is that you have limited monthly downloads and no free plan exists. However, you do have the option to test all features with the 14-day trial version (where you have to enter your card number).
Probably a major advantage of using Transistor over competitors is the ability to host unlimited podcasts with one account.
If you have multiple shows under your name, it's easier to keep them all in one place – which explains why companies like using Transistor.
However, if you only plan to host one show or if you prefer not to pay for podcast software, go for Buzzsprout or Audacity, for example. These are also perfect for the novice podcaster.
Best podcast software for live: Speaker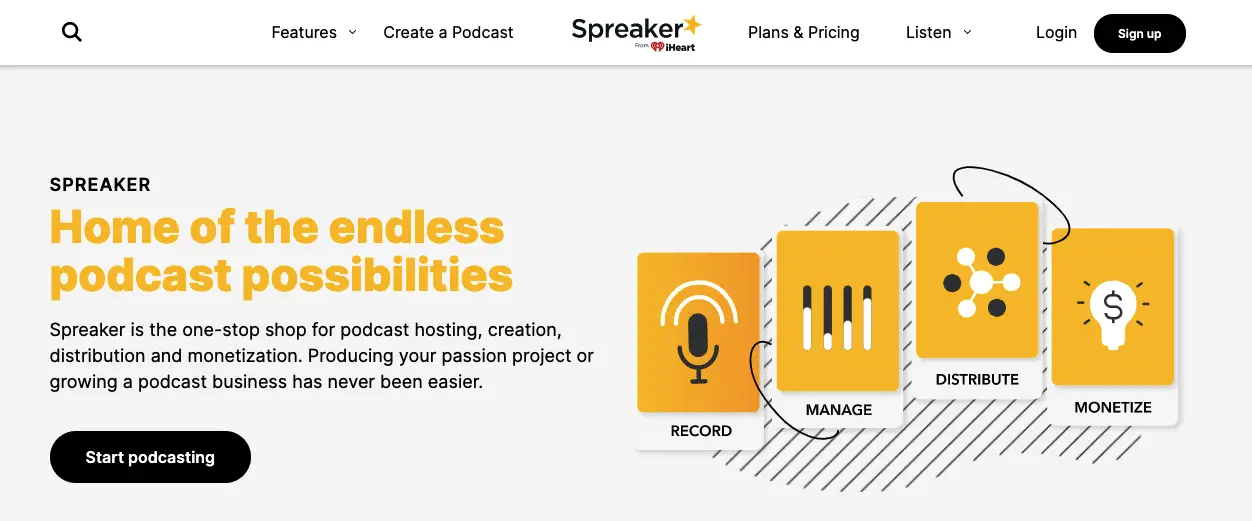 Spreaker has been around since 2010 and has a handful of unique features for podcasters. One notable feature is that they have a Live Podcasting option.
You can let your audience interact with you through the chat box and there are other integration options.
They have both a desktop app (for Windows and Mac) and a mobile app (for iPhone and Android) for recording, live streaming, viewing statistics and much more.
Features vary depending on the device you are using. With Spreaker, you can listen to a library full of podcasts or interviews from around the world.
There's a free plan to test things out, but the $20/month Broadcaster option is the sweet spot.
The free plan allows you to upload up to 5 hours of audio, live podcasts can be up to 15 minutes long and unfortunately you can't monetize your podcasts.
Know that the stats are limited, and you'll need the more expensive package to access things like follower trend, audience, geolocation, episode likes, and audience demographics.
With a focus on live broadcasts and chat, you'll feel like a real radio host in no time!
Best podcast software for professionals: Adobe Audition
Adobe Audition is my favorite choice for professional podcasters because it gives users complete flexibility and control over their podcast projects.
It has all the advanced features an experienced podcaster needs to create and distribute a podcast with a professional look and feel to their audience.
The possible drawbacks of this software is that it takes time to learn and understand it, it may be expensive for some and not very suitable for beginners and intermediate users.
If you are a beginner and want to make a podcast, then you better go for Buzzsprout or Audacity.
While beginners and intermediate users can use the software, they wouldn't be able to take advantage of many advanced features, so it wouldn't be worth paying the price tag.
Adobe has many online tutorials and classes to help non-pros learn Adobe Audition, but it would still take a lot of time for beginners and intermediate users to master it.
Adobe Audition started out as Cool Edit Pro, but was acquired by Adobe in 2003. It's part of the Creative Cloud suite, so if you already have a subscription to the full 'suite', you have access.
You can also get it separately for $20/month. Adobe Audition is designed for podcast production and editing and has advanced tools especially for it. There are a number of options for noise reduction, advanced compression and EQ, and much more.
One feature I love is batch processing, where you can apply different effects to a file, save it, and then apply the same effects to a "batch" of other files.
This saves a lot of time and an episode is therefore put together in no time.
Adobe Audition vs Spreaker
If we compare this software with Spreaker, which has the same price, we can conclude the following: If you are a professional podcaster and looking for software with advanced features, then Adobe Audition is best for you.
If you mainly plan to do live podcasts and would like to be able to listen to a lot of podcast and interviews yourself, Spreaker is a better option.
Best podcast software for beginners: Audacity

Audacity has been used by podcasters for years and is still one of the best free podcasting software.
Besides the fact that the software is free, its advantages are that it is compatible with all operating systems, supports most audio file formats and has all the basic features to create podcasts.
The downsides are that you can't upload directly to a podcast hosting platform, the outdated interface, you don't have advanced editing features and no mobile app either.
Although the interface may look a bit outdated, this software has all the basic features a podcaster needs to create and edit a recording, making it the best free podcast software.
It is compatible with Windows, Linux and Mac, and it is constantly updated so that users can fully enjoy the benefits of the software and work with the latest versions of these operating systems.
At first glance, the software may seem confusing to novice podcasters, but since it's a free, open-source digital audio workstation, it's the best option for those looking to stay on a budget.
While it wasn't designed specifically for podcasters, and it doesn't have all the bells and whistles of some of the other programs on this list, it makes up for it by giving users all the features needed to make any type of podcast efficient.
Users with minimal experience in audio editing can make audio recordings with a microphone and mixer or digitize audio files from any other media type and convert them into 16-bit, 24-bit or 32-bit audio recordings.
However, they cannot upload podcasts directly from the software to a podcast hosting platform.
The software also does not have an official app on the App Store or Google Play, but it can be downloaded on any device with any type of operating system.
If you are a complete beginner with no previous audio experience and want to create your first podcast, I always recommend trying this software.
It's free, and while it's not nearly as powerful and flexible as, say, Adobe Audition, you can still do a lot with it. Buzzsprout, as mentioned above, is also a great option for a beginner.
But if you want to improve your game, streamline your workflow, and really improve the quality of your podcast and interviews, I'd recommend trying Audition for example!
Best podcast software for Mac: Logic Pro X
Since Logic Pro X was created by Apple for Apple, it is the best podcast software for all Mac users who want to create professional podcasts.
The downsides are that the software focuses more on music production than podcast production, it's only compatible with Mac devices, and it requires macOS version 10.13.6 or later.
Since Logic Pro X is primarily focused on music production, many consider it overkill for podcasters. Still, Mac users who know their way around a mixing console can't find a better podcast software than Logic Pro X's powerful features to create professional podcasts.
Logic Pro X can be purchased for a one-time cost of $200, which is a fair price for the advanced editing features it comes with.
While it includes all the basic audio editing features, only advanced audio engineers can use the software to its fullest, so it is recommended for those who already have experience with podcasts.
Logic Pro X works seamlessly with GarageBand, meaning the files created and edited with Logic Pro X can also be opened in GarageBand.
In addition, the Logic Remote app allows users to record and edit audio files on the go with their iPhone or iPad.
According to the App Store reviews, Logic Remote is currently at 3.4 stars with over 500 ratings.
Another great podcast software for the professional, as discussed above, is Adobe Audition. The difference between this and the Logic Pro X?
Logic Pro X is a software that focuses more on music production than podcast production. In addition, the Logic Pro X requires a larger investment ($200 one-month versus $20/month).
It is also nice that the Logix Pro X has an app, so that the user can also work with his audio or recording while on the move. Both have many editing functions, which can only really be used by the experienced podcaster, however.
If you have a Windows operating system, Reaper might be a better choice for podcast creation and editing (read more below).
Best podcast software for Windows: Reaper
While most software programs are compatible with Windows, Reaper is the best in this category because of its robust features that come at an affordable price.
It is a lightweight, cheap and powerful podcast software with a great user interface. Because it is so light, it starts up and runs faster than most software programs, with minimal problems and crashes.
The advantages are that you get a lot of value for the price, the software starts up and runs quickly, you can take a free 30-day trial and you can work from a USB.
Disadvantages may include a lack of online tutorials, a complex plug-in integration and no mobile app included. The reason Reaper is my top pick for Windows is that it allows users to go live with streaming platforms like Open Broadcaster Software (OBS).
Otherwise, Reaper is compatible with both Mac and Windows operating systems and is aimed more at the creative podcasters than the tech aficionados.
After the trial, it costs $60 to register for a discounted license and $225 for a commercial license.
Users can quickly learn to use it with a little research and experimentation, and considering all the features it comes with, it pays to invest in the reasonable licensing costs.
Reaper allows users to import, synthesize, compose, sample, edit, etc. files from any audio project, so it is not specially designed for podcasts.
Furthermore, there are many customization options so that each user can personalize the look of their interface and make using Reaper more comfortable for them.
There is also web-based software, where you do all editing in your browser.
Podcasting FAQ
How do you record a podcast?
This isn't rocket science, but it does take some technical know-how and practice to record and create a compelling podcast.
The following steps will help beginners to record and edit a podcast in Logic Pro X.
Please note that in this case we are recording a podcast with two participants. Often it is an interview where one person interviews the other.
Both participants will record the podcast in different locations with their respective microphones. After the podcast, one of the participants will forward the recording to the other to include it in the final file of the podcast.
This is how an episode is created.
Start your project
Open Logic Pro X and select the "Multi-Track" option. You can get here by clicking File>New from Template. It will display an empty project where you can add your audio files.
Import audio files
Then import audio files, including the voices of both podcasters and those of a combined conversation or interview.
Label these tracks according to the names of the speakers. Now don't worry about the position of the tracks. Make sure to save the project after importing the audio.
Synchronization
A common problem for podcasters is the lack of sync between the different tracks or different voices. However, it is not a big problem if you know the context of the conversation or the recording.
Here the recording of the combined audio helps. You can match your voice in the separate audio file to the combined audio file and then match the other person's voice to the same combined audio track.
With a little effort you can achieve a perfect synchronization. You will then see perfectly aligned waves on your screen.
After achieving the perfect synchronization, you can delete the combined audio file. You don't need it anymore.
Strip silence
The Strip Silence feature gives you the option to automatically remove silent moments in the podcast.
All you have to do is select the audio track, and it will automatically mark silent moments. Then just press Ctrl-X to delete the highlighted parts.
Delay, crosstalk and noise
Running Strip Silence solves many problems such as lag and noise.
If a single person is talking continuously for a long time, you may not need to edit anything. In that case, just go to the next part of the sound.
However, in a recording in which the first person nods in response, there is a repeated interruption. Strip Silence can easily identify these interruptions and remove them immediately.
On the other hand, if you're recording a podcast with participants in different locations, you can experience connection delays of up to 2 seconds, especially if you're using something like Skype or Zoom.
In that case, just press Shift-F to achieve perfect synchronization.
Exporting
You can export the final podcast episode and make it a file. Just press Cmd-B to open the menu.
You can normally set MP3 to 160 kbps or use a WAV file to export the podcast. Your episode is now ready to be shared on social media, youtube, or other platforms, among others!
What do I need to record a podcast?
To record a quality podcast, you need to have a few important tools:
Telephone or landline to record guest sound.
Microphone of any kind for the presenter to record his voice or sound – this is essential, and a cheap USB microphone will suffice.
Software like the one I just discussed.
Internet connection with good bandwidth/upload speed.
Headphones (no speakers) so that the recorder can monitor itself. Loudspeakers create an echo that you should not have on your recording. You can choose to place a pop filter over your microphone, which makes your 'b's' and 'p's' sound sharper and more even.
A microphone stand will contribute to a better sound quality because the microphone stays in one place, and it cannot move away from you.
There are also other programs that can complement your podcast software program. For example, with a Skype or Zoom account you can conduct a telephone or video interview, and integrate these files into your podcast platform or into video tools such as YouTube and Vimeo.
Finally, don't forget the sound that you will use, for example for the intro or at the end. Most podcast software programs allow you to import an audio file containing music. You can download licensed music and royalty-free theme music for this.
How much does podcast software cost?
There are three pricing models for podcast software:
free podcast
subscription
license purchase
Many podcast software programs have a free trial and then switch to a subscription that can range from $10 to $500 per month.
You can also purchase some software programs as a license to use and download. In this model you do not pay any monthly costs in advance after your purchase. The cost for the purchase as a download ranges from $60 to $200.
More expensive programs, of course, have more extensive features for recording, editing, etc. They are built for experienced podcasters who want ultimate control over their production and sound.
These expensive programs often do some automated editing for you, but advanced features allow you to go beyond their built-in limitations.
The more expensive programs also have a steeper learning curve; more features means more time to understand and use them.
The less expensive programs are designed to get new podcasters up and running quickly.
If you're looking for simplicity and embedded sound quality editing, the less expensive programs are the best way to start a podcast recording or your own 'radio show'.
How do you make money with podcasts?
Podcasters make money in several ways. Whenever you hear a podcaster taking a break for "a word from our sponsor," they present you a commercial that is paid for with sponsorship money.
A podcaster can take one, two, or three breaks during his broadcast to put the sponsor in the spotlight.
In the direct support model, the audience pays a monthly fee to access your show, and usually some premium content you publish.
Another common way for podcasts to make money is through affiliate sales. You recognize them when a podcaster takes a moment away from the content of the broadcast to talk about what he or she likes about a particular product.
At the end of the message, they tell you that if you go to the sponsor's website and use a special discount code or URL, you will take advantage of some form of discount. The podcaster gets a commission for the sale.
Do I need to edit my podcast?
Podcast editing is an essential part of the podcasting process if you want to give your listeners a high quality show.
So start familiarizing yourself with the software and practice, practice, practice.
It gets better every next time. The more often you do it, the more your show will improve.
Can podcasts be videos?
A video podcast is simply a podcast with a video element. The video element can be as simple or as complex as you want, but often it consists of a single static image or video recording of the podcast hosts and guests.
Where can I find many different podcasts?
Pocket Casts is the world's most powerful podcast platform. The podcast audio player provides the highest level of listening, search and discovery tools.
Joost Nusselder is The Content Decoder, a content marketer, dad and loves trying out new tools en tactics. He's been working on a portfolio of niche sites since 2010. Now since 2016 he creates in-depth blog articles together with his team to help loyal readers earn from their own succesful sites.