I love creating free content full of tips for my readers, you. I don't accept paid sponsorships, my opinion is my own, but if you find my recommendations helpful and you end up buying something you like through one of my links, I could earn a commission at no extra cost to you.
More information
I like SEMrush, especially because they come out with so many cool features, like the content audit tool that you can use to upgrade old niche site content.
But I also want to focus on the possibilities that the SEO tool has to use in the UK. I have a number of websites, some for the US market and others for foreign languages, and on all of them, I can use the SEMrush report perfectly for search engine optimization.
Some interesting statistics from SEMrush itself:
3 million users worldwide
10.6 trillion keywords in the database
143 regions
495 million domains
There are a lot of countries and foreign languages in there, all with millions of domains and keywords being analyzed.
My home country The Netherlands for example, holds the number 10 spot with the number of domains and available keywords in the domain analytics.
So it is more than a tool for the American market and offers an incredible amount of information, also for foreign language site owners.
You can start a free trial here and look around at the possibilities it can offer in your own country.
SEO and the need for good tooling
At first we all thought it would be considerably easy, that SEO. And it was, but only for a limited period of time.
SEO was pretty simple in the beginning. Just a few strategically placed keywords, then you throw some links into the mix and boom, you're already ranking for important keywords!
Then everyone started joining the SEO hype as the internet grew. And Google started improving its intelligence with each algorithm update. Today, Google performs major algorithm updates once or twice a month.
Plus, the search results change every day, taking rankbrain and user behavior into account when determining who will come out on top.
Of course we love how intelligent they make the search process because let's face it, the search results have improved a lot. But let's face it. SEO is now more complicated than ever before.
There are now about 200 ranking factors for Google. In addition, the average length of content in the first SERP is 1,890 words and is still growing towards even more in-depth informational articles.
And that's just the tip of the iceberg. Ranking becomes more and more difficult as we delve into the intricacies. Therefore, even with a cheat sheet, it is impossible to keep track of all these elements.
And to make matters worse, Google still doesn't know the full ranking formula.
Fortunately, there are countless AI engines built on the web to handle the heavy SEO efforts. One of the most prominent, as you probably know by now, is SEMrush.
But what makes this tool stand out? And what are its drawbacks?
SEMrush overview
It would have been impressive a decade or so ago, but today there's nothing special about feeding a program with all the known Google ranking factors to do SEO analysis.
There are many tools that can do that. In fact, I can name more than ten tools by heart.
However, SEMrush took a different path. In 2008, the web-based solution was established as a comprehensive web marketing suite.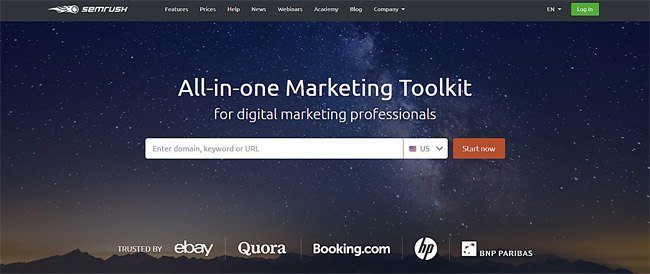 While SEMrush is popularly known for its SEO capabilities, it extends to other prominent internet marketing channels.
At the top of traffic generation, after SEO, is paid advertising. The SEM service offers a range of features that allow site owners to strategically manage and plan their paid advertising structures, by spying on the competitor.
Closely related to SEO is content marketing, which is also part of SEMrush's entire marketing stack. Besides being the most critical ranking factor for search engines, web content is also considered effective at lead generation and conversion.
I am a big fan of content marketing and have since renounced all other forms of link building. I think that every SEO strategy is headed by a good content strategy, to enter into real collaborations with experts from your niche, and to help the visitor with all possible questions he may have about your topic.
Become the expert in your niche, I say!
Admittedly, these channels would have already made SEMrush a pretty solid search engine marketing tool. But it doesn't stop there. There is more.
SEMrush also goes social by integrating social media marketing.
In a nutshell, we now have SEO, content marketing and social media marketing in one platform. Could it possibly get more interesting?
Well, it turns out it does. Since marketing is not just about generating prospects but also beating the competition, SEMrush adds a fascinating twist to the suite.
It also provides competitor information on multiple aspects of marketing to help users get ahead of their competitors.
Sounds good. But here's the problem, each of these internet marketing channels is quite extensive. So bundling everything together is a potentially risky business with a steep learning curve.
On the other hand, a well-structured system can dramatically streamline and amplify your entire Internet marketing framework.
SEMrush tutorials and courses
They have therefore made a huge investment in recent times to highlight every aspect enormously with webinars, tutorials and more helpful content and themselves a real training institute.
In this video you can see how SEMrush's keyword research tool works:
Content marketing with the SEMrush content marketing toolkit
In this video you can see everything about content marketing:
Adwords and ad analysis with SEMrush
Then an extensive video about everything that has to do with SEA:
And they have so much more in their own Academy. So they don't sit still when it comes to their own content marketing and positioning as more than just a tool.
Various features of SEMrush
Let's see what it is.
This SEMrush review analyzes all the critical details regarding its features, functionalities, and overall pricing. And to further determine the suitability, the disadvantages of SEMrush are also discussed.
Stick around and I'll update you on the latest SEMrush news.
Search Engine Optimization
SEO is a very broad field. There is no doubt about that. So I was curious about SEMrush's approach in this area.
First, it offers an organic search feature. This is essentially where you start digging for the best possible keywords in your industry, those specific terms your target market is looking for.

To help you make informed decisions, each individual keyword is further assessed to reveal its competition, CPC, search volume, traffic, and trend.
Most importantly, you can view other domains that have used the same keywords. This way you can see what your competitor is found for. Subsequent analysis of their respective weaknesses and strengths should help you plan your counter strategy accordingly.
You can start with your first search here to see how it works and as you see above, it also works perfectly on foreign language sites:
And speaking of scheduling, I found the Keyword Magic Tool very useful. In addition to identifying the most popular queries with a specific keyword, SERP elements are shown that are influenced by the keywords, the average difficulty of the keyword is analyzed, and keywords are organized into groups based on the subject.
And they also have a wealth of Dutch keywords: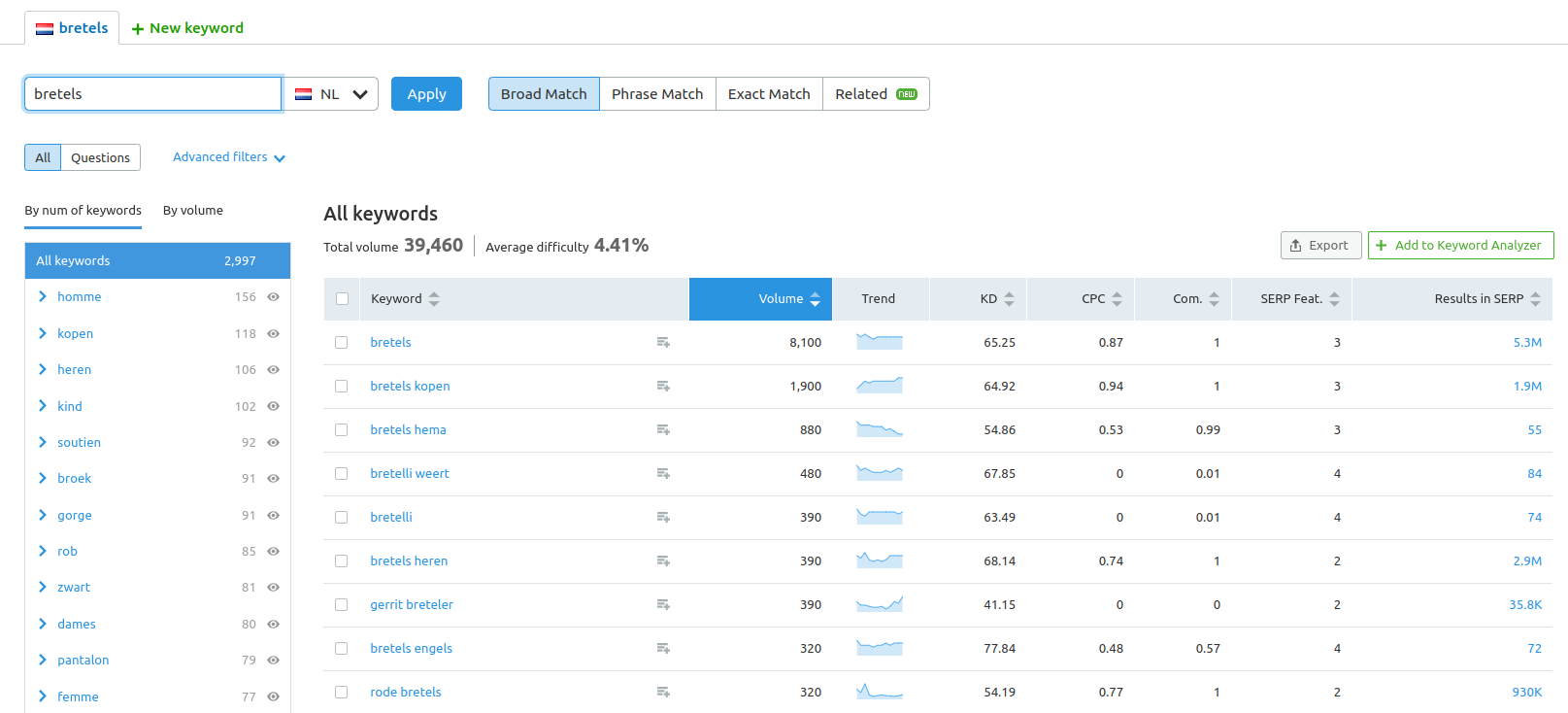 That's just part of SEO. And certainly the simplest for that matter. The rest is usually a bit more technical as it involves elements like hreflang attributes and link building.
So, to simplify things, SEMrush takes a reverse approach through its site audit feature. It crawls your entire site and intelligently analyzes individual web pages to identify over 120 possible technical errors that could affect your ranking in the search engines.
Any problem detected is quickly queried for a quick solution. And because this can be cumbersome and inconvenient at times, SEMrush continues to provide helpful solution pointers.
For optimal effectiveness, this is not a one-time operation. SEMrush continues to scan the site regularly and then generates associated audit reports for continuous progress tracking.
And that's not all. Tracking and reports also extends to the search positions. SEMrush's ranking feature allows you to track your site's position on PC and mobile across all Google site versions. In fact, you can weigh this against the individual performance of your competitors by tracking them too.
Most importantly though, SEMrush will notify you immediately if your site loses or wins positions. Even the smallest change is identified and then quickly escalated.
Paid Advertising Analytics (SEA)
By now you probably know that organic results generate 70-80% of search traffic. That's really nice and good to focus on.
But there is still 20-30% of search engine users who don't click on the organic results. And, 65% of people who are ready to buy will eventually click on paid ads. Organic search is therefore simply larger in non-purchasing searches in particular.
Well that sounds pretty promising for a relatively simple marketing strategy like advertising, right?
Unfortunately it is not that simple. To effectively take advantage of those turnkey buyers, you need a certain level of finesse. And that's what SEMrush is trying to achieve with its paid advertising features.
For starters, you get an ad builder that helps you create compelling ads for your products. It combines dynamic keyword insertion feature and advanced editing tools to create relevant ads.
And to save you time, it scoutes for the most effective rival ads, prepares them as templates so you can use your competitors' best-working ads as a base, and eventually adapt them to your own ads.
The whole process is considerably simple and straightforward. Thanks to a clean interface loaded with multiple options, plus a preview function that is useful for publishing.
Then, just like the site audit tool that identifies SEO issues, SEMrush also offers the keyword PPC tool for your ads. It's essentially what you use when you realize that your PPC keywords are seemingly forcing your ads to compete with each other, and then you're driving up the price unnecessarily.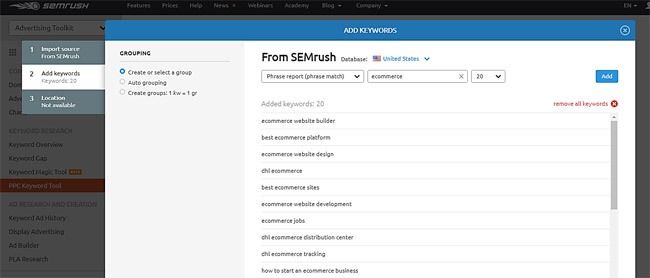 In addition to matching bad keywords to minimize marketing costs, all matching keywords are set and removed. And for that extra power, it also provides invaluable recommendations for brushing up on your keyword choices.
Contentmarketing
When it comes to content marketing, SEMrush starts with subject matter. The topic research feature helps you identify issues and solutions that your target market is most interested in.
For example, when you suggest a topic, the system automatically generates relevant information about the topic, including compelling headlines to attract readers. And to narrow things down further, you can also research the specific questions your prospects are asking about the topic.
Again you can go here with a mind map and search and title suggestions in your language: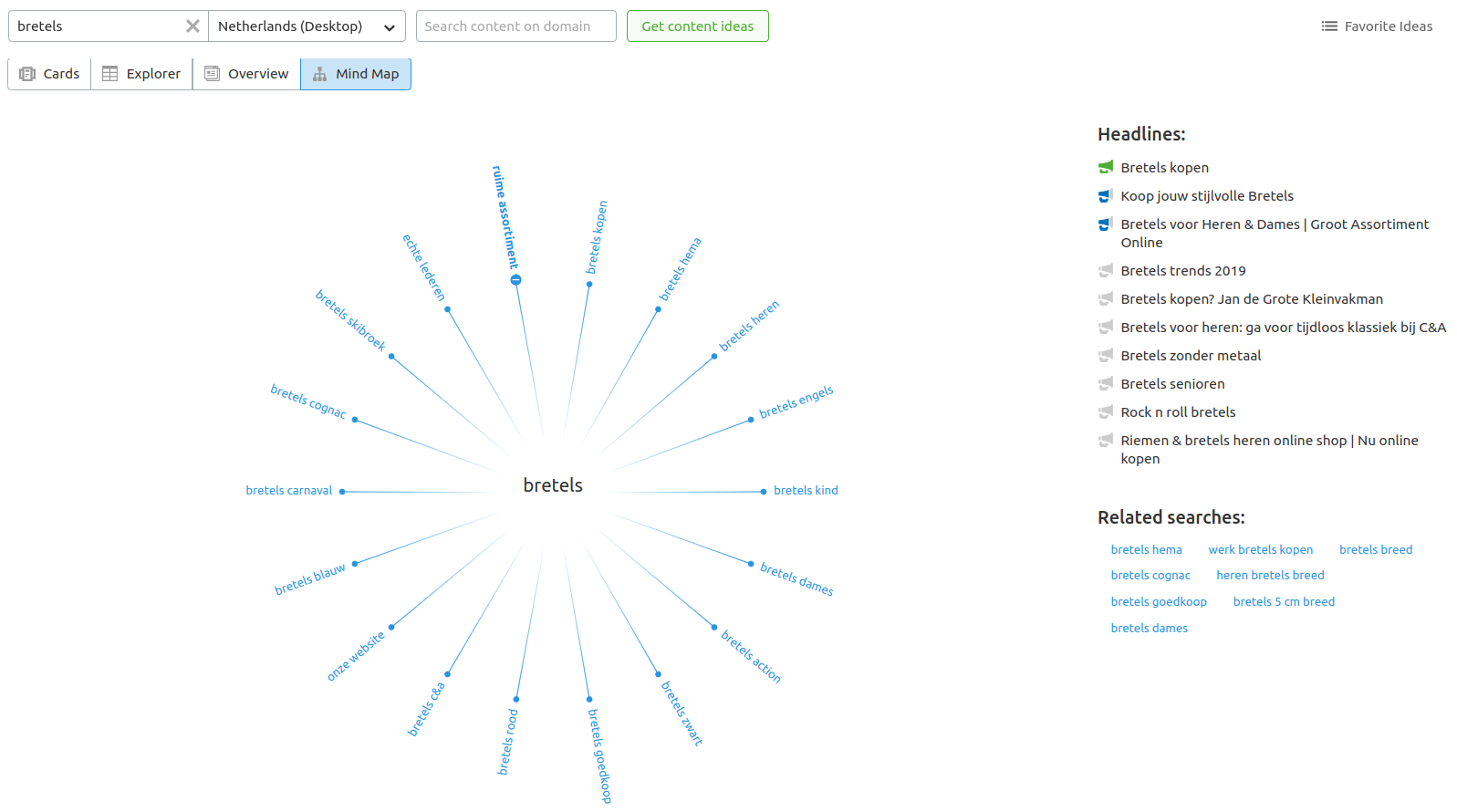 Well, these insights combined with keyword research (here's how to do it for your niche site) should be enough to create an appropriately optimized piece for your blog.
But even after publishing, you still won't be able to take full advantage of the benefits until you use the best possible distribution channels. To facilitate this, SEMrush offers brand monitoring.
This feature allows you to identify distribution opportunities based on keywords and branding across channels. And if you're in doubt about a particular channel, SEMrush will also continue to display scores for trustworthiness assessments.
That said, you may also need a partner to boost your promotional strategy. SEMrush takes a smart approach here by researching and finding potential partners for backlinking, who are already linking to your competitors.
Social media marketing
By now you have probably realized that SEMrush is quite heavy on research across all its marketing channels. And social media is no different.
The main tool here is the Social Media Tracker, which is basically used to fuel social media marketing strategies. It tracks down your competitors to help you determine what they're doing, the type of content they're using to target potential customers, their booking frequencies, and associated best practices.
Then, as you may have guessed, you can pick out the posts of your rivals with the best engagement levels.
Now, add hashtag tracking on Google+, Twitter, and Facebook, and you're on your way to an informed social media marketing strategy.
When you have everything ready, you can use the Social Media Poster to spread your posts.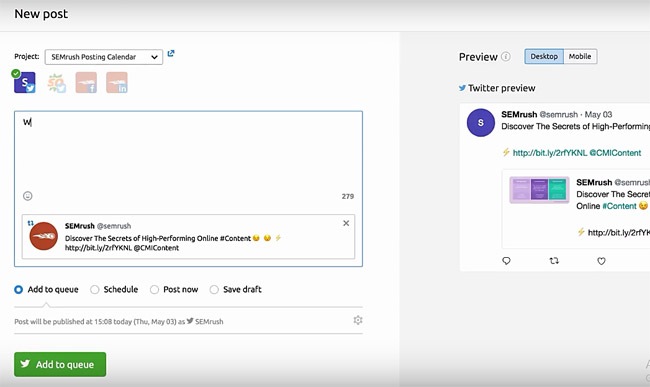 But what exactly does it do?
First, it unifies all social media channels so you can post simultaneously from a single platform. And since it would be cumbersome to do this repeatedly, SEMrush provides a scheduling feature to organize upcoming messages. You can also introduce some interesting pieces from third-party sources via RSS feed.
And finally, to complete the marketing process, SEMrush uses analytics to track the progress of your social media marketing strategy. You can access the following reports through a user-friendly interface or PDF.
Competitive Intelligence
We have already seen how SEMrush spy on keywords, PPC ads, backlinks, content distribution frameworks and social media accounts.
That sounds pretty good if you ask me. But there's more.
SEMrush also dives into your rivals' traffic details through its Traffic Analytics feature. In addition to identifying traffic size by country, it compares different domains based on their individual paid search, social media, link building and SEO strategies.
As a result, you can use this feature to compare your site against your competitors to analyze critical traffic metrics such as bounce rate, pages per visit, average site duration, and more.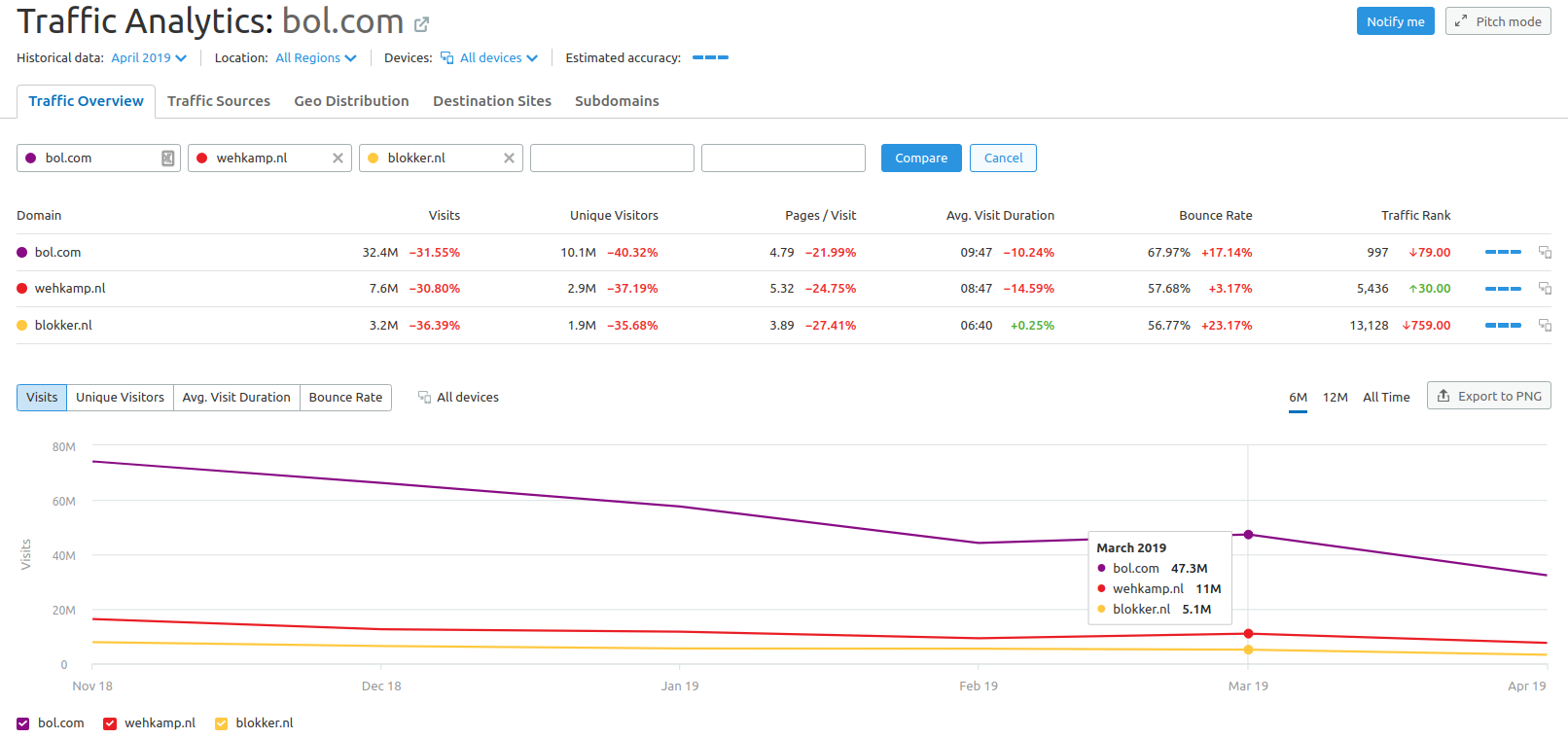 To help you learn more about your rivals' ads, SEMrush's ad research covers multiple advertising methods. You can set up top paid search competitors to monitor their top keywords, ad usage trends, and PPC activity.
SEMrush pricing
SEMrush's overall pricing strategy covers different types of users – from small-scale users such as freelancers to large-scale companies.
That said, only the small-scale package, SEMrush Pro, offers a 14-day free trial. But, this should certainly be enough for a standard company to test a wide range of features.
In addition to this trial period you can sign up for, you can choose from the following packages:
Pro – $99.95 per month (or $999.40 per year if you choose the one-year prepay option)
What's in it:
5 Scheduled PDF Reports
Standard functions
Searches 100,000 web pages
Tracks up to 500 keywords
5 projects
3,000 daily reports
10,000 results per report
Guru- $199.95 per month (or $1999.40 per year for annual if you choose the one year prepay option)
White labeled PDF reports
All Pro Features
Standard functions
Historical data
20 Scheduled PDF Reports
Searches 300,000 web pages
Tracks up to 1500 keywords
50 projects
5,000 daily reports
30,000 results per report
Business- $399.95 per month (or $3999.40 per year for annual if you choose the annual prepaid option)
Product Listing Ads
All Guru Features
Standard functions
Historical data
White labeled PDF reports
50 Scheduled PDF Reports
Searches 1,000,000 web pages
Tracks up to 5000 keywords
200 projects
10,000 daily reports
50,000 results per report
Enterprise offers customizable features for enterprises with large-scale needs, at a negotiable price:
Unlimited site crawling
Standard functions
On-site training
Custom keyword files
Custom Limits
Prices range from affordable for an entire SEO suite to real tools for large companies or SEO agencies with many customers. Although the smallest package is also reasonably priced if you are not going to use all functions.
For example, I still use KWfinder as a foreign language keyword tool, if that is what you are looking for in an SEO tool, that is a smarter choice.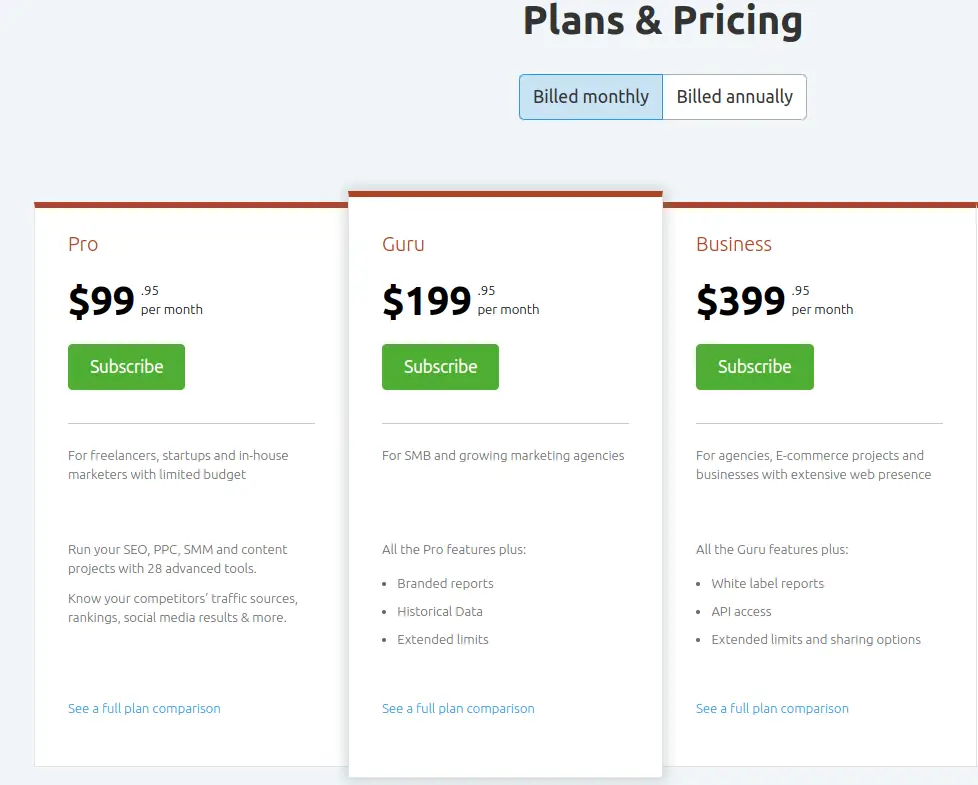 Who is SEMrush suitable for?
Before we wrap it all up, it's only fair to consider the main drawbacks.
First of all, it's pretty obvious that SEMrush isn't cheap, especially for small-scale users. In contrast, if we consider the comparative cost of adopting different tools for each of these functions, SEMrush seems to be reasonably priced for an all-in-one package.
While combining all these features in one package could be a great idea in general, it must be admitted that it complicates the whole marketing structure. Let's be honest. It takes time to learn all the tricks of SEMrush. Only high-level marketers can understand everything about the suite and have the time to go through all the features.
I would therefore also say that SEMrush is suitable, anyway for people who plan to use several of the functions, but beyond that:
SEOs or content marketing professionals who do it as a daily job
marketers of larger companies whose main task is digital marketing
agencies that do work for clients
for bloggers or smaller companies I would recommend KWfinder to start with because of its ease of use and clear interface
Speaking of which, some marketers have raised issues with data inconsistencies. However, only a negligible number of users have experienced this once so that disadvantage is negligible.
Finally, all in all, SEMrush is suitable for freelancers, agencies, business owners and larger enterprises.
Start a free trial here on the SEMrush website
I hope this review has been of some use to you. It is a tool that I also use in my marketing. If you decide to purchase a paid package, I will receive a commission for my reference, at no extra cost to you.
Joost Nusselder is The Content Decoder, a content marketer, dad and loves trying out new tools en tactics. He's been working on a portfolio of niche sites since 2010. Now since 2016 he creates in-depth blog articles together with his team to help loyal readers earn from their own succesful sites.