I love creating free content full of tips for my readers, you. I don't accept paid sponsorships, my opinion is my own, but if you find my recommendations helpful and you end up buying something you like through one of my links, I could earn a commission at no extra cost to you.
More information
ShortPixel is a popular WordPress image compression plugin.
Basically, you configure it on your site and it automatically optimizes the images you upload on WordPress.
That means you get all the benefits of image optimization without having to spend more time creating your blog posts.
In addition to that core feature, ShortPixel has a number of smaller features that give you more control over how the plugin optimizes your images.
First, ShortPixel has no file size restrictions and works with:
PNG
JPG
GIF
PDF documents
It can also help you convert PNG to JPG for more size reduction, as well as the option to convert to WebP images for Google Chrome users.
ShortPixel also allows you to choose how much you want to compress your images. There are two main types of compression:
Lossless: No loss of image quality, just a small reduction in file size.
Lossy: A much larger reduction in file size, but has a small impact on image quality, hence the name lossy.
You can also automatically resize your images so you don't have to manually resize the images before uploading them.
Finally, there are three other features that I think are worth sharing:
ShortPixel uses an API, so the image compression takes place on ShortPixel's servers, so you don't waste your own server's resources.
The plugin includes a button that allows you to bulk optimize all images in your WordPress media library, which is useful if you are adding ShortPixel to an existing blog.
ShortPixel also allows you to compare the compressed version of your image with the original to ensure that the quality is negligible.
I will also show you how the plugin actually works and how you can use it to your advantage.
Set up ShortPixel on your WordPress site
ShortPixel is a free WordPress plugin listed on WordPress.org.
However, since it uses an API to connect your WordPress site to ShortPixel's servers, the installation process has a few extra steps.
Step 1: Install and activate the ShortPixel plugin: To get started, install and activate the free ShortPixel plugin just like any other plugin on WordPress.org
Step 2: Request your ShortPixel API key: Next, go to Settings → ShortPixel. Enter your email address in the Request API Key box and click Request Key
ShortPixel plugin API key setup: Once you do that, the page will reload and ShortPixel will automatically add your API key to the plugin settings
Shortpixel Plugin Settings API Key Validate: You will also receive an email with your API key, in case you need to use it on multiple sites. You can also register manually and create an account to get the free API Key for ShortPixel.
Configure ShortPixel Settings
After adding your API key, you need to configure a few settings before using the plugin.
First of all, it is important to choose your compression type. This lets you tell ShortPixel how aggressively you want to compress your images. You can usually use the default Lossy setting.
But if you're showing posts where quality is essential (like a photography blog), you might want to pick one of the less aggressive glossy or lossless options:
Below that you can make a number of smaller choices:
Also include thumbnails: Tell the plugin if it should also compress image thumbnails. This will use up your image quota faster (more on image quotas later).
I recommend that you leave this setting enabled if possible. But if you want to save money, consider turning it off.
Image backup: When you check this box, the plugin saves the original, uncompressed image, as well as the optimized version. I'd recommend leaving this setting enabled as well, unless you have limited storage space on your host.
Remove the EXIF ​​tag from the image: When enabled, the plugin removes metadata from the image behind the scenes. I recommend that you leave this setting enabled.
Resize large images: This setting allows you to automatically resize the images you upload.
I recommend that you set it at least 25% larger than the maximum image width displayed by your theme (this will give you a buffer in case you change WordPress themes later).
For example, if your theme displays images with a maximum width of 800px, I recommend entering at least 1000px for the maximum width.
ShortPixel prompts you to make sure you don't set the values ​​too low.
ShortPixel Advanced Settings
If you want to take advantage of some of ShortPixel's more advanced (and optional) features, head over to the Advanced tab.
Here you can set options to do things like:
Convert PNG images to JPEG
Use WebP images
Optimize Retina Images
Automatically exclude certain images from optimization
Again, these settings are completely optional. But WebP images can be 25% smaller than other image types, so it's nice to have access to these features.
Compress WordPress images with the ShortPixel plugin
Once you are done configuring the plugin, ShortPixel will automatically start optimizing new images you upload to your media library.
If you want to bulk optimize older images on your site, you can go to Media → Bulk ShortPixel.
Then click the Start Optimizing button to compress all the old images on your site.
You can also manually optimize individual images by going to your regular WordPress media library.
How much does ShortPixel compress your images?
While ShortPixel is easy to use and offers many useful advanced settings, how effective ShortPixel is at resizing your images is what really matters.
So I went to run a quick test to give you an idea of how much ShortPixel can reduce the file size of your images.
First I'm going to upload a huge image. It has a starting file size of 1.33 MB with dimensions of 3264 x 2448 px (an iPhone image, or images downloaded from stock image sites like Unsplash are often the same).
After ShortPixel optimized the image, the new file size was only 184 KB, a reduction of 82.37%.
Better yet, ShortPixel did this with no noticeable loss of quality:
(check this explanation on the site)
Then I upload an image that starts a little smaller. The original file size is 191 KB and its dimensions are 1920 x 1080.
After optimizing the plugin with ShortPixel, the new file size is only 31 KB, which means that ShortPixel has reduced the size by 71.85%.
How much does ShortPixel cost?
ShortPixel allows you to optimize 100 images per month for free with no file size restrictions.
If you need to optimize more than 100 images, you can use one of ShortPixel's paid plans.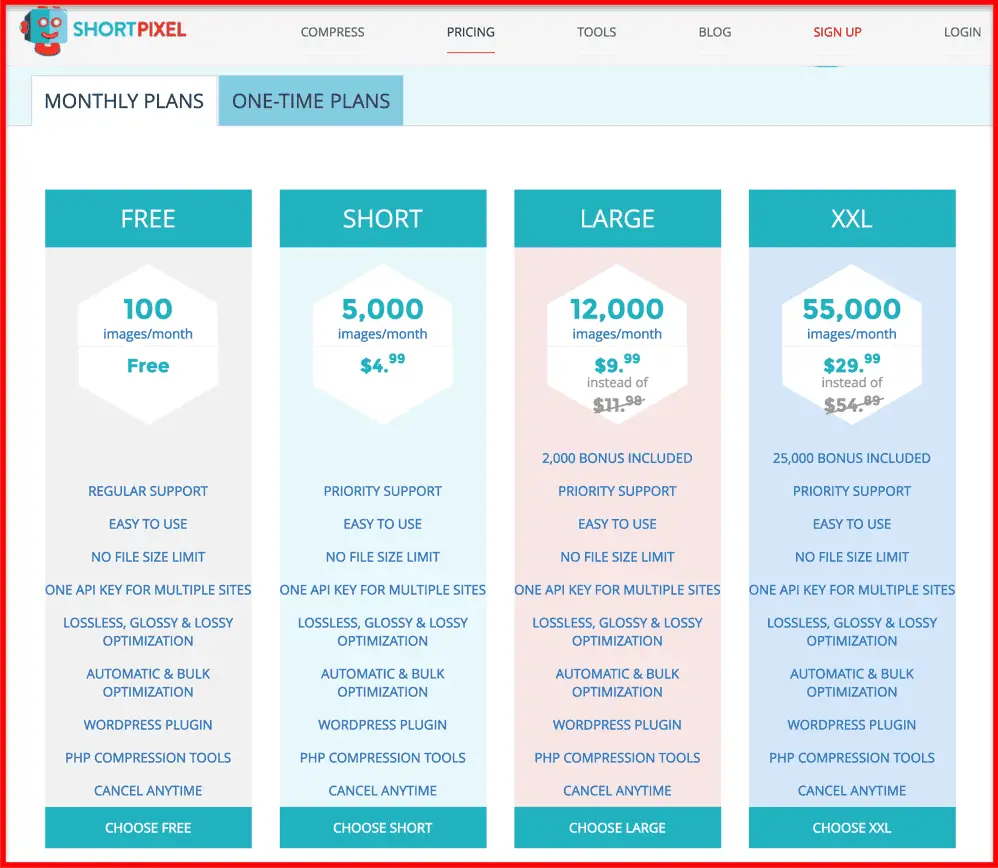 These paid plans start at $4.99 per month and allow you to optimize up to 5,000 images.
If you just want to bulk optimize a bunch of old images, ShortPixel also has one-time plans that start at $9.99 for up to 10,000 images.
Considering how well ShortPixel can compress images, I think this price is absolutely reasonable, especially since most bloggers can probably use the free plan.
Conclusion
Compressing your blog images is not an effort, but an important aspect of a faster loading blog. Many users miss this, resulting in complaints about slow page loading and a bad user experience.
Moreover, when you compress images, you also save your hosting bandwidth, which is great for anyone who uses limited web hosting to host their blog.
I have used/tested many WordPress image compression plugins. ShortPixel clearly stands out among all of them and is one of the top picks of many professional bloggers.
Once you have installed and configured the ShortPixel plugin, everything will be automated.
For casual (hobby bloggers) 100 free images/month is quite a number. For serious bloggers, buying a monthly or even one-time pack is a good choice.
The first time I heard the image compression technology, I bought the one-time license and compressed all my images. The result was significant and I recommend any WordPress blogger to try it.
My recommendation is to start using their free plan and notice the image size after compression. You can also take note of page loading (e.g. with tools.pingdom.com) along with saving bandwidth.
Download your free API-key here
Joost Nusselder is The Content Decoder, a content marketer, dad and loves trying out new tools en tactics. He's been working on a portfolio of niche sites since 2010. Now since 2016 he creates in-depth blog articles together with his team to help loyal readers earn from their own succesful sites.