I love creating free content full of tips for my readers, you. I don't accept paid sponsorships, my opinion is my own, but if you find my recommendations helpful and you end up buying something you like through one of my links, I could earn a commission at no extra cost to you.
More information
Marketing is an important part of getting customers into a clothing store. And there are many comparisons to be made with whether you have a physical store or an online store.
Or maybe both, which you see more and more these days.
In this post, I'll tell you about some marketing techniques for your clothing store that you might not have thought of.
Clothing store Advertising Ideas
When you run a clothing store, marketing is critical to bringing in customers and keeping them interested in your changing inventory.
The fashion industry is one of the most dynamic and thriving industries in the world.
It combines a wide range of activities, from the right production of products, the transformation of prime materials, and the creation of garments, shoes and accessories, among others.
One of the biggest pillars of this industry is the point of sale, you.
Because the clothing market can be volatile, effective marketing can help you build a loyal customer base to keep your store moving through the seasons.
While you're planning a marketing campaign, you probably want to use physical marketing for your brick-and-mortar store as well. But don't forget the power of online marketing, where you can reach people in your area with the right targeting.
It is just as essential for an online store as it is for your physical fashion store.
By placing your brand in front of your customers in as many places as possible, you create brand awareness and curiosity.
Create an online presence
Whether you only have an online store or a physical store. Create an online presence so customers can find your business by name or type.
Even if you don't sell online, you also want to be found locally with your website, so that people can find you and visit you.
Hire a professional designer to create a website and optimize it for search engines.
The technical side of the site is the foundation. But don't stop there.
Also look for a specific SEO service for webshops, to be found with the right content and the right links to build authority in your market.
You can also do a lot yourself if you want, and good research can help a lot.
Focus on keywords and keyword phrases that customers search for, such as the names of the brands you sell or "clothing store" plus your city name if you also have that physical store.
We have a free mini course here: SEO for webshops, learn to pick up the most important points for your site in 3 days.
If you have a niche clothing business, use these specific words as much as possible in the search engine optimization process: for example, think of expressions like:
plus size swimsuit
sportswear for toddlers
or hipster blouse
The more specific, the better. Provided people search for it, of course. But otherwise nobody might buy the clothes.
In any case, don't forget the listing in Google My Business (or My Business) with your physical location.
When customers use smartphones to search for nearby clothing stores, if you do it right, your business will appear.
Create a great about us page about the location where you are and what you sell.
The point here, too, is to create a better and more informative page than your competitors have, so that when someone searches for a clothing store in your area, they will be the first to find you in Google.
And everyone is Googling!
Strengthen your presence even further by creating a blog and posting regularly about the latest fashion, new clothing items and events in the fashion industry and make sure you have blog posts that sell.
A New York eCommerce player that has become known as one of the bigger companies in the world in their niche is the intimate line Adore Me.
He started with his own resources and has been able to give his brand a boost thanks to a capital injection.
This is an example of a small retail business that has grown rapidly through the use of the virtual world, where it is essential to know the public thoroughly and be knowledgeable about how to reach it.
When visiting their website it is immediately clear what the marketing techniques they use to influence the user.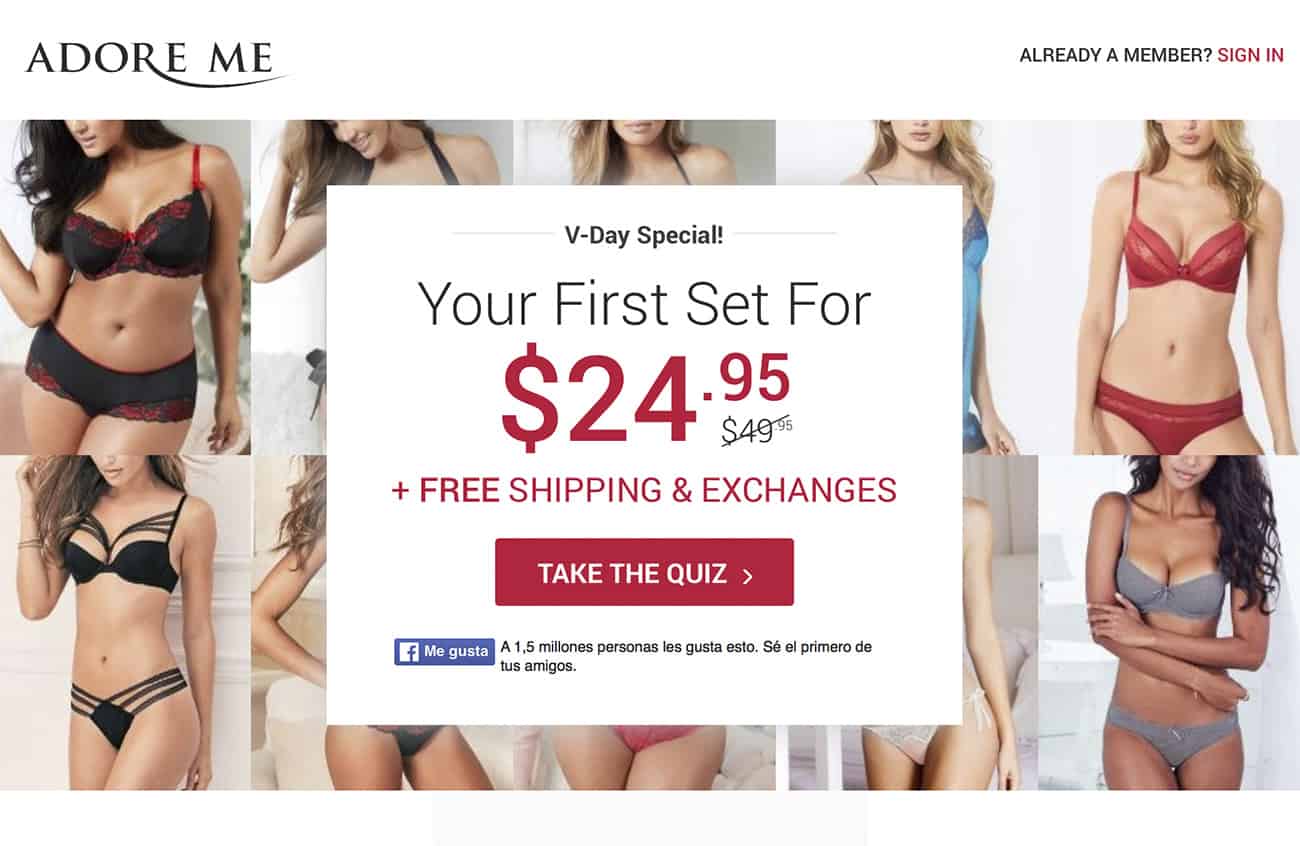 Create recognizable signs and ads
Use recognizable signs and print ads using the same visuals to grab customers' attention.
This is especially effective if you run a store that is not in a traditional shopping center or in an unusual location.
The goal here is to create recognition that people will want to walk in as soon as they see your signs.
Post posters on bulletin boards in cafes, laundromats, bookstores, libraries and business centers, as well as on the local university campus.
Issue business cards with your physical address and website URL. If you have the budget, send out a marketing campaign with flyers to inform local shoppers about your store.
And don't forget to include a map on your flyer if your business is hard to find. (nobody wants to admit this, of course, but sometimes you have to swallow your pride a bit when you're not on the main high street).
At the checkout in your clothing store
Also look at the time of sale. Create boards to make sure your special offers reach your customers.
It is normal for some of these to be passed, but they should therefore not be left out as the investment is minimal and the results are more than adequate.
Use a simple style with large letters, simple typography, and a clear message such as "Mid-Season Sale." Up to 50% off selected lines.
The promotion must be clear at a glance because you will not get much more attention from the shopper.
Use of packaging
Just as important as the last point, you want to provide the user with a memorable shopping experience that is completely satisfying.
You hook your customers with a good promotion that is clearly visible, they come in, at the cash register and they decide to take something home.
They give you their business. Now you should do everything you can to thank them as best you can. And read on if you have an online store, because this certainly also applies twice to you!
Make the packaging as personal and memorable as possible.
And there are many options for making super cute packaging.
For example, there are very interesting trends that are pushing for the use of cardboard and recycled paper for packaging the products.
Another idea is to put some candies in the bag and a business card. Of course, a coupon that can be used for a discount on future sales or a fashion magazine listing can also help.
When special dates such as Valentine's Day and Christmas come into play, you can definitely add the party packaging elements related to this holiday. This is something that customers will appreciate.
These are some simple clothing store ideas that can be used to improve your point-of-sale marketing strategies.
And they are essential for connecting with your customer when selling online.
This applies even more when you sell a lot via online sales portals such as Bol.com and Beslist.nl and Amazon.de.
The customer buys through that website and now has a connection with that website. You send the product and the customer is happy with the product. The customer is happy with Bol.com.
If you do not add anything personal of your own brand to the packaging, the customer will only be happy with Bol.com.
They're details that make consumers remember you, speak well of you, and likely return for a repeat experience, perhaps this time in your own store.
It is within these little things that the charm of a company is present.
One of the packaging techniques that surprised us the most is one used by Heidi Klein, a luxury swimsuit line.
The packaging is beautiful, with both style and elegance, and no one would say that these beautiful boxes had a bathing suit inside, right?
They appear as if they contain valuable jewelry or high-quality leather.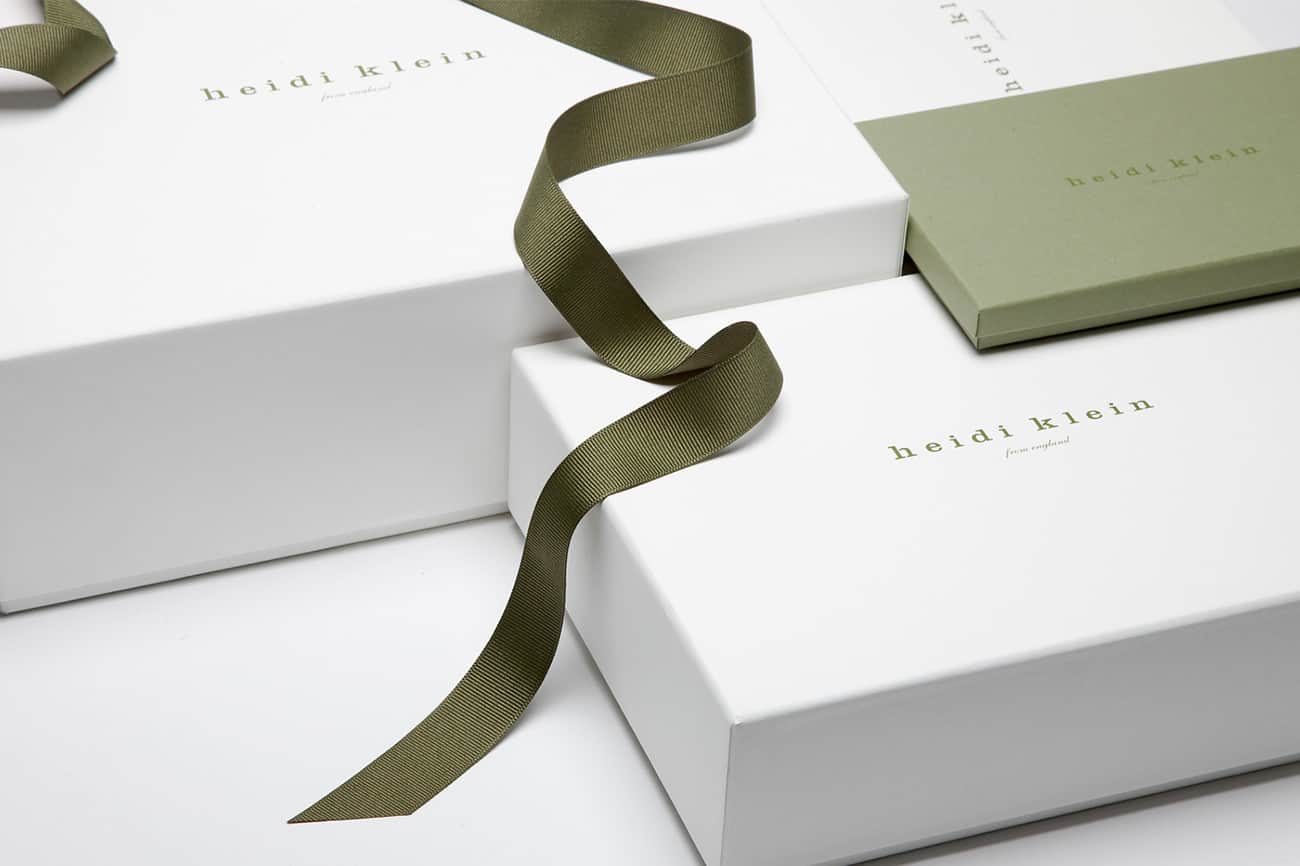 Offline events to de-virtualize the audience
Physical events where the customer can actually be present are very strong in the fashion world.
With your local clothing store you can quickly respond to this, but even if you have an online only business it is a strong tool to use and get people involved with your brand.
It can remove the distance between you and your customer and de-virtualize your audience.
Whether you have an online store or not, organizing parties and activities is a way to attract loyal customers as well as those who don't yet know exactly what to find in your store.
The recommended approach is to prepare a calendar that organizes events at the beginning of the year so that events can be planned over time, using the right marketing tools and using efficient communication channels.
So make an events calendar.
The most suitable moments to show yourself within the fashion industry are the following:
Start a new season (spring, summer, fall, winter) with a showroom and fashion show where some of the company's star pieces are shown to the public.
During slow periods in the season: Reach consumers with an invitation to a special celebration where you can offer value, not just a promotional or retail price.
Celebrate anniversaries or special dates in the life of the company: For example, when the company ages another year or if there is a desire to commemorate a specific moment that is important to the company. Take advantage of these opportunities to invite those who follow you and personalize your brand.
Create special sales: to get rid of clothes left over after a season is almost over or to create events around specific pieces. One day "blazer day" may be proclaimed with discounts for those who want this must-have piece or you can make a "weekend away" with promos for these accessories.
Deploying shop windows: an art that is still necessary (and effective)
Shop window displays can be defined as the art of adequately presenting the items an establishment has for sale through a combination of objects and materials.
The power of how shop windows are displayed should never be underestimated.
The perfect proof of this is that, when one travels, a favorite pastime is to walk along the expensive shopping streets to check out the big brands and their shop windows.
The same also applies online, the shop window is intended to give an overview of what is available in the store, and to ensure that the visitor goes further inside.
Walk in your store, or continue clicking through the pages of your website. Comes down to the same thing.
What we can see today in the windows of Loewe, Prada, Louis Vuitton or Hermes are authentic works of gold, art in pure form.
Just take a look at the following images of beautiful shop windows: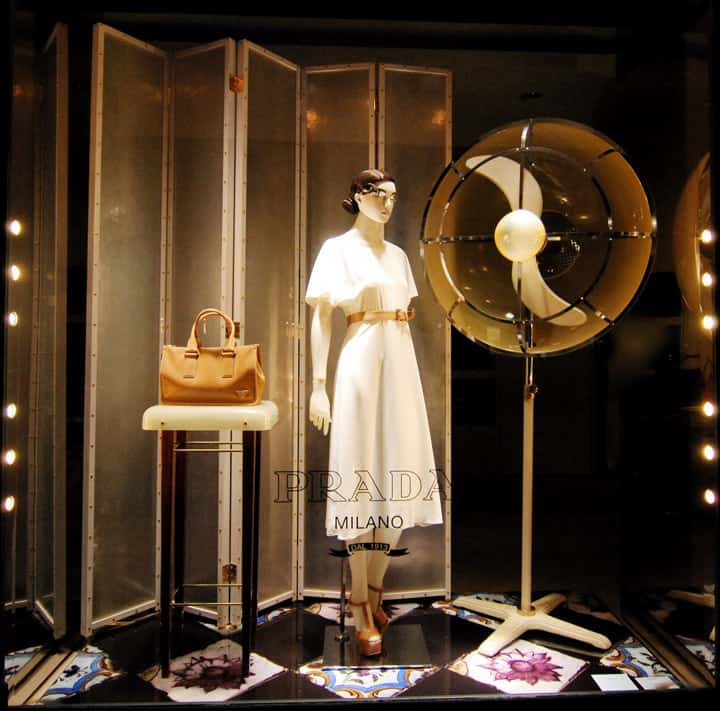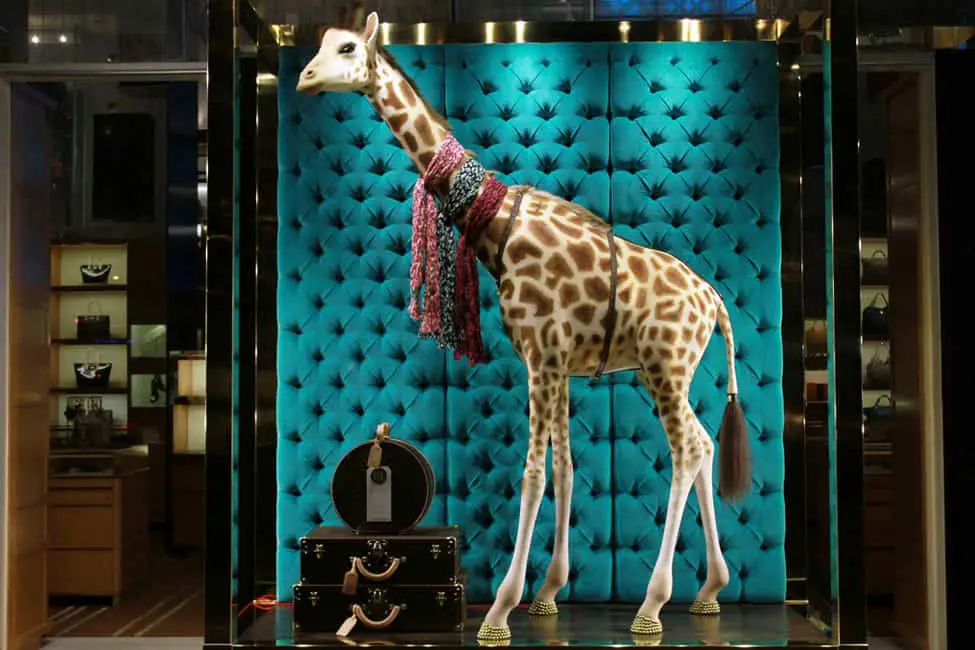 There are several factors to consider when deploying window dressing:
Change it with a certain frequency. The speed at which fashion trends and customer tastes change requires brands to respond with a certain agility. Before that, changes were made per season, re-arranged to reflect when a new season would come. Today, it is recommended to offer novelties to customers every two weeks, or at least once a month. It's important to be up-to-date, aware of street styles, and know what's being sold to incorporate these factors into storefront designs. So also think of the homepage banner or the category page banners in your webshop!
Relief. It's a basic point, but an essential point. People walking by will look at your items because you draw their attention to them. Firstly, it is crucial that you offer the right lighting in your store and then match it with the items on display. For example, online, think of contrasting colors with the rest of the page to draw attention.
Decide what to stand out and what to draw attention to. If your forte is the high-heeled shoe, it's important to show them off. If, on the other hand, you have a sunglasses collection that is all over bloggers pages, make sure you use it to appeal to your brand's recognizability. It is important to thoroughly study what is available within a company to determine which items are strongest for the company.
Thematic shop window. When a special occasion approaches, such as Valentine's Day or Christmas, take advantage and decorate your shop or banner with pieces that can be connected to the celebration.
Set up a calendar for displaying shop windows here too. Planning is essential for any business. Make sure you plan to keep important dates in mind and don't use the same screen for long periods of time.
Many of our customers already see the power of the shop window in their physical store and use it perfectly, but have had the same homepage banner online for 2 years.
You will also have to pay the same attention to this online in order to catch the eye of your visitor.
Even companies we work with that already generate much more turnover online than they ever did in the physical store, we still do not see full use of the webshop images.
The same principle also applies online. Grab attention, get people into your store and radiate your brand message from that moment.
It reminds me a lot of this post I have about landing pages for your niche affiliate site. If you want to get more out of your site, you should read that too.
One more point on this and then we move on to the next tactic.
I know web designers have embraced the homepage slider to sell their design to businesses or because different departments all want their moment on the front page.
But a single static image on your homepage that conveys your brand message works so much better!
Multiple tests show that your visitor ignores them, read more about this research on orbitmedia if you find it interesting.
Social Media for clothing brands
Create profiles on social media websites such as Facebook and Twitter to reach your clothing store customers in an informal way.
Do not forget to fill in the profile information completely. This way you can be found better, plus it is a place to convince visitors to visit your store.
Not surprisingly, 97% of the world's 250 most reputable retail brands are on Facebook.
There must be a reason for this, right? Well, of course there is a reason!
Right now, social media is like a playground where everyone spends part of their day chatting with friends, learning new information and devouring their hours.
This means that every fashion brand must participate in these methods if they want to reach more of their potential audience in a better way.
Facebook is the most notable, but it's not the only one.
According to information obtained through a study by Campalyst, an online marketing agency based in New York, Twitter, YouTube, Pinterest and Snapchat are also soon behind Zuckerberg.
We also can't keep Instagram out of the picture as it is one of the most essential tools used by both this powerful industry and industry influenced individuals.
These can provide any business with a solid background and push them towards success.
Since it is always recommended to observe who is doing well on social media, we leave you with the top five brands currently making the best use of social media worldwide, according to Campalyst:
Victoria's Secret
walmart
apple
Adidas
Nike
Dell
Follow them, and learn from their way of social marketing and brand building and translate this to your brand (and to Dutch :) )
Post once in a while, focusing on a mix of marketing messages and links to fashion articles that will interest your customers.
Don't just go commercial! Remember, it's a social platform, so bring some sociality into it.
When you get new stock, post a photo to increase curiosity and convince customers to go to the store.
Add value to your social media followers by offering occasional "friends only" discounts – this tactic can also help you gain more online followers.
Promotions and sales
Use promotions and sales to boost your business during slow times of the year.
No matter what kind of store you have, customers love to save money.
A fun new way to reward loyal customers is to hold a special after-hours sale once or twice a year.
Serve champagne and offer discounts during the sale.
Also, orient your promotion around special occasions such as sporting events, holidays or local festivals to take advantage of the festive mood.
How to advertise and market your clothing line
Advertising alone is not enough for your clothing store, even if you use almost all of your margin as an advertising budget.
There is a big "Marketing Misconception":
The biggest misconception about marketing is that advertising makes a brand successful.
That statement is completely WRONG!
It's not advertising that makes a brand famous. It's the products and branding.
Sure, you may have heard a few cases where people got lucky because someone saw Justin Timberlake wearing their shirt, but more often than not, advertising is used in different ways.
Justin must also have discovered the brand because he felt connected to the brand value in some way. Without a great product you will never really be successful, regardless of your marketing.
Online Advertising Techniques for Clothing Stores
Let's focus on the basics first. I think a web branding best practice is to have your own domain and website.
There are still brands, often if they also have a physical store, that only sell online through other channels such as:
bol.com
Wehkamp
Specifically
Ebay
Amazon (if you think something more international)
Marketplace I even see
But even if sales through these channels are growing well you still need to have a main site i.e. www.mijnkledingwinkel.nl for the sake of marketing.
Hosting and domain names are so cheap these days that it is stupid not to have a website.
And even if you don't plan to buy a website yet, you should at least buy the domain name and register it.
That way, no one can steal your perfect shopping domain name.
Your website is going to be your main marketing engine, so there are many things to consider.
It doesn't matter if you have a local store or want to start or grow an online brand. That website is your biggest marketing tool!
SEO as a marketing tool for your clothing brand
The most important aspect is probably the SEO ranking so I want to dwell on this after the first introduction above.
SEO, which stands for Search Engine Optimization, is a science in itself, but it ultimately leads to your webshop coming to the top when someone searches in Google.
And I don't mean at the top with an advertisement that you always pay for, but automatically at the top without you continuing to incur costs.
However, you have to invest in this.
Engaging a specialist party may be the quickest way to success, but here are a few tips to get you started.
Good SEO means being easily searchable through sites like Google, Bing and Yahoo and the like.
When someone googles, they are looking for information. So Google wants to put the site at the top that has the best answer.
The concept is super simple.
To determine who has the best answer, these search engines mainly look at:
the text, is the text about the subject
the visitor behaviour, they often return to google quickly after the visit (the page does not give a good answer) or they stay for a long time and then stop searching (the page gives a good answer). Does the customer from one cafe quickly leave for another cafe to have a drink, or does he stay for a cup of coffee as well? Imagine if Google is across the street and sees you walk into the cafe and quickly come out and then stay at the cafe next door. Then Google will no longer put your cafe at the top as a recommendation for people who search
the quality of the links to the page, do other clothing industry websites or clothing blogs think their visitors should also visit your website (because that's essentially what a link is, an easy way to click to another page)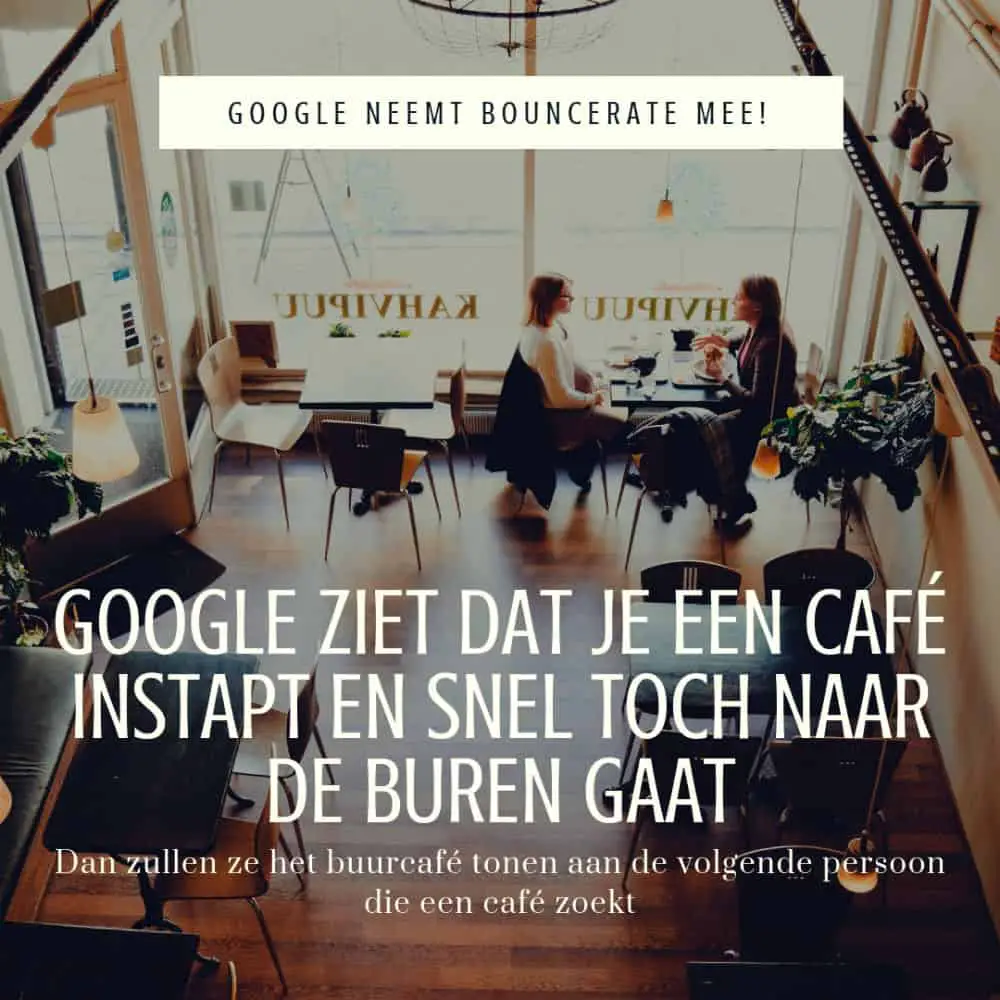 If you pick up on all of these things best, you're more likely to be positively mentioned, so when someone searches for "graphic t-shirts shop" or something like that, you'll be at the top.
Important SEO tips for clothing stores:
Use descriptive titles: You want someone to click on your site when they see it, so the title (which will also appear in Google) must convince them to want to read further. Often a site like Google will also index your website based on the title of your pages. So if someone is searching for "kids clothes The Hague" it is much more likely that Google will show a page with the title 'Mijnkledingwinkel.nl – the nicest children's clothing in The Hague' rather than something vague like "About us". Plus people are more likely to click on it too!
Make your site easily crawlable (also known as clear navigation): Google can only show what it can find, so you want to make sure that Google can easily find all your pages. What all these search websites do is basically use little virtual robots (crawlers) that go through all the websites over the net and crawl through all your pages. If your navigation is clear and goes where they need to go, you shouldn't really have a problem. One thing to note is that the robots can't crawl (yet?) through flash-based navigation, so try to stay away from that. But luckily, websites nowadays hardly use this anymore. If your pages can't be crawled, your pages won't be indexed.
Post new content often: Search engine robots will keep returning to your website if you have a lot of new content. That's why blogs are so fantastic. If you have a lot of well-written relevant articles, the search engines will love you. Ultimately, search engines really only want to show good content, so don't worry too much about keywords and update your site with good content.
Just act normal, then you are already doing (crazy) enough: One thing to note about keywords is not to overload your texts with the keywords. This was done in the past and is still a common mistake among novices, as they may have heard it before. Don't be stupid with sentences like: "Hello, I own mijnkleding.nl and I love clothes and children's clothing, mijnkleding.nl has great clothes." Search engine robots know when you are trying to cheat the system; they are smarter than that! If you're a beginner, the best thing you can do is just start writing. Write a blog article that you know will help people. Write a very extensive article about all the questions that someone might have, and then it generally works out very well these days.
Get good links: When it comes to your search engine ranking, good links to your site are really important. Just writing helpful texts is still doable, as long as you don't pull out any weird tricks. Just getting good links is already more difficult. Then you're left with things like how exactly do you get someone to link to you? What is a good link in general, and what is a good link for my site? Not to mention anchor texts and over-optimization! Again, beginners often make the mistake of collecting as many links as possible for as little money as possible. Then you quickly end up on link pages and home pages and you better not do that. The simplest tip is: I would also like to be on this website if there was no link, but just to bring my brand to the attention of potential buyers. For example, if you own a punk clothing business, you might look at t-shirt blogs or other clothing blogs. But also look further at punk music blogs. These are both logical places for your brand to stand and get noticed.
Don't be afraid of metadata: There's been some discussion about this, but most professionals say that your meta keywords and meta descriptions don't really affect page rank. It does help to better highlight your site in the search results. A meta description is often still shown under your page title. And there is, certainly for clothing stores, much more meta-data that you can use to show as much information as possible, directly in the search results. Think, for example, of classifying price information, the amount of stock, product images, and also review stars.
Online collaborations and fashion influencers
Another powerful way to get the attention of others is online collaborations. Often also focused on influencer marketing.
One of the strongest ways that still applies is to be judged by a blog.
You can often work together for a small fee and a free piece of clothing, or sometimes even just the piece of clothing and get a nice review from an expert in return.
An expert with hopefully a lot of readers and readers.
In the same way, you can look for social media influencers. We ourselves have had good results with influencers on Instagram and Snapchat seems to work well too.
It is a highly undervalued marketing channel, which means that you can reach a lot of people for relatively little money.
Especially if you enter into collaborations with people who have not done much with it until now. That means looking for people to follow and DM (direct message) if they would like it.
Here too the following applies: the better your product, the easier it is to get someone for you. If they genuinely like the product, you can often get a post for just a free item.
They might have bought it otherwise because they think it's such a nice brand!
Measuring your clothing marketing activities
When you consciously deal with your marketing, which you will certainly do after reading it, you also want to know where you get results from.
That means analytics tools.
Google Analytics on your clothing store
A very good practice is to log in to Google Analytics and track your visitors.
Google Analytics is a really powerful tool and you can see where your visitors came from, what pages they viewed and even how long they stay on the site.
Google Analytics gives you a good idea of how strong or weak your pages are.
Google Webmaster Tools
Another great tool from Google is Google Webmaster Tools.
If you sign up for this (free) tool, you can track what people are searching for to get to your site.
Conclusion
Well I guess that's about it for today, hope that helped!
I'm certainly no master of offline marketing, but this should at least get you started. I do follow a lot of them because the focus on the attention of passers-by can also be perfectly translated digitally.
And the SEO tips and digital marketing tips that we do specialize in can be used for both your online and offline store to grow into a national brand.
Good luck in business and hopefully I'll talk to you soon at a seminar or conference about your successes!
Joost Nusselder is The Content Decoder, a content marketer, dad and loves trying out new tools en tactics. He's been working on a portfolio of niche sites since 2010. Now since 2016 he creates in-depth blog articles together with his team to help loyal readers earn from their own succesful sites.