I love creating free content full of tips for my readers, you. I don't accept paid sponsorships, my opinion is my own, but if you find my recommendations helpful and you end up buying something you like through one of my links, I could earn a commission at no extra cost to you.
More information
If you are still in doubt whether link building is necessary for your site, then this article is for you. If you are not sure whether link building is worth the investment for search engine optimization, then this article is for you and I would like to ask you again when you have finished reading it 😊
Because, what is the importance of link building?
The internet is all about having the right content. Content that appeals to the reader, content that guides the reader to the next step, such as:
inform about possible options for his or her problem,
requesting a quote, or
buying a product
And content that shows Google that you know what you're talking about.
However, the importance of link building is:
without links to that content, your website will not be found.
It's that simple.
Watch this post in video format:
Or read on for all our information on the importance of link building and tips.
Think of all those hours you invested in creating your website! Soon no one will see it…or only after clicking expensive ads.
With link building you build your brand, your brand awareness. You let people and Google know you're there, open, ready to help people.
The benefits of link building at a glance
There are more pages with good content. As good as yours is, links help Google show that people agree on one thing: your content provides the user with the best response
Links are half of Google's ranking formula
Links help search engines find your pages and include them in their indexes
Good links from real sites also generate traffic and visitors themselves
Links on real pages are associated with brand awareness, your brand is brought to the attention of potential customers
Links help you build relationships with other companies, companies that link to you are companies that want to work with you, perhaps in many more areas than just a link
Below we will return to the above advantages in more detail.
Google includes links in their formula to show the best search results
In all the algorithms that Google has tested so far, one thing emerges: including links is necessary to show their users the best search results.
Ultimately, they want one thing: the best search results for their users.
Google wants this so they can remain the market leader. If you provide the best results on the search queries, everyone will continue to "Google" instead of switching to Bing.
Google uses several factors to calculate which website should come out on top. Link building makes up about 50% of this. Any other form of factor combinations they've tested without including links in the formula have always resulted in poorer search results.
There are always web pages with answers to the search question
There are several websites with good content on your topic. There are billions of websites and there are always a lot of webpages to be found with answers to a search query.
You may have the very best piece of information, the lowest prices or the best service, at least something that sets you apart from the competition. But Google wants to provide the best search results, and that doesn't always translate directly into your differentiator.
Google also wants to see that others also like your content. They do this by looking at the number of links to your page. A link is a vote, the other site tells Google that they like your webpage too. And the more reliable that site is, the more that vote is worth.
It's actually very simple. More links to your webpage simply means more people recommend you as a source of good information for their users. If they recommend you, Google will also recommend you on their search platform.
Because Google gets better at recognizing valuable links, the search results also get better. Websites that circumvent this system by creating a lot of "fake" links (links from spam websites, links from directories and home pages that have a lot of links together) may have gotten away with this in the past, but are now filtered out flawlessly.
This way they know how to get the best content with the best recommendations at the top.
So…..more opportunities for you, because of course you do have a website that deserves to be at the top.
Now just let Google know.
It also gets harder
These new opportunities also mean that it is becoming increasingly difficult to do it yourself. There are so many things to take into account in what is a good link and what is not, and you should actually have a whole network of reliable sites that you can easily approach.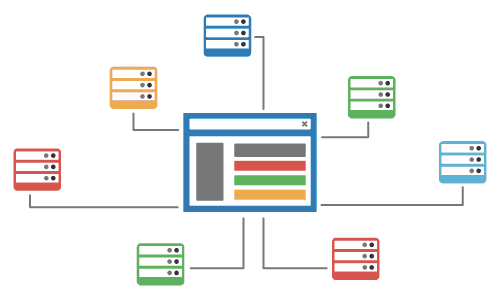 Building such a network for your one site yourself, that is simply not profitable. A good link building agency, like us, already has such a network.
Link building is important because you bring your website to the attention of other sites.
You can of course wait for these trusted sites to link to you themselves, and if you have good content, this will probably happen every now and then. But you also have to dare to give fate a hand.
That's where good link building comes in. You help owners of other sites know that you have a website that is also interesting for their users. And there are many different ways to let them know and get links.
Why are links important to your search rankings?
A link is very important for two reasons:
one link is a vote for your site, another lets its users know that your site contains valuable information and Google values this recommendation
A link helps users navigate between different pages on the Internet
Good links in themselves also give you more traffic because visitors to one website see your link, click on it and then end up on your webpage to take in your information or offer.
Only these real links will give you more visitors, unnatural links may only help temporarily at a higher position.
But unnatural links are becoming less important and more and more filtered out. The link must fit your site and provide real value to your website.
Help the Google Spiders
Links also help the search engines to crawl between the pages on the Internet. When you have links to your web pages, search engines can discover these pages with their spiders (robots that crawl around the internet). Only when such a robot has visited your page can it analyze it and include it in its calculations.
Without a link to your page, a search engine won't be able to find your page at all
If the search engine can't find your page, then that content won't compete for the top spot either!
Link building is therefore also important to initially register for the race to the top spot and free visitors.
Once search engines have crawled pages on the web, they can extract the content from those pages and add them to their indexes. Only then can they decide whether they find that page of sufficient quality to rank well for relevant keywords.
Google made a short video to explain that process:
Link building builds relationships
With a good SEO campaign you also build strong relationships. Collaborations with other companies where you can get more than just a link. Perhaps a partnership, sharing promotions and discounts you have and at the very least sharing your information with their visitors.
While the primary focus may be to improve your link profile and get your keywords higher in search results, there are many other benefits as well.
Provided you work on real links and build real partnerships.
A link is a referral and a good link on the right website can bring a lot of traffic to your website.
Build your brand
The right strategy will also help you promote your brand name. It can help to show that you are an authority in your field by linking to relevant content. It can also help promote your company's expertise and the strengths of your goods and services.
A link is therefore much more valuable if you also have good content on your website. The combination of blogging and providing valuable information on your website is a huge accelerator of link building results.
Create compelling content that people will want to link to and refer to.
Use the algorithm
Links are part of the algorithm and let Google know that your site matters. It's not the complete formula, but without links the rest of your efforts are pointless.
It's the extra boost that makes all the difference.
If all other factors are equal between your page and your competitor's, then the number and quality of your links will make the difference between being found and staying on page 20 of the search results.
High-quality links are essential for findability in Google and the other search engines.
Joost Nusselder is The Content Decoder, a content marketer, dad and loves trying out new tools en tactics. He's been working on a portfolio of niche sites since 2010. Now since 2016 he creates in-depth blog articles together with his team to help loyal readers earn from their own succesful sites.