I love creating free content full of tips for my readers, you. I don't accept paid sponsorships, my opinion is my own, but if you find my recommendations helpful and you end up buying something you like through one of my links, I could earn a commission at no extra cost to you.
More information
In this Ezoic and affiliate earnings report for my niche sites, I talk about the September 2022 income as well as the costs, why I'm down this month, and what I'm going to do to increase the blog revenue again.
Here is my full P&L with actual blogging costs and what I spent on tools, plus a few insights on increasing Amazon affiliate revenue by $875.97 per month with just one additional tool, Geniuslink.
Grab all of my blogging secrets and templates here
September 2022 income report
Last month was all about diversifying Amazon income to earn from all of the different storefronts. 
I had earned $6,942 and this month that grew to $7,698. That's an 11% growth, not bad.
And here's my Ezoic income, I'm showing you exactly what I earned, and I'll share my costs in a minute.
This coming month I'll be looking into diversifying to even more stores.
Amazon is the largest retailer in the US and bol.com does that in The Netherlands. So I'm reliant on these mega powers to continue to send me checks.
If you run a business and you have freelancers to pay for content, depending on just a few partners can be quite dangerous and it isn't a great feeling when I think about it, depending on one entity so much.
It's why I wanted to go to college in a different city and live on my own away from my parents when I was a kid, and it's why I need to change things now.
Two months ago, bol.com was late with my payment, and that is something you don't want to experience if you have to pay your freelancers and yourself.
Luckily I had enough leftover from selling a couple of sites a few months back to cover it.
Niche site P&L
| | |
| --- | --- |
| Network | Revenue |
| Amazon US | $1,511.09 |
| Bol.com | $2,084.51 |
| Ezoic | $2,913.89 |
| Other Affiliate Programs | $218.03 |
| Other Amazon Storefronts | $822.58 |
| Own Products | $38.34 |
| Youtube | $109.47 |
| Total income | $7,697.91 |
| Cost | -$7883 |
| Loss | -$185.09 |
This is my revenue diversification for this month:
I've reduced my costs to $7883 by cutting down on upgrading content for now and getting rid of some of the tools I wasn't using anymore in our processes, like SurferSEO, which puts me almost at break-even right now.
Last month's costs:
| | |
| --- | --- |
| Type | Cost |
| Accounting | $137.79 |
| Content | $6,278.43 |
| Hosting | $10.19 |
| Office | $70.04 |
| Onetime | $140.19 |
| Tools | $1,247.34 |
| Grand Total | $7,883.98 |
| | |
| --- | --- |
| Tools | Cost |
| Affilimate | $99.74 |
| Aweber | $50.92 |
| Ezoic | $389.21 |
| Geniuslink | $74.35 |
| GTranslate | $286.59 |
| Jasper | $102.51 |
| Wordlift | $244.02 |
| Grand Total | $1,247.34 |
The costs I've made over time:
Goals for my blogs
So, I'm setting my goals to reflect the change that I need to make to regain my piece of mind:
I need to get back to a profitable business because investing more in content than I'm currently earning is coming to an end, so I'm going to get to a 40% net profit after content, the tools I'm using, and taxes.
I'm going to get to 40% diversified affiliate income.
My previous goal of getting to 1 million pageviews still stands; it's when I finally can buy myself that new watch.
I am going to become the largest site on Japanese food with bitemybun.com
And I am going to get to 1K in monthly youtube revenue. Once I get there, I can invest 60% of revenue back into Youtube for equipment and video creators, so that becomes its own little profit center as well.
I think everything needs to be able to stand on its own after a couple of months, otherwise, it's just a money-sucking pit.
It's why I went from 24 sites to only 9 larger ones. So they can pay for their content and upkeep by upgrading articles.
It's great to invest in a new site to get it up and running, but there has to come a point where it needs to stand on its own.
Otherwise, it's just like doing seed rounds for your startup that never makes any money in the hope you can sell it for a nice multiple.
But I'm here to create and hold these sites, not to flip them. The decisions for my business should reflect that, and I do want more than just a couple of niche sites. I want to become the authority in a few fields I'm really interested in. 
I'd love it if people came up to me and asked me advice about that niche, like with Japanese food, guitars, and toys. My hobbies and I just love playing with my son to try out these toys.
My current blogging strategies
My largest site is bitemybun.com, about Asian food, so it's only natural for me to try and grow that into an authority site.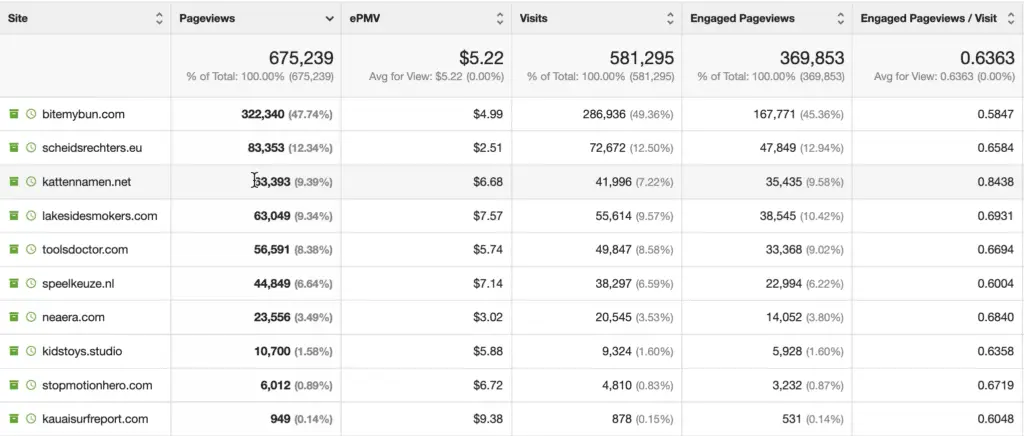 This is data you can get from Ezoic when you sign up with them to do your display ads, check out more info on the analytics here.
Bitemybun has by far the most pageviews, although its EPMV or earnings per thousand visitors is a bit lower than some of my other sites.
Advertisers pay less for content about Japanese food than they do for content about BBQ smokers, because when you have a smoker, you probably have a backyard, own your house, have money to spend on expensive equipment, and are generally more valuable to an advertiser of any kind.
Not just around that topic.
Plus I get a lot of traffic from outside the US on this site, which also makes sense given the topic.
Advertisers pay less for non-US traffic than they do if they target US citizens, although European EPVMs have risen a lot in the last three years too.
So on the one hand I want to grow traffic to a million pageviews, but on the other I want to get to 40% profitability in the next two months.
That's a bit of a balancing act to see where I can grow the fastest and earn the most.
I did add a new revenue stream to bitemybun.com by introducing my own product.
I wrote a book, or rather had a book ghostwritten, about Japanese food. So now I'm an author on amazon.
I already earned $39 last month from the royalties, plus I've earned a few dollars more from promoting my book through my amazon affiliate link, which they allow you to do.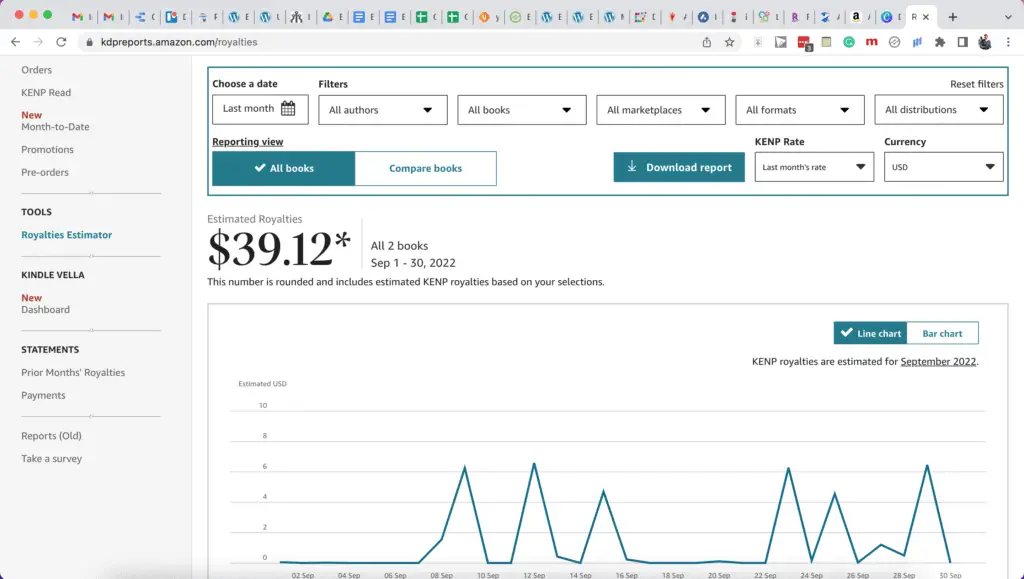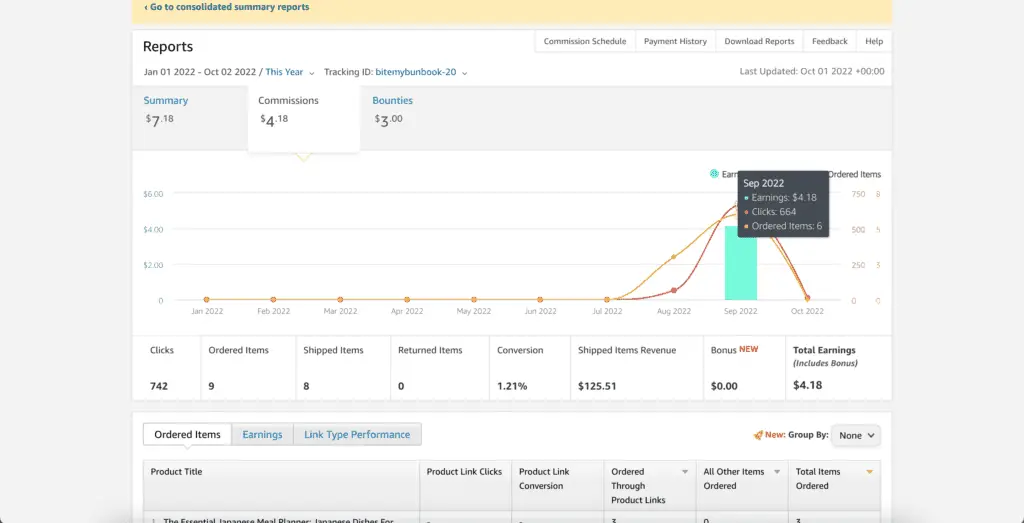 So I can get "two flies with one clap" as we say in The Netherlands.
I'll promote the book more with my email newsletter in the coming months so I can take advantage of that and gaining more traffic for that site give me more opportunities to sell that and increase my total ePMV for the site, not just from ads on there.
Total EPMV is all of the revenue combined divided by the number of pageviews.
You need to take that into account when evaluating a site's revenue. Affiliate sites can get a lot higher EPMV for example.
I've also added a lot of new videos to this channel and the bitemybun.com channel.
I've decided to focus on these two channels and put my guitar and toy channels on the backburner for a while until I see succes with these.
I've added 4 new videos to The Content Decoder, my goal is to do one of these a week. And I've added 10 new videos to the bitemybun channel.
My goal is to do 3 shorter answer-style videos a week for that channel to see if I can grow it that way, and I've been experimenting with some new thumbnail designs as well.
We've published 45 new articles in the last month and updated 20 articles. It's a little less than last month, but that was extreme for us. The 45 is still in the nice growth line since the beginning of this year.
A lot of new things this last month.
But not all is great. Essentially I'm right back to the earnings of over a year ago. That's not a feeling, to do all that work and be back to where you were last year.
But traffic is up since last year so at least that's progress, although it's steadily declining.
Largely due to bitemybun losing a lot of it's traffic. First in May and now again at the end of September.
I'm going to do a deep-dive into the reasons for losing that traffic and what I'll do to get it back up in another video. so you can follow along with that as well.
This will affect my affiliate revenue as well of course. The tool I was trying out to diversify my affiliate revenue didn't really work out.
I was trying out Datafeedr to get automatic product and price updates into my site, but it wasn't stable enough to implement further, but I put a lot of effort into that. 
Now I'm looking at Geniuslink choice pages to increase my affiliate revenue, it's a bit more manual labor to get those up, but I've tested it before, and it does work if you use the right affiliate programs.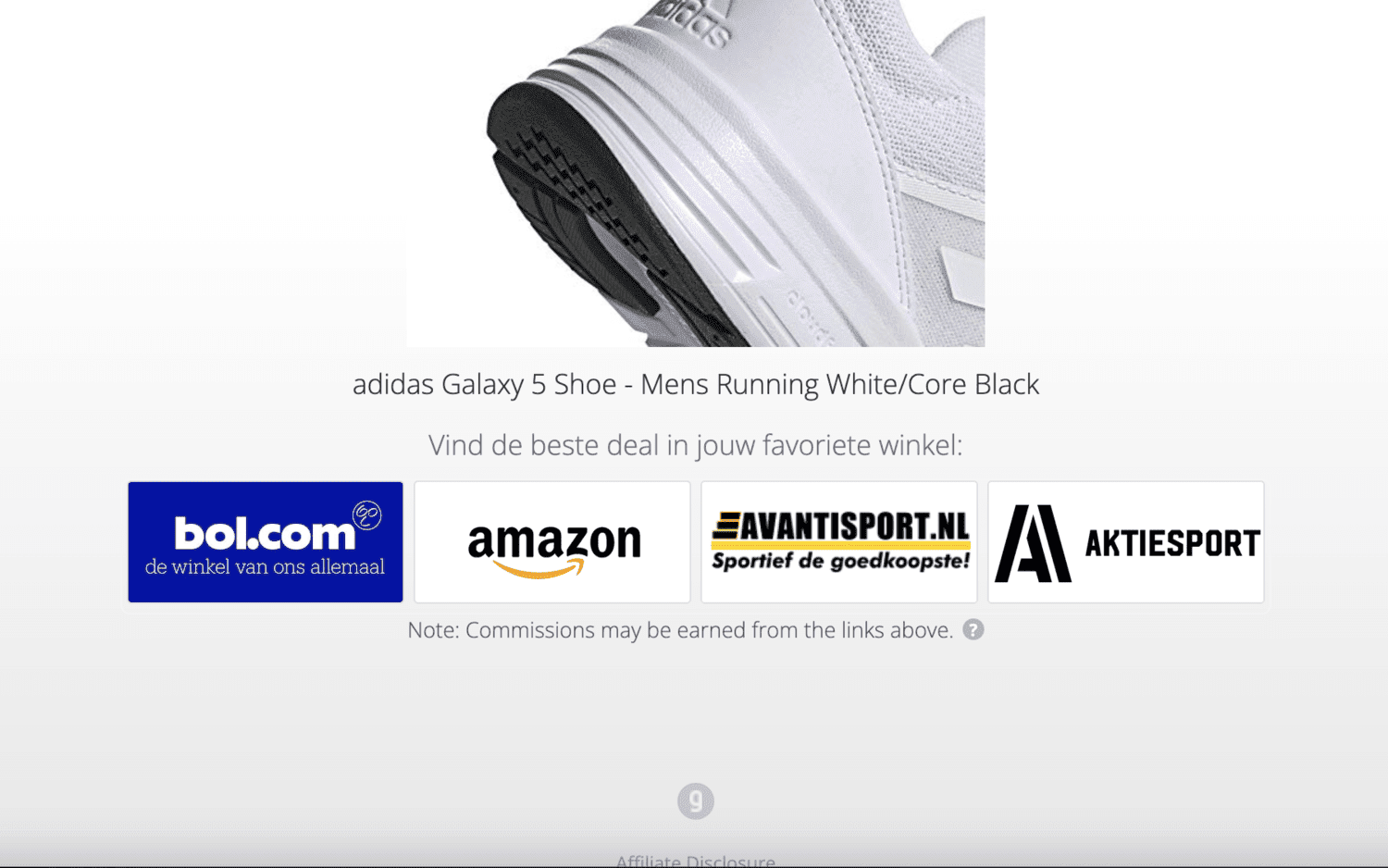 I hate seeing my sites not growing, and I don't know for sure if the direction I'm going in with my authority sites will pay off.
I feel I need to get those sites up with topical authority but there's no evidence yet that it's working and it makes me want to change things up again, even though I know that's a sure way to not get the results I'm looking for.
Analyzing is what I'm best at, but I have to stick to it to get the data.
But I know I've invested a lot in the last few months and that takes time to pay off. Creating these authority sites is in a way a lot different than creating smaller niche sites on underserved topics.
Eventually, you'll need to prove to Google that you're worth the traffic.
I believe in a quality threshold where Google needs to trust your site to be able to give it good positions for larger keywords. I've read a lot about it and seen it with my sites bitemybun and speelkeuze.
So that's why I'm building authority and trust and topical coverage for my sites.
August 2022: Introducing Geniuslink
This month, I had to let go of a content upgrader I've been working with for a while now, and she was doing a great job editing and upgrading our older content.
That's the sort of thing that can have you lose hope and have your "courage sink into your shoes", as we sometimes say here in the Netherlands.
Let's look at what saved me from further disaster and grew my revenue for a great ROI, something you can do as well. because that last tool has a large part in it.
This is my affiliate revenue, and you can see I'm already diversified between Amazon and Bol.com, a Dutch multi-retailer platform.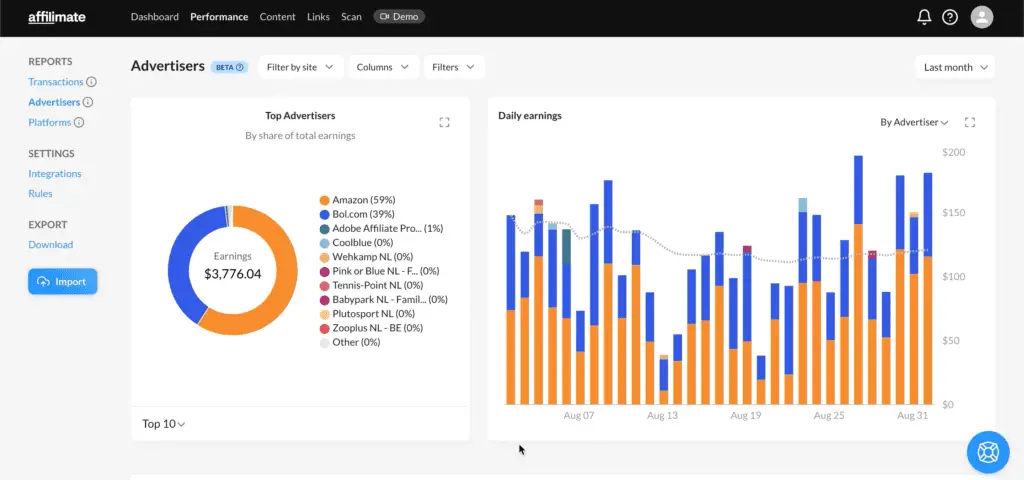 I've wanted to diversify my affiliate revenue even more, and I have plans for that, and the first step is within Amazon.
Sometimes, earning more revenue comes from experimenting. And this one paid off.
I introduced something that diversified my revenue even further and actually increased it by $875.97 just by using one tool.
Let's decode this some more.
Amazon earnings were $2,235, but only $1,377 came from Amazon US. The rest came from other storefronts.
More than a third of my sales came from European countries like The Netherlands and Germany, but also some from Australia, Poland, and Japan.
| | |
| --- | --- |
| Amazon storefront | Revenue |
| US | $1,377.04 |
| UK | $35.28 |
| DE | $115.35 |
| FR | $153.15 |
| JP | $4.73 |
| CA | $39.90 |
| IT | $49.61 |
| ES | $38.63 |
| AU | $20.71 |
| NL | $367.68 |
| SE | $47.23 |
| PO | $3.70 |
| Total Amazon revenue | $2,253.01 |
You can localize storefronts with amazon's tool Onelink, but that only works for a few of them, like the UK and Canada.
The tool I'm using is called Geniuslink, and it connects all of the world's storefronts in one place.
It's also more accurate than Amazon's redirection.
You know when you sometimes click an amazon link, and you're taken to a search page instead of a product page? That's bad redirection, and Geniuslink claims to do that 50% better.
I haven't tested that myself, but the results are great. I paid $73 for the tool and increased my revenue by $875. That's an ROI of more than 1,000%!
Ok, let's say the redirection doesn't perform better than Onelink. I still have an extra $443 revenue from these countries that Onelink doesn't provide, still giving me an ROI of 500%.
I'll take that any day of the week.
Diversifying, growing the sites, and adding more revenue streams will be my main focus.
The dashboard I showed you earlier is from Affilimate, which gathers all my affiliate revenue in one place.
I have a lot of smaller platforms here with just $10 to $20 here and there, and I want to diversify affiliate revenue more in the coming months, but more on that in the next revenue report.
I've also thinned out my portfolio of sites to only focus on the bigger ones and grow those into authority sites. I've been working a lot on bitemybun.com to grow it into the biggest site in Japanese food so that's my big audacious goal.
Also, read this article to see how I wrote a 24 article topic cluster in 24 hours for that site to please the google quality content update.
Joost Nusselder is The Content Decoder, a content marketer, dad and loves trying out new tools en tactics. He's been working on a portfolio of niche sites since 2010. Now since 2016 he creates in-depth blog articles together with his team to help loyal readers earn from their own succesful sites.